How businesses can use search data to boost online performance
10 Nov 2021|5 MIN READ
Though growth has slowed down from 2020 levels, searches remains at high levels, with online still accounting for almost 30% of all retail sales.
The pandemic brought millions of new shoppers online, and many will keep buying into 2021 and beyond. Online demand remains high, especially when compared to 2019 levels, and retailers have a huge opportunity to capitalise on this.
One major key to this is search performance. It's a major acquisition channel for any online eCommerce site, and demand remains at historically high levels.
Strong search performance allows you to grow your business by acquiring new customers, and to take advantage of surges in demand for your product category.
In this article, we'll look at three ways you can use Pi Datametrics to improve business performance.
Understand your Share of Voice
Share of Voice, sometimes referred to as Share of Search is a great way to assess how effective your SEO strategy is, as well as to see who your major rivals are within a specific sector.
For example, this chart shows the Share of Voice for the top 20 retailers in the homeware sector. It shows that Dunelm has the biggest visibility for searches in this sector.
Homeware UK | Market Leaders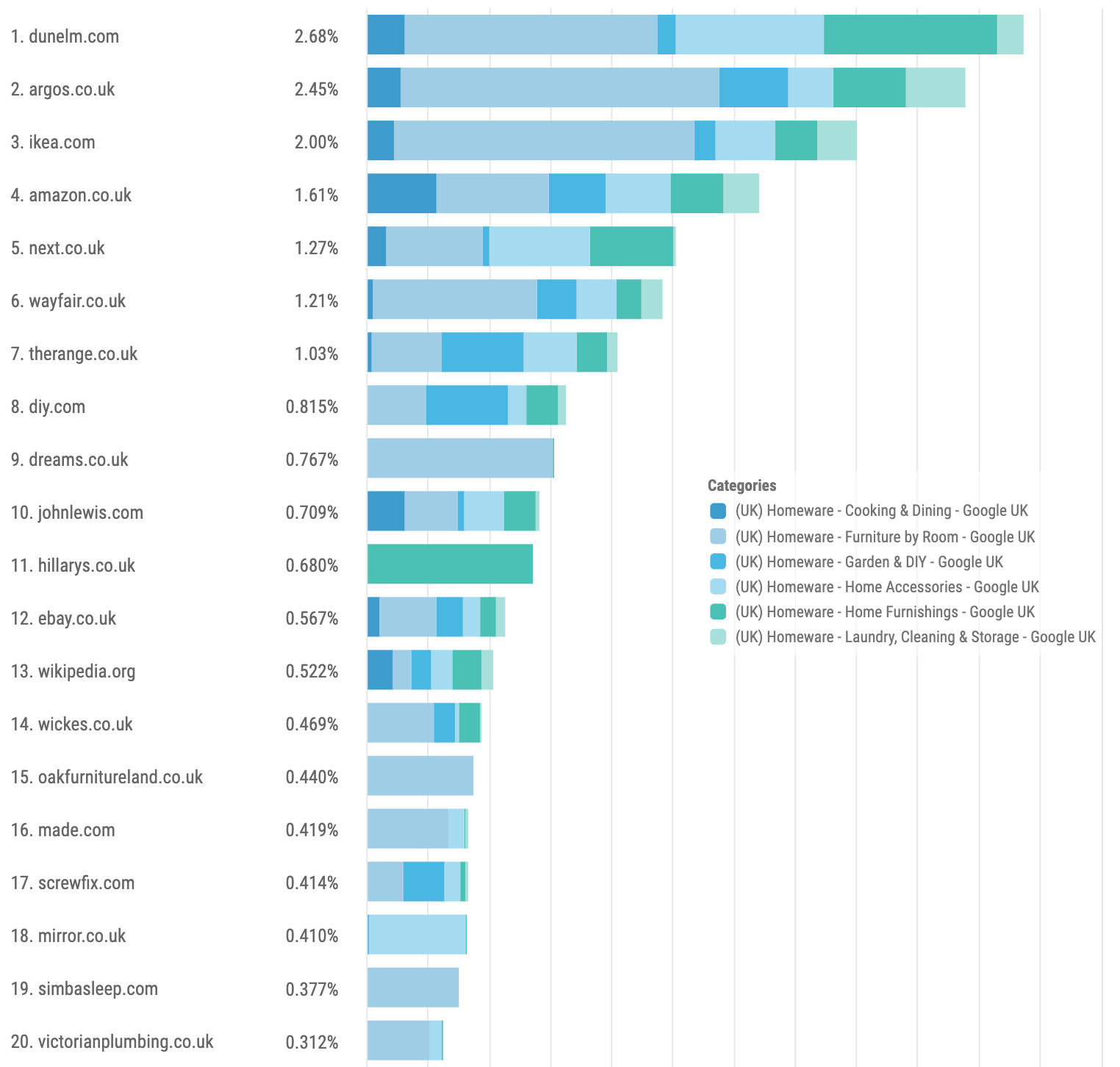 Image source: Pi's Share of Voice chart generated via Market Intelligence captures the entire search landscape to reveal the top performers.
Pi's Share of Voice chart also allows you to drill down into the individual categories allowing you to see for example how visible a homeware retailer is performing across the 'Garden & DIY' category.
This data can be used as a benchmark from which to measure future performance, and it can also identify key competitors or potential partners in the same sector – if you find that publishers are visible in your target search market, there may be PR or advertising opportunities there.
Demo Pi Market Intelligence
Learn from search trends in your sector
Historical search data can help you to plan market strategy, understand the popularity of product terms, and help you to identify key peaks in demand in order to focus your content and SEO efforts.
For example, homeware retailers can use the chart below to understand the search volumes in their sector over time, and see the seasonal changes in demand. So, if Garden & DIY searches begin to grow in March and April, content strategy can be timed to achieve maximum search visibility to take advantage of high search demand.
Homeware UK | Search trends over time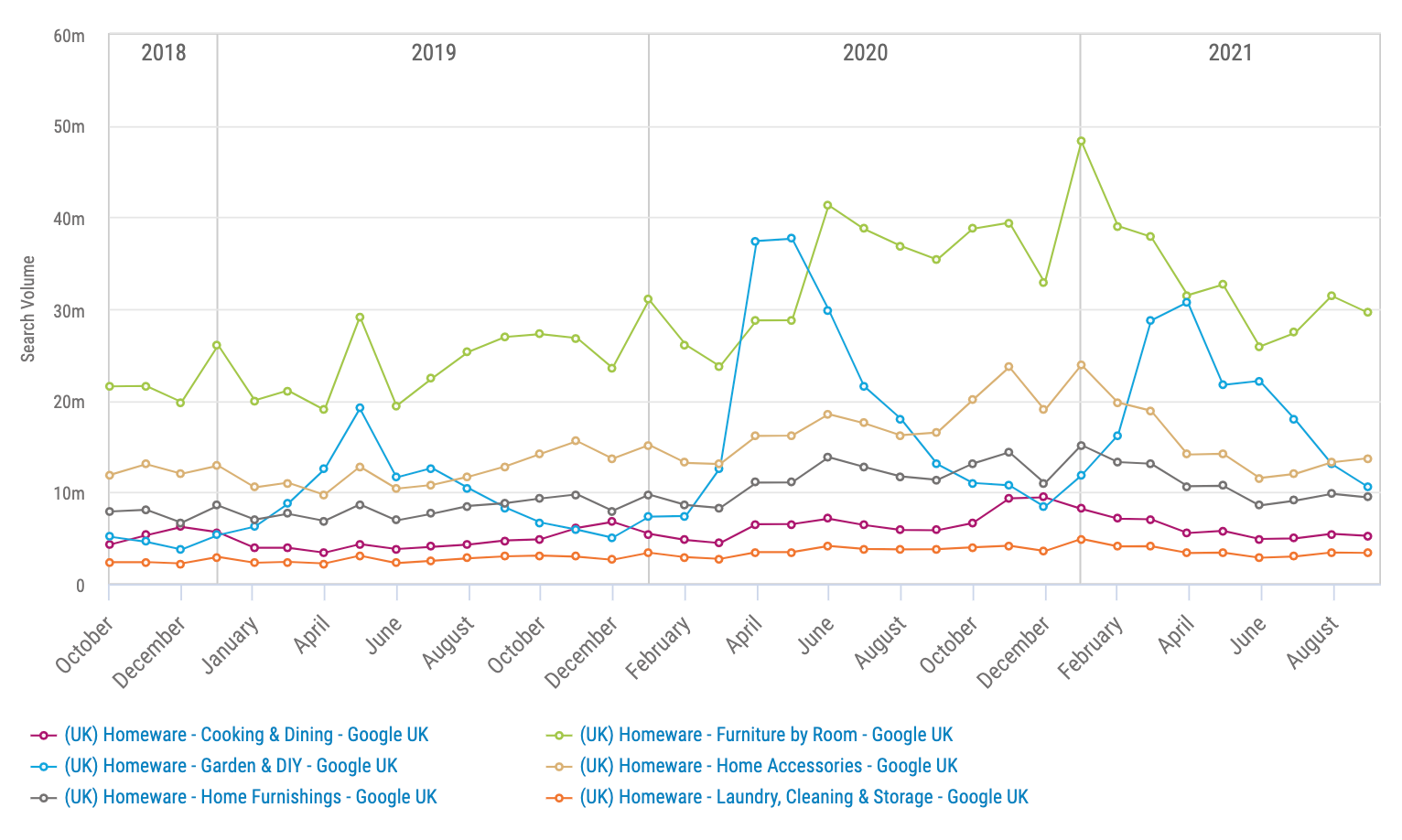 Image source: Pi's Search Trends over time chart generated via Market Intelligence reveals peaks and declines in demand across 36 months
Search trend data can also help you to respond quickly to customer behaviour. It can tell you which products are becoming popular, allowing you to adjust buying strategies to meet demand.
Demo Pi Market Intelligence
Understand the SERPs
Google's results pages are no longer made up of ten blue links, they're full of different results types which are in constant flux.
Retailers looking for organic visibility need to compete with SERP features like PPC ads, Google Shopping results, image results, news, video and more.
Search data helps you to understand what the search results look like for your target keywords, and create the kinds of content that is most likely to be visible.
Pi's SERP Matix can be used to showcase which features are most commonly appearing for search terms within a given sector. By analysing which SERP Features are returning for your most valuable search terms, you can see which content types are likely to be most effective
For example, the below chart shows the common SERP features shown when users are searching for 'kitchen furniture ideas'. The results are image heavy, as people are searching for inspiration. For retailers, producing visual content such as kitchen design ideas can help them to be more visible to potential customers.
Kitchen Furniture Ideas | SERP Matrix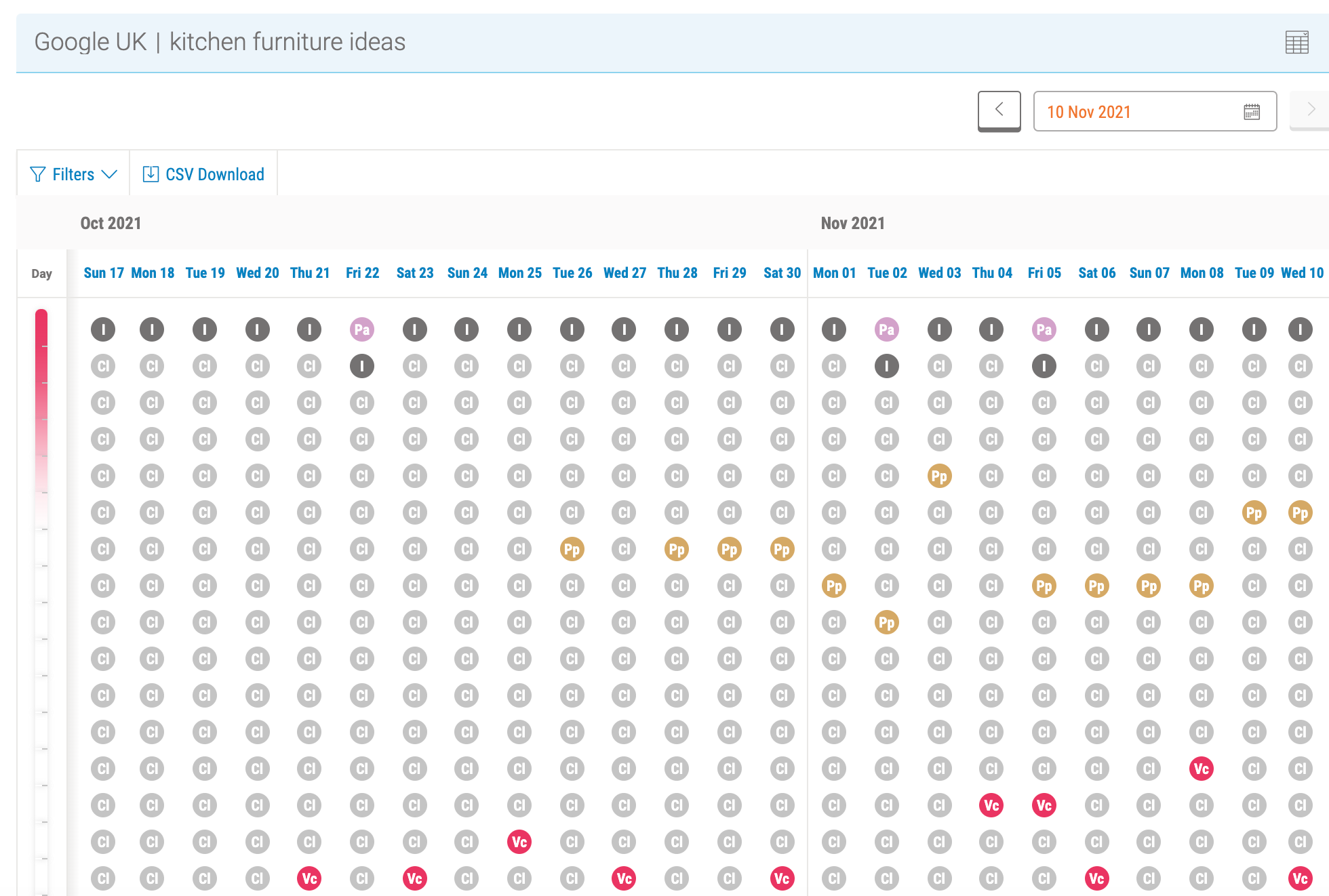 Image source: Pi's SERP Matrix via Pi's SEO Platform
Assess the impact of Google updates
Google is constantly tweaking its algorithms to improve search results and make them more relevant (or increase its ad revenue).
Search data can help you to identify any impact from Google algorithm updates, allowing you to make any changes that are necessary to fix any issues, or to help you to identify positive impacts from Google updates.
In summary
In a competitive online market, the effective use of search data can give your business the edge.
Search data is essential for understanding your search performance and finding ways to improve visibility for your target product terms.
It can help you to understand market opportunities, track performance, identify key competitors, and understand trends in your sector. Data can also help you to monitor any impact from Google algorithm changes and understand the changing SERP features in your target market.
With the help of data, your SEO and content strategy can be more effective, and help you to take advantage of growing search demand for your products.
Demo Pi Market Intelligence
Never miss a post
Join our mailing list and have our SEO news delivered straight to your inbox.
Never miss a post
Join our mailing list and have our SEO news delivered straight to your inbox.