Share of Voice: what is it and what does it mean for your search strategy?
18 May 2023|3 MIN READ
Measuring Share of Voice (SOV) is a great way to understand how your marketing efforts are paying off. It's also an important metric to keep your eye on if you want to improve your organic search efforts and win more share in the SERPs!
What is Share of Voice?
Share of Voice (SOV) is sometimes referred to as share of market as it's a measure of the market your brand 'owns' in comparison to your competitors.
Share of Voice is used to calculate the efficiency of your marketing efforts and reveals your visibility online.
How do you calculate Share of Voice?
As digital marketing has grown, so too have the metrics we need to consider to determine a true SOV online.
The simplified equation for calculating share of voice is:
Your brand advertising / total market advertising = Share of Voice
The good news is that with all the analytics and intelligence tools now available, we have a wealth of accurate data to work with.
Share of search and why it's important
For SEO, share of voice – often referred to as 'share of search' – is an incredibly useful metric to measure. Understanding your share of search helps you to find out more about your target market, monitor your SEO performance, and measure the impact of optimisation efforts.
Share of search can help in several ways:
 Market intelligence– share of search can tell you how much a target market is worth and which of your competitors has the greatest share of search visibility.
Measure performance – share of voice allows you to see your own performance in your target market. You can assess the areas where content is performing well and where you can focus efforts to improve your share.
Internal reporting – tracking your share of voice over time can be a useful metric for internal reporting and can help alert you to possible issues to address – a drop in visibility may indicate negative performance due to an algorithm update.
Monitor campaign success – SOV allows you to assess the impact of campaigns on search visibility. If you run marketing campaigns to drive search traffic, share of voice can be used to measure the impact.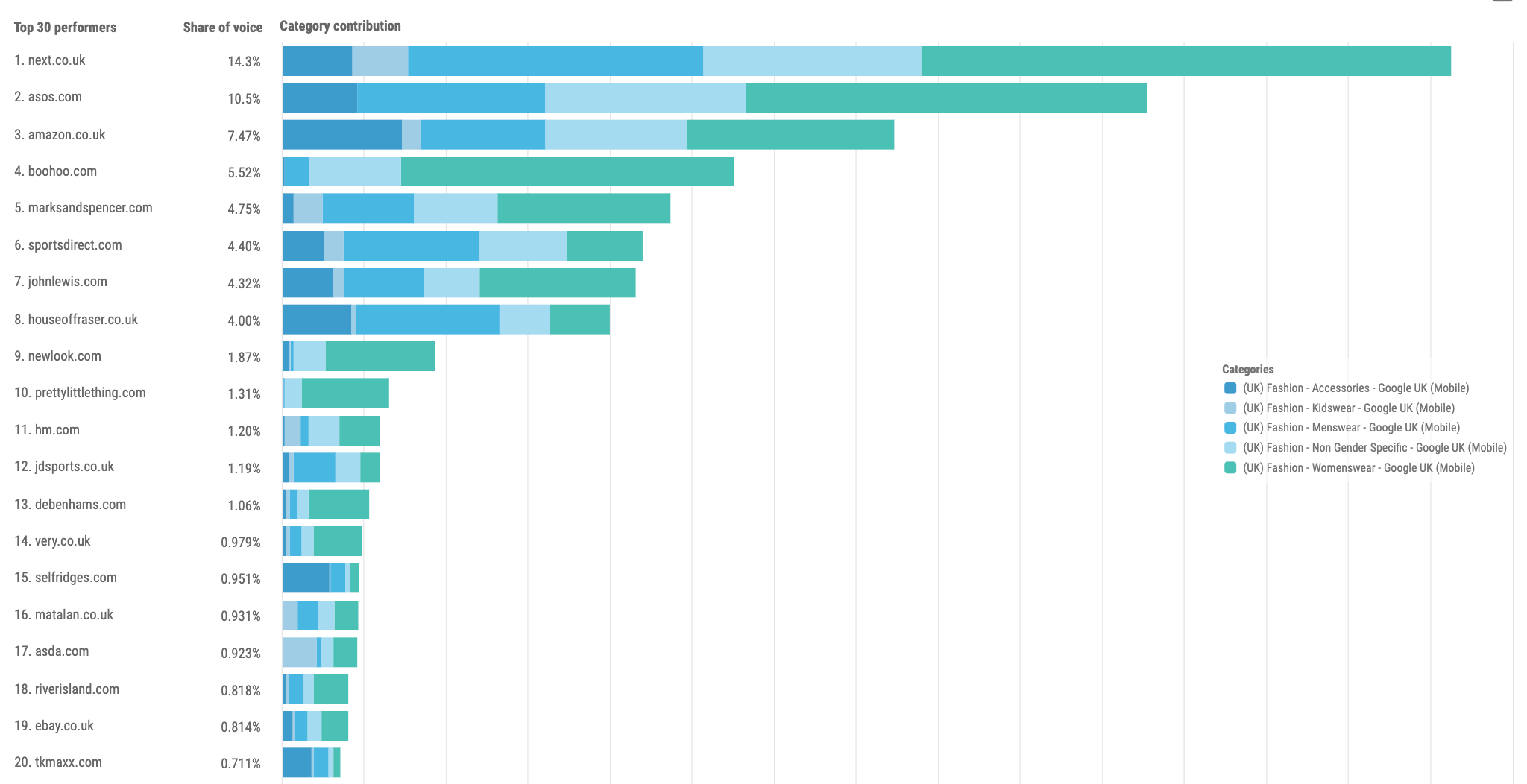 Image source: Pi Datametrics – Share of Voice Leaders
How to measure share of voice with Pi Datametrics
Your organic Share of Voice is a valuable metric which gives you great insight into how your brand is performing. Using Pi, you can measure your own SOV, assess your target markets, and monitor competitor performance.
Pi's Share of Voice measure explained
Pi's SOV metric specifically measures performance on organic search.
Pi's Share of Voice measures the commercial value of Search Terms within a category, using market trend data and the top sites for each Search Term. This determines which sites are deriving the most value from organic search.
Pi's Organic Value Score explained
Pi's proprietary Organic Value Score, developed by our data scientists, determines a search term's commercial value and potential to convert.
When calculating the value of a search term, OVS takes all forms of market data and conversion metrics into account (including search volume, cost-per-click, and competition in the market). This means we can accurately attribute value to search categories and determine the most commercially valuable categories and trends.
Uncover the market leaders in your industry today! View our Market Leaderboards to discover the top 20 performers in your industry, across millions of monthly searches.
Track and monitor share of voice with Pi Datametrics
Pi's competitor benchmarking tool – Share Of Voice Leaders – allows you to view your sector's share of voice market leaders and keep a score of how you perform organically versus your biggest competitors.
The Share Of Voice Leaders chart can display the SOV percentage of a particular category or subcategory and highlights them across each site.
While viewing the top 30 performers in your sector, you can view the SOV percentage split across each of your Search Term Groups within the category.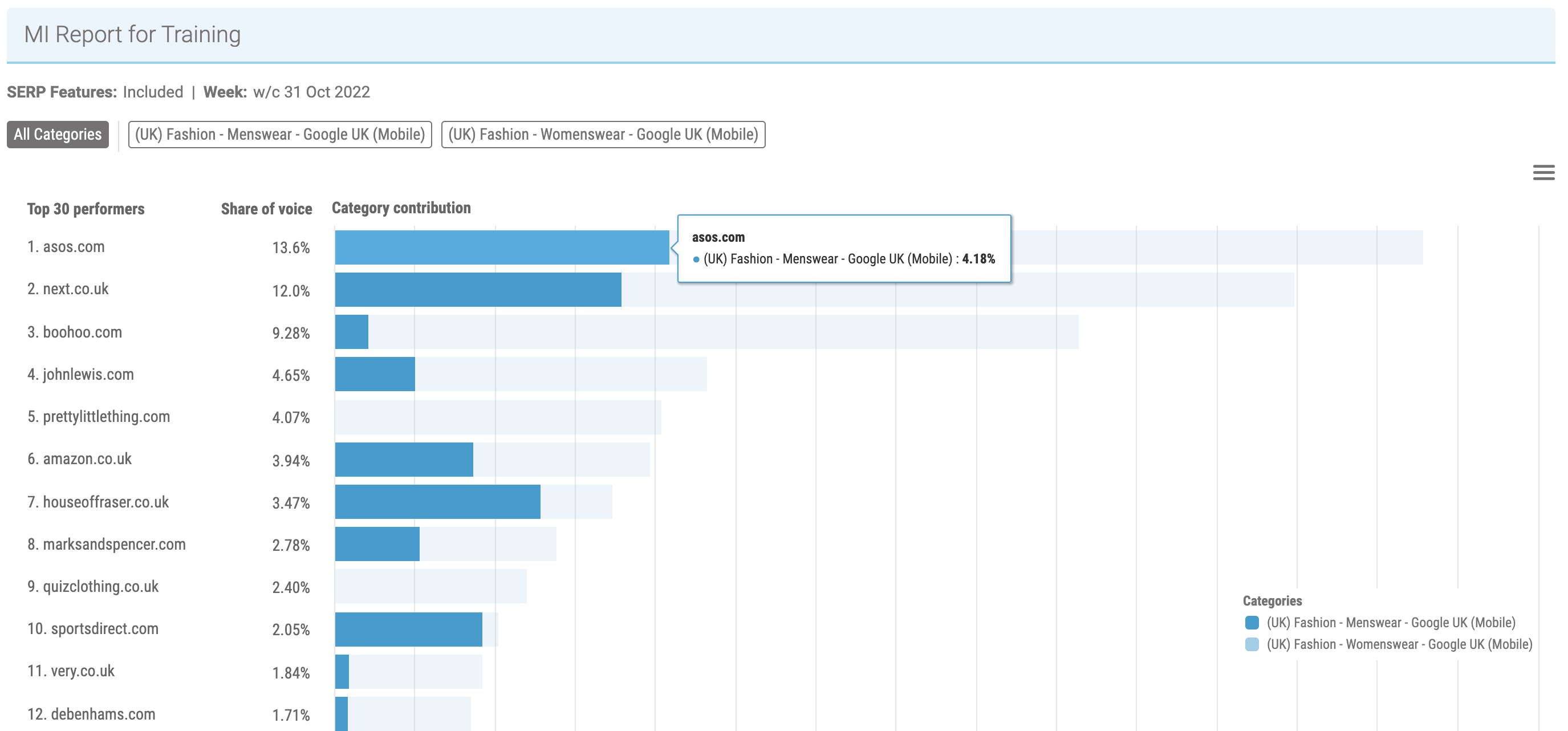 Image source: Pi Datametrics – Share Of Voice Leaders
Using Pi's Share Of Voice Timeline, you can track how your SOV changes over time compared to your biggest competitors – a great way to inform seasonal SEO campaigns and reveal market-level trends.
You'll also see data points on the chart that display the SOV percentage for your site during a particular period, and you can compare SOV by individual business categories too.

Image source: Pi Datametrics – Share Of Voice Timeline  
The importance of Share of Voice in SEO
Calculating SOV across your digital marketing channels gives you a clear idea of who your competitors are. There may be some that aren't focusing on SEO or have little social presence.
You might discover competitors you didn't know existed or performed in your market, as well as topics you never knew you had ownership of.
With these insights, you can understand where the competition is and what challenges they pose, as well as what new opportunities the competition may bring – from PR to new partnerships. All of which lead to smarter search strategies and a clearer focus on the benefit of different channels.
Never miss a post
Join our mailing list and have our SEO news delivered straight to your inbox.
Never miss a post
Join our mailing list and have our SEO news delivered straight to your inbox.