Have Boohoo got Debenhams for a bargain at just £55M?
27 Jan 2021|5 MIN READ
How the amazing work of the Debenhams website team made them a very appealing purchase
This week it was announced that Boohoo had acquired the Debenhams brand and website for £55m. With the company already in administration, this deal means the retail chain's stores will remain closed.
Essentially this means the deal is an online only play from Boohoo, acquiring a famous brand and it's existing online footprint, from social media followings to search visibility.
In this post, we'll look at the deal from a search perspective. How valuable is Debenhams in terms of search visibility? What is the best way for Boohoo to handle the acquisition is SEO terms?
Debenhams search visibility
Boohoo and Debenhams compete in the same general space, but with some key differences.
Boohoo has grown rapidly appealing to a mainly younger demographic, while, generally speaking, Debenhams appeals to an older range of shoppers, and has the broader product range you'd expect from a traditional department store retailer.
In the fashion category, Debenhams are number three and Boohoo position eight on the Pi fashion leaderboard which looks at womenswear, menswear, kidswear, NGS and accessories.
This leaderboard calculates share of voice in key retail categories, fashion in this case. It measures performance across a wide range of related search terms, searches like 'men's shirts', 'women's shoes,' and so on.
The results show that Debenhams has performed well in this search space, with only ASOS and Next having more search visibility. It has also maintained this during a very difficult trading period for the company.
Boohoo performs well too, at number eight on the leaderboard. With a narrower product range and demographic to Debenhams, this is a very strong performance.
Fashion Leaderboard | Google UK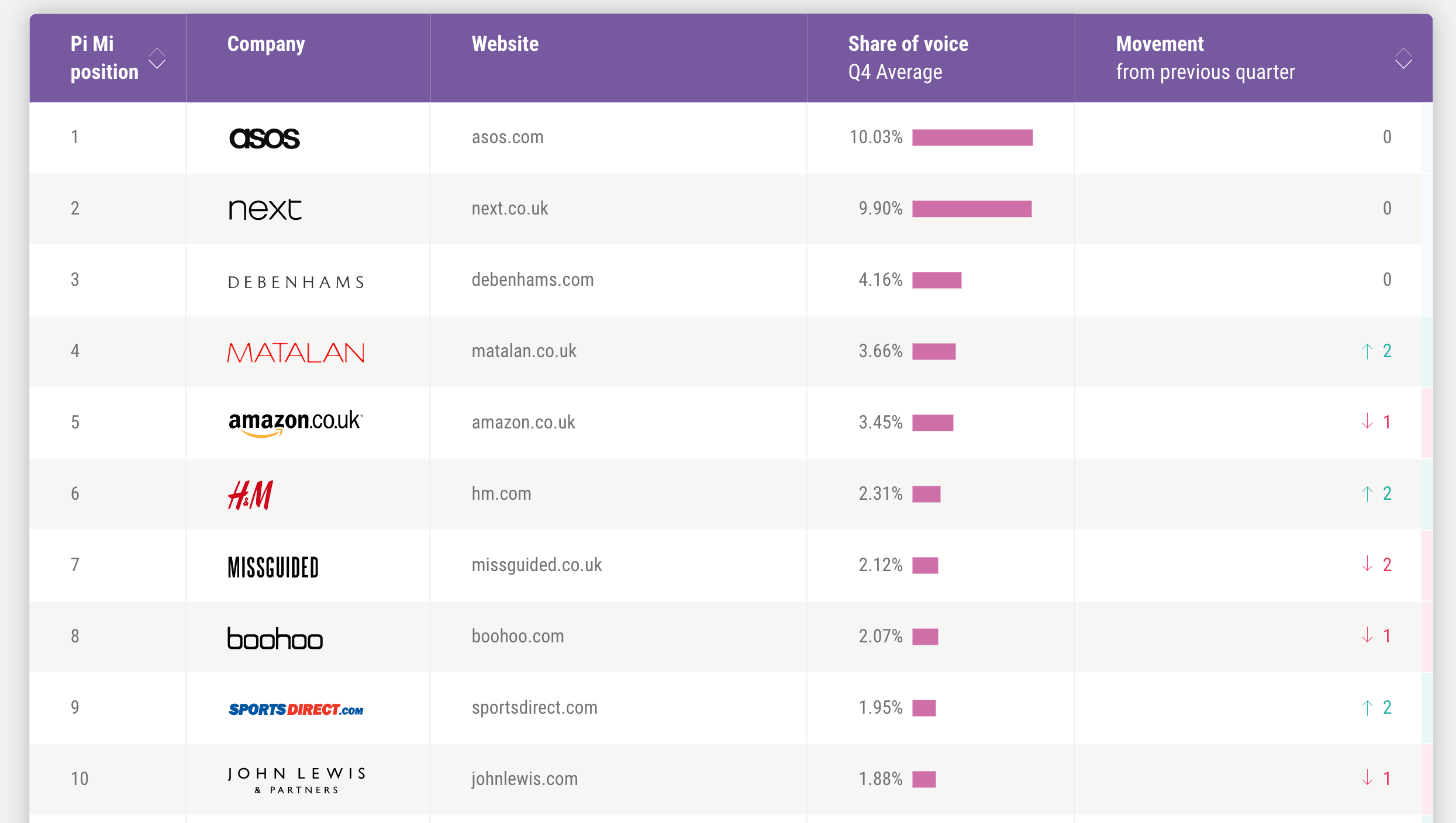 Image source: Pi Market Leaders: UK Fashion leaderboard
Let's take a look at some key fashion subcategories. In womenswear, both retailers perform well, with Debenhams third and Boohoo fifth. The two brands' combined search visibility would put them second.
Share of voice | Womenswear category | Google UK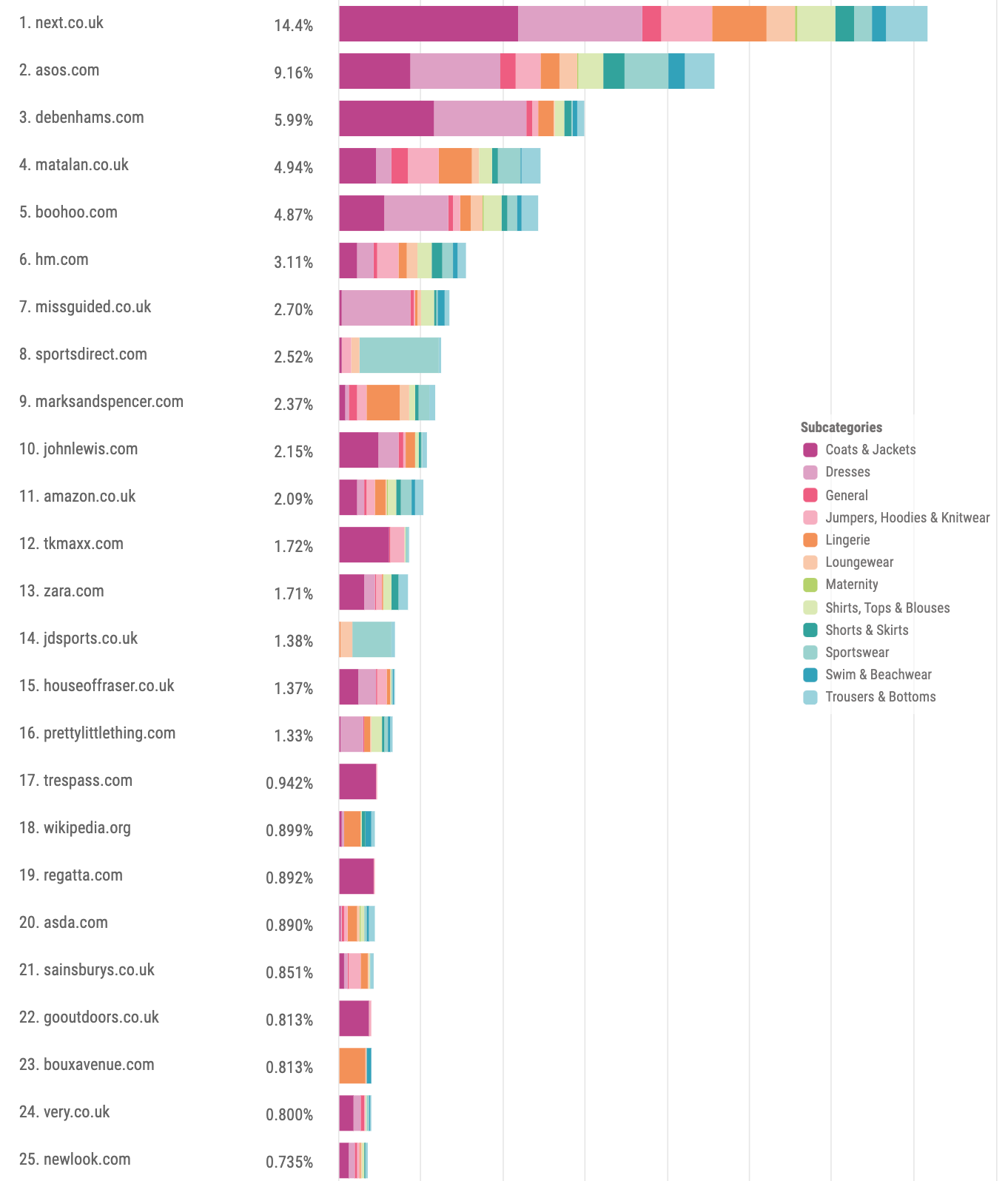 Image source: Pi Market Intelligence
In the NGS (non gender specific) category, both also feature well, at seventh and eighth on the list.
Share of voice | NGS category | Google UK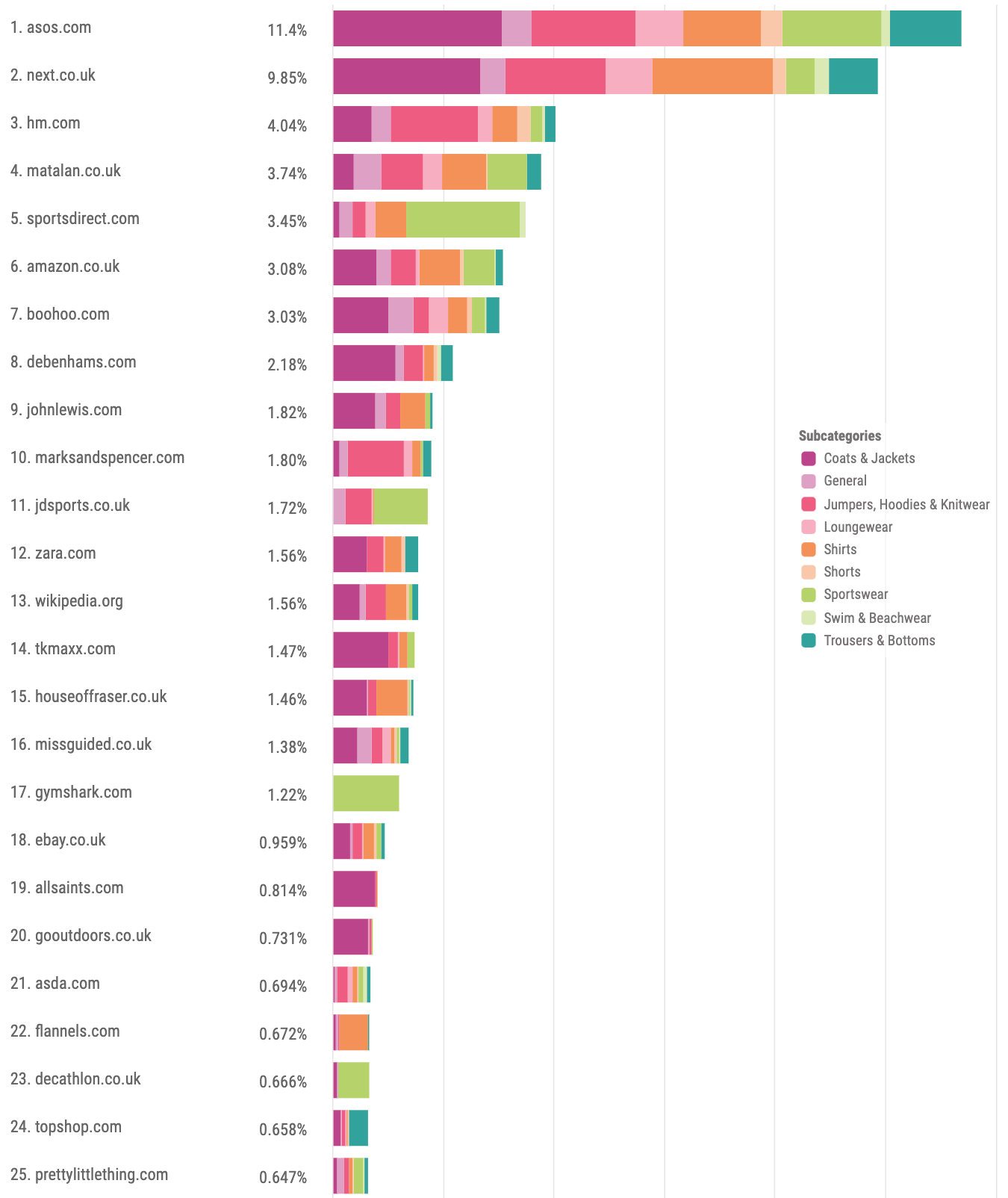 Image source: Pi Market Intelligence
In other categories, we can see some key potential benefits for Boohoo, where Debenhams has more search visibility.
For example, Debenhams has a greater share of voice in the menswear category, while Boohoo doesn't feature in the top 25.
Share of voice | Menswear category | Google UK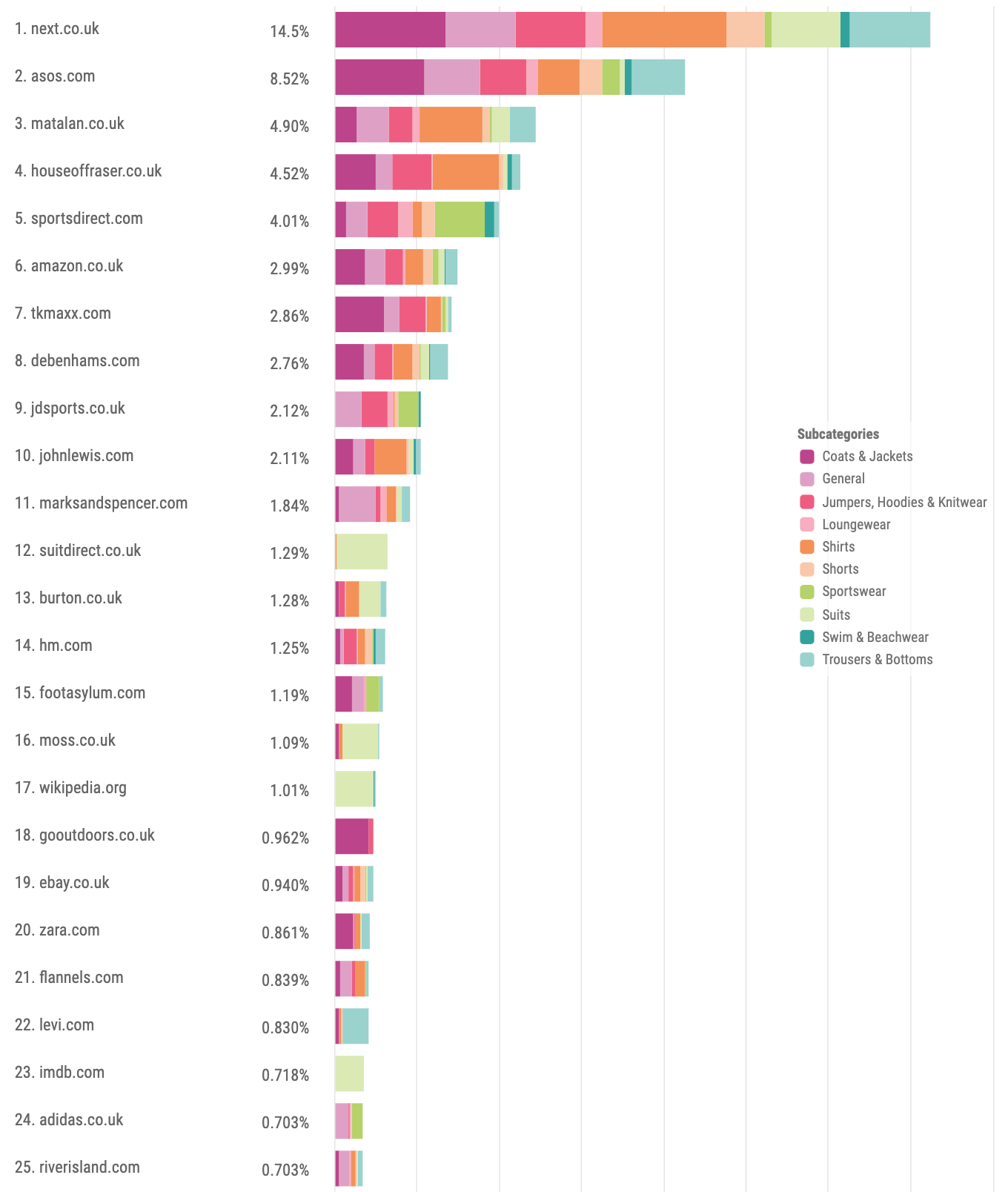 Image source: Pi Market Intelligence
Kidswear is another such example, while Debenhams has a good presence in the accessories category.
Share of voice | Accessories category | Google UK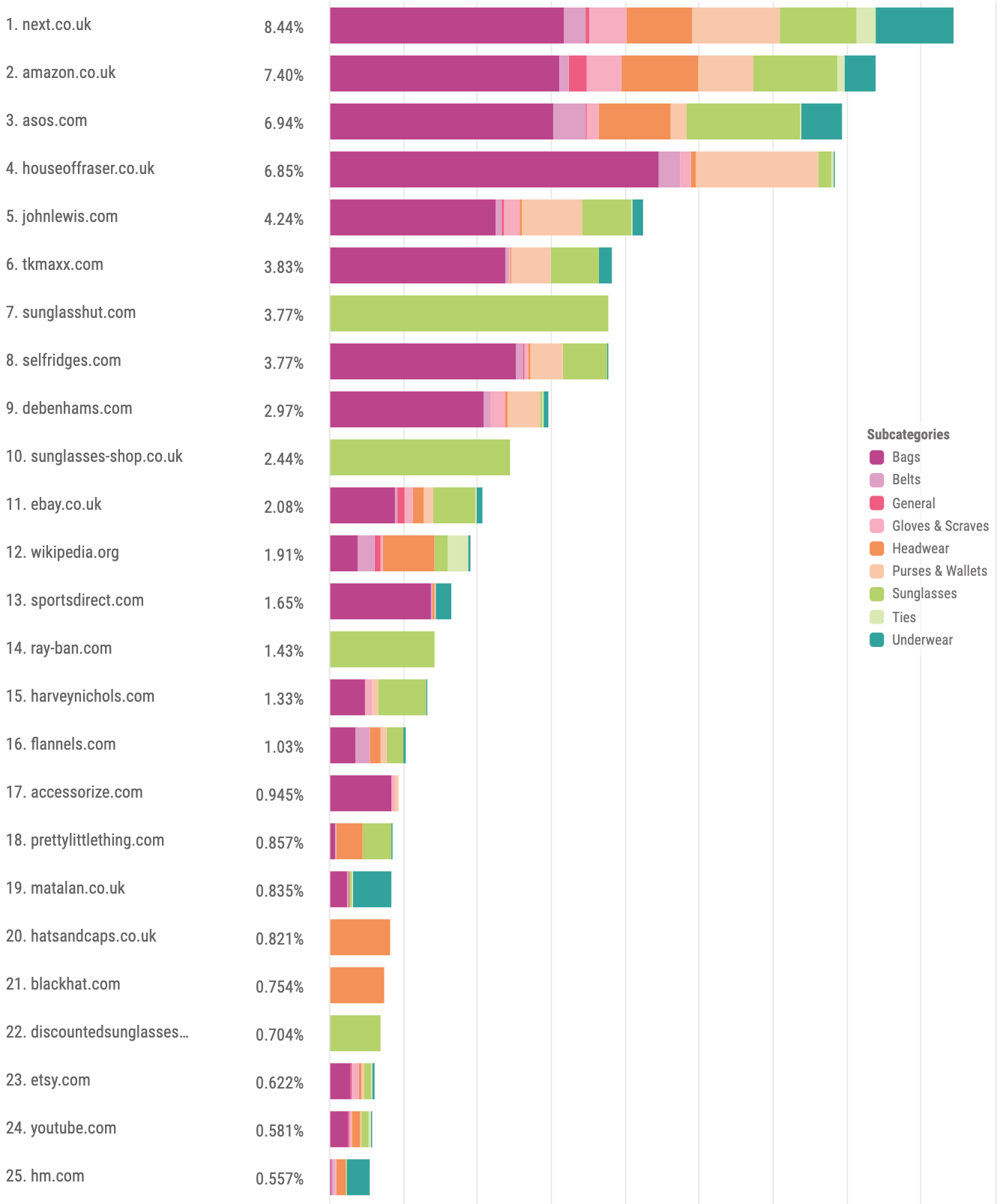 Image source: Pi Market Intelligence
Overall, we can see the potential benefits for Boohoo. In areas where both rank well, it offers a chance to both brands to acquire search traffic, while in other areas, Debenhams' strong performance allows Boohoo to reach new audiences.
The backlink profile will appeal to Boohoo, and start to justify the £55m spent on the brand. These are the links acquired over years of trading online, and this is hard to put a price on.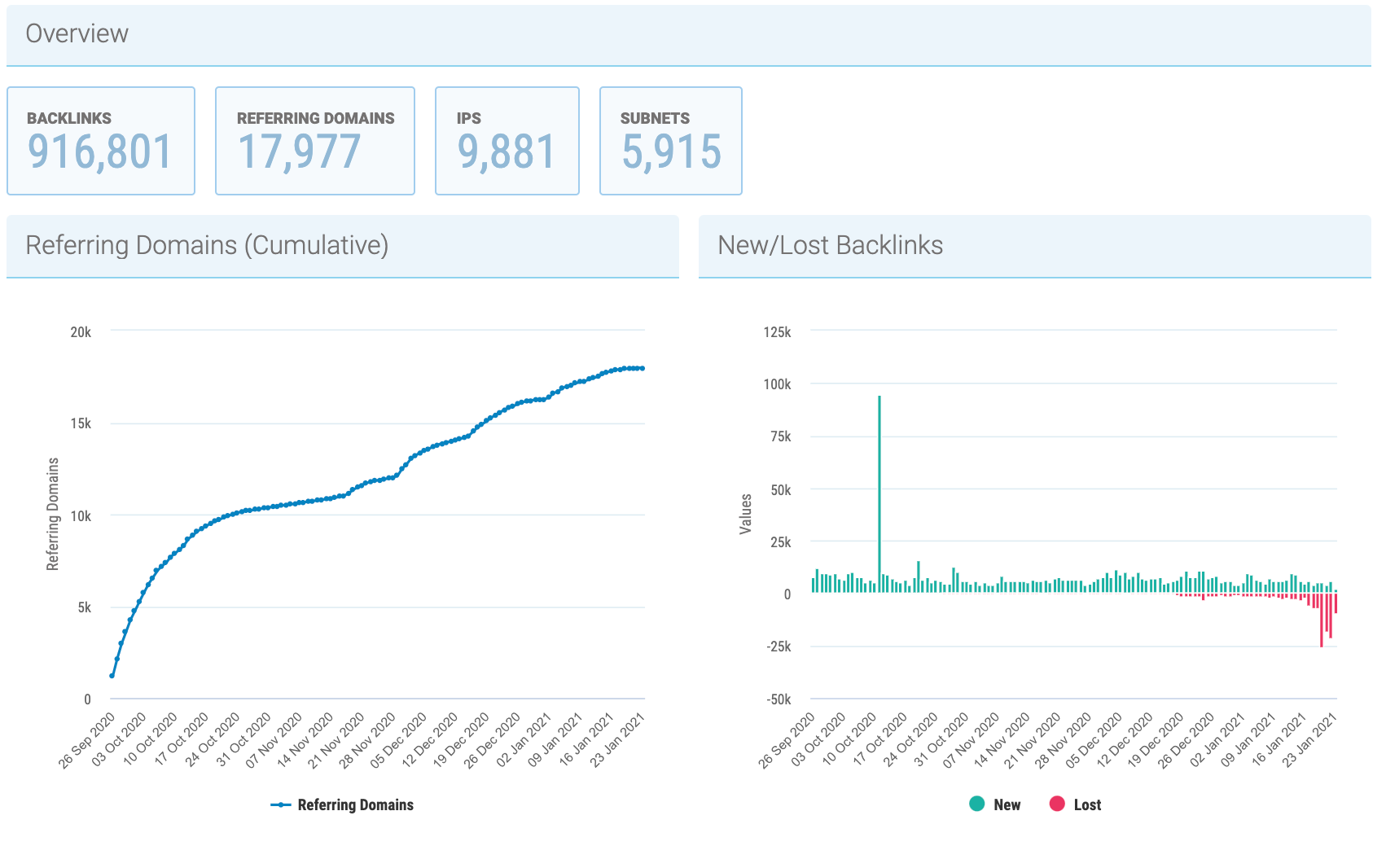 Image source: Pi SEO Platform
On Twitter, Andrew McGarry makes the point that this search profile alone makes it a very good deal:
Wonder how £55m compares to annual paid media spend and fees? Considering the indirect cost of organic click scalability to less interested shoppers in terms of ROI vs PPC, for global SEO network effects it's likely a very good deal.

— Andrew McGarry (@beyondcontent) January 26, 2021
Indeed, Boohoo reportedly spent £90m on marketing in 2019. In this context, the price of acquiring a brand with excellent search visibility in key areas for Boohoo represents excellent value.
It both allows Boohoo to expand visibility in areas where it always does well, competing for traffic with ASOS and Next, and to acquire visibility in new areas such as menswear, kidswear and beauty.
How will Boohoo make the most of Debenhams' search visibility?
Exactly how Boohoo will make the most of this SEO potential, and the Debenhams brand in general, is an interesting point.
Dan Barker posed an interesting question on Twitter regarding the deal:
Interesting marketing question:

If you were Boohoo, would you:

a) keep https://t.co/F7Hm6tebvI & https://t.co/VUMCPKFOry entirely separate.
b) redirect one to the other, building out assortment there.
c) redirect part of one to the other.

& why?

— dan barker (@danbarker) January 26, 2021
Broadly speaking, people favoured option a, keeping the websites separate to maintain the advantages of both brands, and to maintain the strong search performance.
It would of course pay to standardise areas like customer service to ensure quality of service and performance for customers of both brands. In addition, Boohoo can improve the Debenhams proposition by adding its greater range of delivery options, and bringing its general logistics expertise.
In terms of stock, many people expect a separation to be maintained at least for a while, but there are opportunities for Boohoo to be stocked in Debenhams where search demand exists.
In summary
On the whole, this looks like a very smart acquisition by Boohoo, especially when you take Boohoo's normal marketing budget into account.
Purely from an SEO perspective, it allows Boohoo to expand its overall search visibility at once, consolidating share of voice in existing search categories, and opening up potential to attract customers in new areas.
SEO is a long-term play, and the kind of backlink profile and overall search visibility that Debenhams has built up would take a lot of time and effort to replicate. The price paid by Boohoo shows just how valuable this is.
At a time when ecommerce has grown rapidly, and search demand has been at its highest, it also underlines the importance of SEO for retailers.
Never miss a post
Join our mailing list and have our SEO news delivered straight to your inbox.
Never miss a post
Join our mailing list and have our SEO news delivered straight to your inbox.