Content optimisation and contextualising your ecosystem
21 Oct 2022|5 MIN READ
Content optimisation is a tricky process, and there's one step that all too often gets overlooked: Contextual optimisation.
For those who have come for my Contextual Optimisation Cheatsheet, you can download that here…
My Contextual Optimisation Cheatsheet
For those of you who don't have time to read, you can watch the below video, on contextual optimisation:
Alternatively, you can watch my latest webinar where I discuss effective strategies for preventing SEO cannibalization and explores the four pillars of contextual optimization here.
First of all, let's begin with the basics…
What is SEO optimised content?
Content optimisation refers to a process which you must go through if you want to ensure your content is visible to as many people as possible, via a search engine.
Why is content optimisation important?
If you have optimised your content incorrectly, or failed to optimise it at all, then you can face a whole face a whole host of issues, which can impact your revenue and bottom line profit. From being unable to rank in the first place, to suffering from duplicate content or cannibalization, which can make your content invisible in search engines.
How do I optimise my website content?
'Content optimisation' involves four distinct steps.
On-page optimisation
Content curation / contextual optimisation
Content promotion
In this article, we're focussing primarily on content curation, or 'Contextual optimisation' as I've coined it here at Pi. This is one of the most overlooked areas of content optimisation, that can have some of the greatest impact on your visibility, and it's all about connecting your content and creating it with your ecosystem in mind.
Content optimisation and contextualising your ecosystem
There's a need to be constantly in front of our customers, and as marketers, this may lead us to create content tick-box content to rank in Google, or even appear in Google's newest real estate; Featured snippets (i.e. answer cards, top stories, video stories)
But every time we decide to create a new piece of content, it is vital for us to take a step back, and ask ourselves:
'Is this content of value to us or our customers?'
'How will this new content impact our ecosystem?'
'How will we connect and curate this content, so that it has maximum visibility?'
'Do we even need this content, or can we update any existing information that is already ranking?'
For an industry that's consumed with information, we are all guilty of burying our own content by creating and publishing it in isolation.
We fail to consider our new piece of information in the context of:
Everything else we've created and published before
Everything else created and published by our colleagues and partners
How do you optimise content efficiency?
As Google evolves and relies on links between semantically connected content to provide relevant answers, it's no longer enough to optimise our content in isolation, or on a page-by-page basis.
Once we've decided we need content on a certain subject, we should:
Use Google's Site Operator Search to find neutral, conflicting or complementary content already existing in our ecosystem
Check the performance of existing content that will potentially conflict
Decide whether to create new content based on the performance of those conflicts
Link our content internally
Monitor our content optimisation success across our ecosystem
(see below for more information)
1: Use Google's Site Operator Search to find neutral, conflicting or complementary content
Using Google's site search feature which, according to Search Engine Land, is an "an easy-to-implement, safe bet that provide[s] Google-level search within your [own] website".
Do a simple site search to find all existing neutral content

To find all of the neutral content returning on your site in relation to your new content, conduct a standard site search including your focus search term.
For those of you who want to copy and paste this…
Here's the correct structure: site:examplesite.com focus search term
Do a site search, with the addition of quotation marks, to discover complementary content

This function showcases all the content that mentions your focus search term in some way. Think of these as link and visibility opportunities.
Copy and paste here: site:examplesite.com "focus search term"
Do a site search, with quotation marks and an 'intitle' reference, to discover potentially conflicting content

When a piece of content has the focus search term in the title, it is far more likely to conflict with your new piece of content, hence the 'intitle' site search.
Copy and paste here: site:examplesite.com intitle:"focus search term"
In this example, we have four pieces of potentially conflicting content…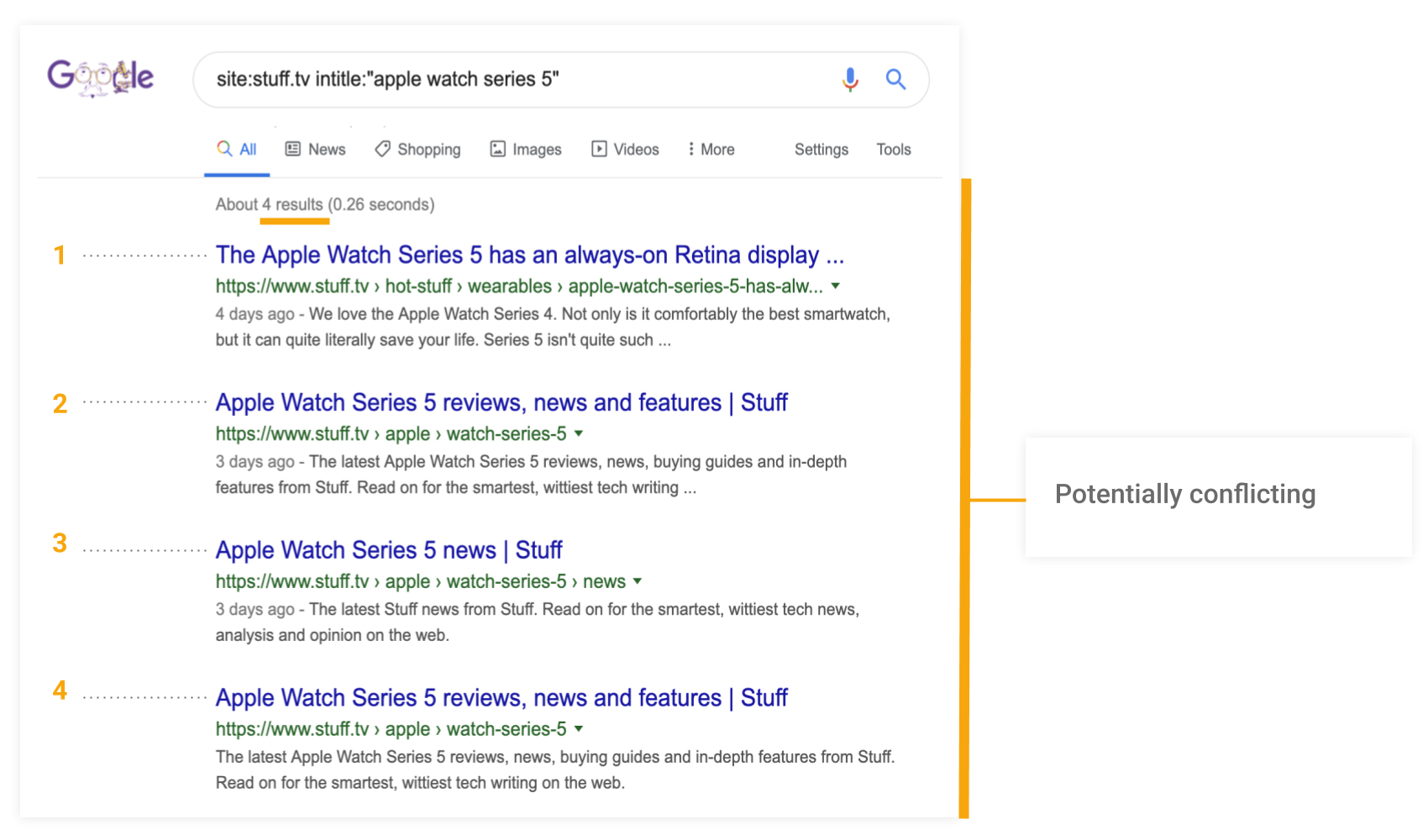 2: Check the performance of existing content that will potentially conflict
Before making any decisions on what to do with the new content we're injecting into our ecosystem, we need to check the performance of all potentially conflicting content, to determine what is the best doorway into our world. To do this we should check the following factors related to this conflicting content:
Page authority
Page visibility / ranking
Links to page
Page theming and relevance to focus or related terms
3: Make a decision based on performance of those conflicts
Then we need to ask ourselves 'Based on how our conflicts are currently performing, do we still write / publish our new content?'. If so, we need to choose what to do with the conflicting content:
Detheme / Retheme?
Repurpose?
Re-direct?
Update?
Merge?
No-index follow?
4: Link your content internally
Whether we choose to create new content or not, we still need to ensure we are creating keyword rich, semantic links to channel authority and add value.
5: Monitor your content optimisation success across your ecosystem
We need to keep an eye on the visibility of our related content within Google, and see positions rise as a result of the effective organisation of your ecosystem.
Because, the better we get at organising our ecosystem, the more value we add to that ecosystem.
What are the benefits of content optimisation?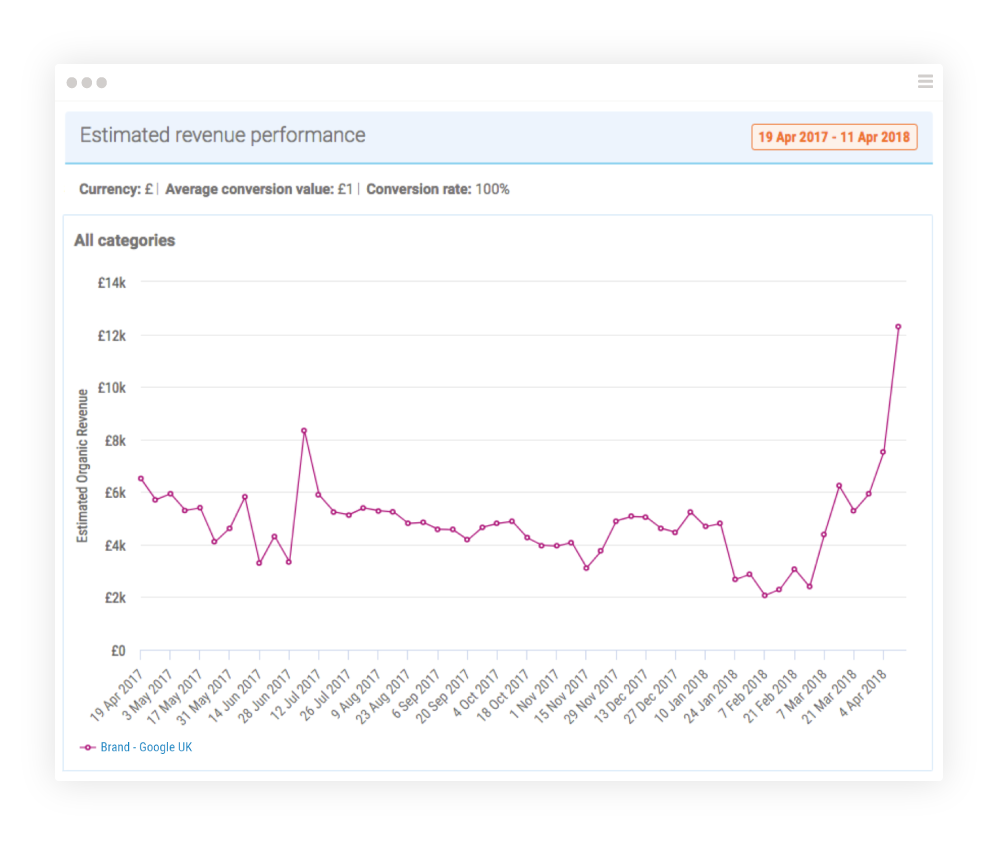 Looking at the performance of our content assets holistically, can help us to understand the value of our efforts.
If you practice contextual optimisation, your content has a far better chance of being found, and therefore you have a far better chance of adding significant value to your business.
One of Pi's clients applied this method, and are beginning to see the positive effects of contextual optimisation on their share and bottom-line revenue (see above).
And for more tips and takeaways, you can do one of a few things:
Download my content optimisation cheatsheet
Thanks for reading and / or watching – I hope you found the above useful!
For a quick, handy reference of this process, download my Contextual Optimisation Cheat Sheet…
My Contextual Optimisation Cheatsheet
Never miss a post
Join our mailing list and have our SEO news delivered straight to your inbox.
Never miss a post
Join our mailing list and have our SEO news delivered straight to your inbox.