International SEO: What is best practice?
05 Nov 2019|3 MIN READ
Search engines want to return results most relevant to a user's location and language. Consequently it's important to structure and optimise multi-country or multi-language sites to allow search engines to do this effectively.
What is international conflict?
International SEO conflict is most likely to occur between same language sites such as US and UK, Australia and Canada. This is usually down to duplicate theming or duplicate content. Google sees a semantic relationship between the two sites – even if they are on different TLDs or CMSs – and pits them against each other if they share similar content. For example, US and UK sites may both appear in a UK search engine if the correct international SEO is not applied, causing the 'right' page to consistently drop in the rankings.
Not only does this present poor user experience (i.e. on an ecommerce site, a UK user may end up viewing products only available in dollars within the US), it also often translates as lost visibility and revenue.
Therefore, effectively targeting your customers geographically can result in improved UX and increased conversion rates.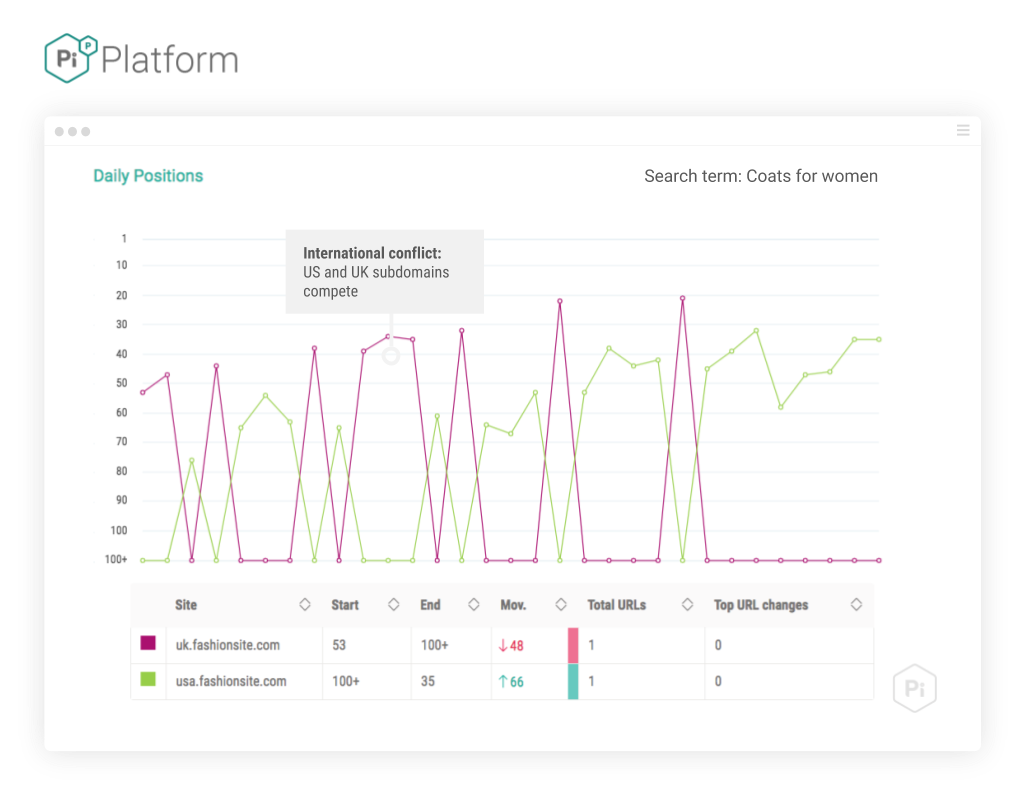 For all you need to know on keyword cannibalisation, read our complete guide…
Cannibalisation: Your complete guide
How do I target my country SEO?
To accurately target a specific country you can do a few things:
Use a country code Top Level Domain (TLD) i.e.

.co.uk

= UK |

.com

= US
Use hreflang to communicate the sites' country and language to search engines
Target the correct country and location in Google Search Console
Conduct local keyword research and use local languages
Get external links from local websites & country-specific websites
Register your business locally on Google My Business
Include location references on your website (i.e. address)
Apply conditional or geo based redirection
What is SEO language?
You can optimise your content for different language search engines, by targeting your country with the correct international SEO (see above). This will enable users in different countries to see your content in their native language.
What is ccTLD in SEO?
ccTLD stands for country code Top Level Domain, and is used to demonstrate that content relates to a specific country (i.e. .co.uk = UK), whereas a gTLD refers to a generic Top Level Domain – a site that is served to everybody.
What are the most common international SEO mistakes?
Misconfigured hreflang
Used correctly, hreflang is an indispensable tool for giving search engines explicit directions on which content to return for searches in different countries and languages. Unfortunately, it's often done wrong.
Some common errors we see are:
Incorrectly defining international content as "x-default"
Lack of reciprocality between content versions' hreflang attributes
Incorrect ISO language or country codes (or language-country pairs)
Conditional redirect problems
Many sites use conditional redirection to forward visitors to the most appropriate region or language site. But without proper planning and configuration, this can result in driving large numbers of visitors to the wrong site!
Both browser language and IP based redirection have drawbacks. Which method is right for your business depends on who your visitors are, where they are, and what they'll do on your site.
Most search engines crawl from a single location. For sites redirecting based on IP address, it's critical to make sure search engines can still see all of your global content.
Targeting the wrong keywords
It's often said that the Americans and the English are divided by a common language. No doubt Germans and Austrians say the same thing. And the French and Québécois…
Successfully navigating subtle differences in languages, dialects and cultural preferences can make or break your SEO campaign, and it needs to run throughout the whole process from keyword research to content strategy and reporting.
What is best practice for international SEO?
There are three main areas to consider when practising international SEO:
Website architecture
Broadly speaking, there are 3 approaches to structuring international websites. Each has its pros and cons and, typically, choosing the right approach depends on carefully balancing technical effectiveness, scalability and business requirements.
Technical optimisation
Effectively targeting content to appropriate markets depends on different techniques for different search engines, e.g., conditional redirection and hreflang.
Content optimisation
Last but not least, content needs to be carefully tailored to individual markets, responding to search demand and cultural preferences in each.
Cannibalisation: Your complete guide
If you think your site has been affected by international conflict, or would like more advice on best practice international SEO, book a demo today.
Never miss a post
Join our mailing list and have our SEO news delivered straight to your inbox.
Never miss a post
Join our mailing list and have our SEO news delivered straight to your inbox.