Competitor Analysis: how to conduct a Competitor Analysis
07 Apr 2020|4 MIN READ
Analysing your own performance only tells half the story. You've got to carry out a thorough competitor analysis to fully understand your market.
What is competitor analysis?
Competitor analysis is the practice of evaluating the other players in your market and gathering performance data with the goal to enrich your marketing and product strategy.

Why is competitor analysis important?
Competitor research is essential for a couple of reasons:
Discover your competitors: simply understanding who is operating in the same space as you and targeting the same audience brings huge insight into the kind of content you should be serving. You can see what they're doing right and how you might emulate their successes.

Identifying opportunity: you can stumble on some real gems whilst spying on your competitors; you'll be able to identify potential partners, resellers, advocates and even PR opportunities.

Discover unlimited competitor analysis
How to do a competitor analysis
Identify your competitors
First things first, you've got to know who your competitors are. You may already have a fair idea of who this is, but there may be businesses that aren't so obvious that you've missed; known as indirect competitors.
Indirect competitors don't have the exact same offering as you, unlike direct competitors, but they are selling something similar in your market. For example, you may be a craft beer seller and an indirect competitor might be a wine seller. You're both selling within the alcohol market to the same, or similar, audience, but you've got different products.
You could manually check all your keywords to see who is performing, but thats a long and gruelling task. Pi's SEO Platform Competitor Discovery tool does all that leg work for you, revealing every website returning for your tracked keywords, totally automated and totally unlimited. This means you'll know even your most obscure competitor, which could give you an edge once you implement your competitor analysis data.
Pi Platform Competitor Discovery report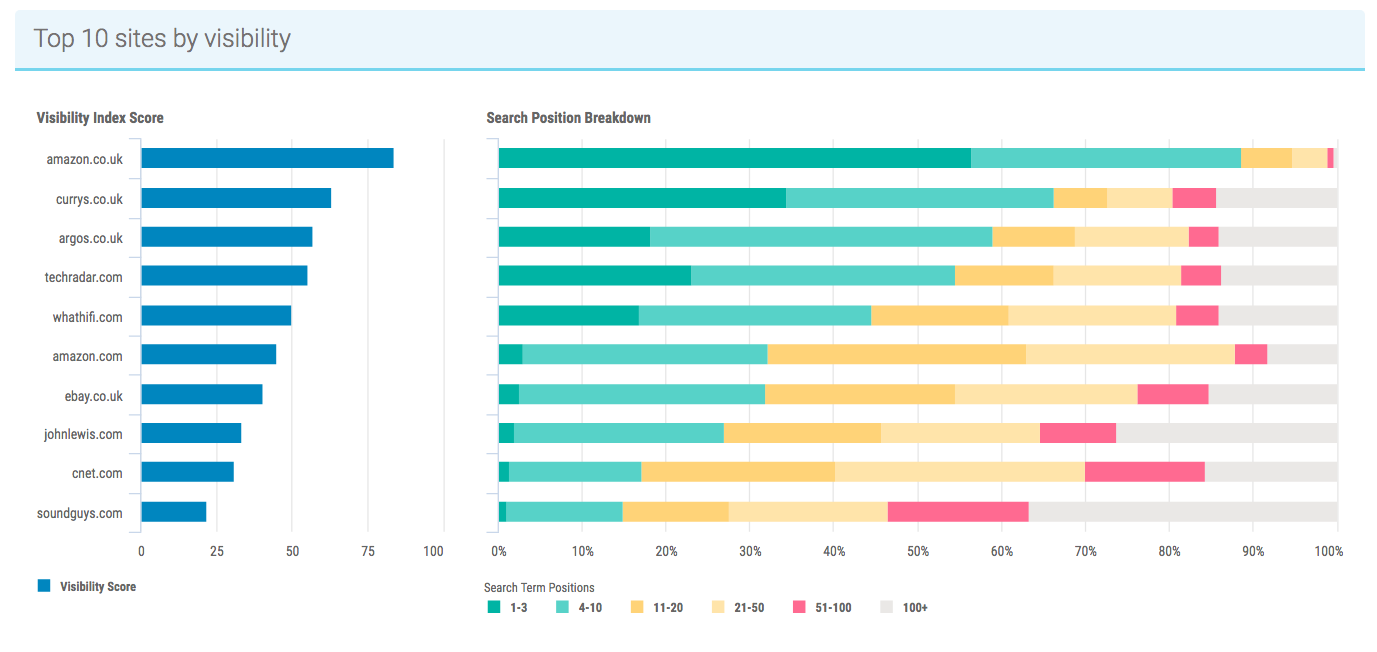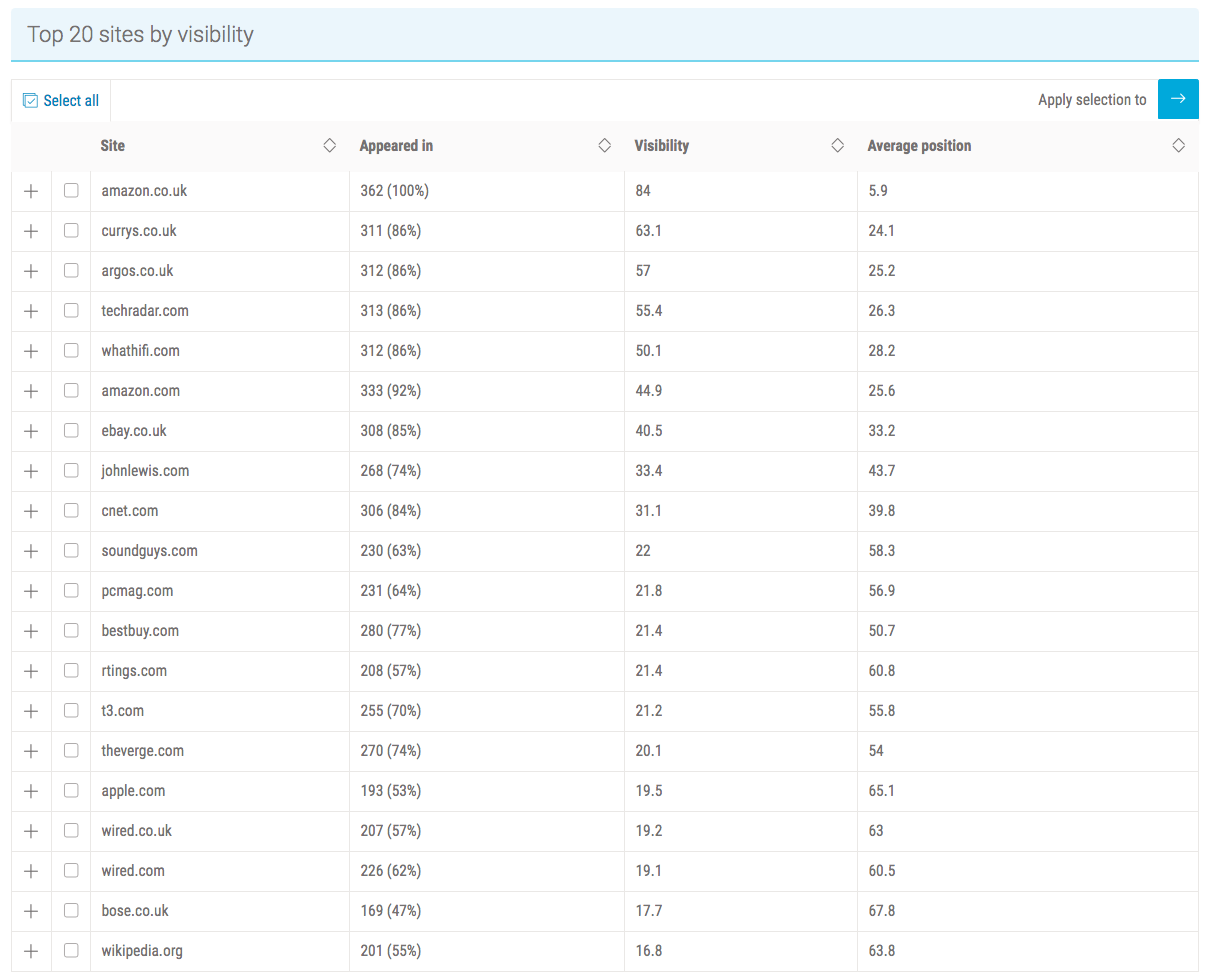 Think locally
If your company has a local presence, you may also want to check who your local competitors are.
Having a global idea of who your competition is is great for your broader strategy, but it could be that smaller businesses have gone under the radar.
You can manually check Google using a search term and place name, or use a platform such as BrightLocal to identify your local competitors.
In today's world of disloyal consumers, taking care of your local marketing is so important, as shoppers are looking for personalisation more and more. Big corporate marketing just won't cut it at the local level.

Compare competitor content
Once you've got a list of your competitors you can start to look at their content. What type of content are they creating? Do they do a lot of case studies? Videos? Audio?
Think about how this compares to your SEO content; are there any gaps in your content? What could you invest in to compete? What are they doing well that you can learn from?
Analyse the SERP landscape and identify the features that are returning for your most valuable search terms. At Pi, our SERP Feature tracking tools reveal which features have visibility in your space and also shows who is ranking for them! Track your performance and your competitors in rich features:
Pi Platform SERP Matrix | 2-hourly
If you're a product lead company, you can also use this phase to identify new product ideas – can you build on their product or make it better?
Explore a diverse SERP landscape and find your opportunities
Competitor SEO analysis
After looking at how their content compares to yours, it's time to go into the detail of their offering. Specifically, the SEO structuring of their content.
You want to optimise your site to outperform your competitors in search engine results, so you'll pull more traffic. So studying their SEO, and your own, is essential.
Here are some SEO practices to consider:
H1s and H2s

Metadata

Keyword usage

Alt text?
You may want to use a Competitor Analysis tool to evaluate their SEO; with Pi our Intelligent Copy tool provides feedback on the optimisation of any pages content for a specific search term.
After the analysis of the content, Pi offers recommendations on what can be improved.
Pi Platform Intelligent Copy tool
So you can learn from your competitors' shortcomings and evaluate their overall SEO performance.

Beyond Google
Social media
Where are your competitors promoting their content? Most likely part of their promotion is on social media.
So check out your competitors social channels. Really dig into how they are speaking and engaging with their audience. Do they have strong engagement? On which platforms are they most active?
Again, you may want to use a social listening tool such as Brandwatch to gather your competitors data for you.
Depending on who they're engaging with, you may even be able to find influencers in your space to collaborate with.

Become the customer
Gathering data is only one part of a competitor analysis, you've also got to see your competitors as their customers see them.
Try assuming the role of the customer and journeying through your competitors site. How do they draw you in? What marketing tactics are they using? Do they have good UX?

Finding value in your research
Once you've conducted your research, you need to organise it and create actionable points.
You may have gathered all the data but now's the time to bring in the content, SEO and social teams to share your wealth of knowledge. You can categorise your findings under their specific departments, breaking it down so it's easier to implement with certain teams taking different responsibilities.
Track performance across your industry
Never miss a post
Join our mailing list and have our SEO news delivered straight to your inbox.
Never miss a post
Join our mailing list and have our SEO news delivered straight to your inbox.