How can search marketers succeed during an economic downturn?
23 Aug 2022|5 MIN READ
The potential of a recession is on the horizon and the buzz around what this might mean for digital marketers is increasing. There's talk of advertising spend being reduced. Campaigns to warn against cutting your marketing budgets. And plenty of questions on how to alter your SEO strategy in preparation.
With this at the forefront of everyone's minds, our experts have been discussing what this might mean for search marketers.
Access the webinar slides & recording
What will a recession mean for digital marketers?
A recent article in The Drum outlined that for the remainder of this year, the IPA has reduced its ad growth forecast from 3.5% to 1.6%, while the forecast for 2023 has been cut from 1.2% to 0.5%. 
However, what some businesses might fail to realise is that curtailing their marketing efforts during an economic downturn might lead to them jeopardising their long-term market share…
One study, in particular, found that companies who refused to reduce ad spend increased sales by almost 340% within four years of the economy recovering. 
So, it's not all doom and gloom for the marketing world. Keeping ahead before, and during, a recession will help your business bounce back quicker while your competitors fight to reactivate dormant marketing plans. 
SEO is one of the most efficient ways to get new revenue and customers via your website with long-term benefits. Once you build and establish that equity online, it will serve you for months, and potentially years to come.
And if ad spend does get cut, there will be more responsibility for organic search to keep your brand's online share of voice up.
As a search marketer, what can you do to set yourself up for success?
Understand the search landscape

Gain insights on current consumer trends

Uncover commercial content opportunities

And importantly, prove the ROI of SEO 
Our experts covered all of this and more in a recent webinar that explored how to set yourself up for success in Q4.
Access the webinar slides & recording
The performance landscape so far in 2022
One way to ensure you set yourself up for success is to look at those already succeeding. 
The chart below highlights retailers who currently own high-value terms in the fashion landscape. In this instance, both Next and ASOS continue to dominate SoV in the fashion sector. 
It would be wise for retailers in the same space to keep an eye on top performers to get an understanding of what these brands are doing to continuously set themselves apart.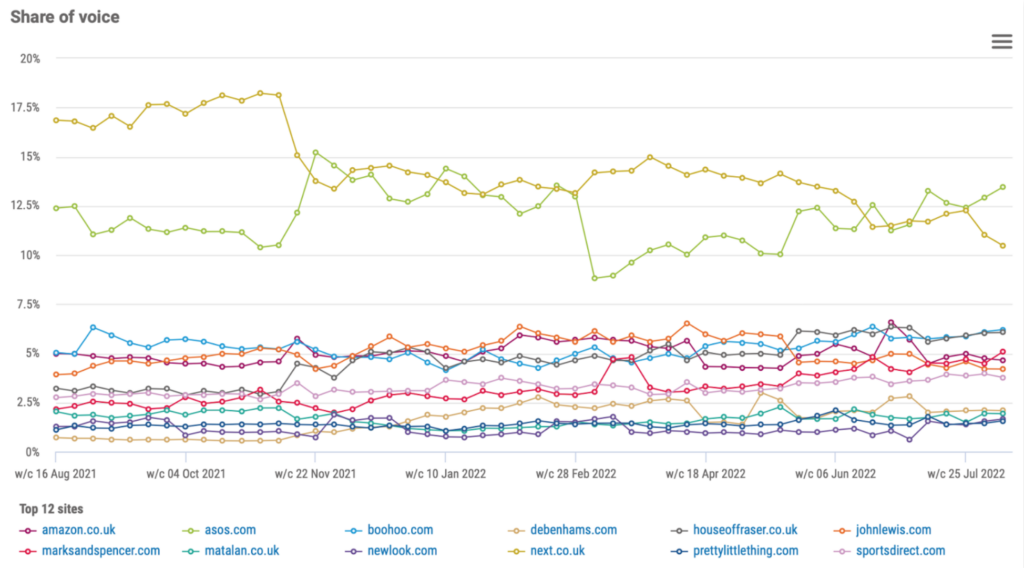 There is of course always room for new disruptors in the market, so it's also a good idea to understand where current opportunities might lie too.
The chart below displays the revenue opportunity available for those brands that currently have content sitting on pages two and three of Google.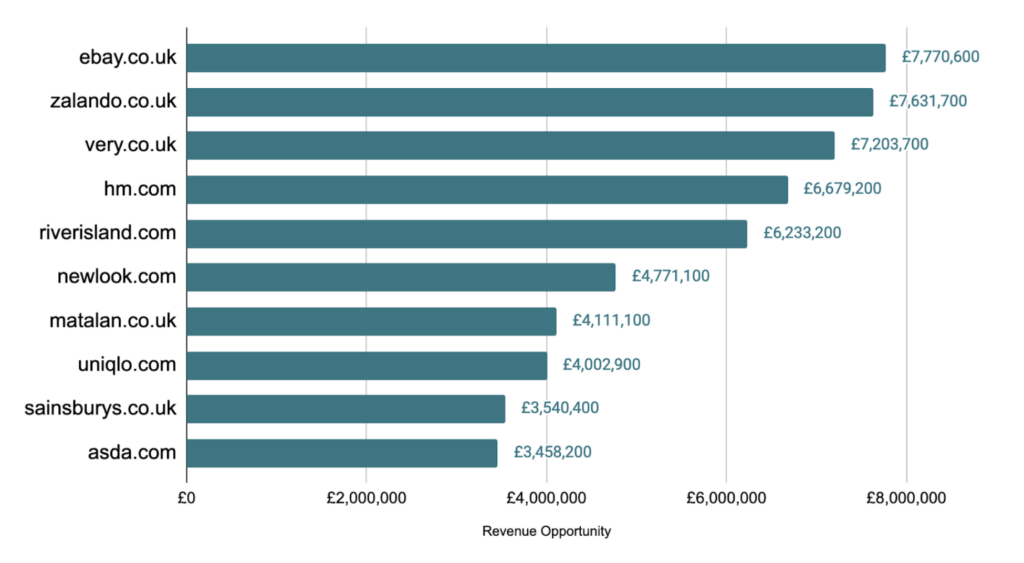 With some optimisation and by implementing some quick wins these brands could push their content onto page one and will start seeing an increase in their click-through-rates. 
We'll take a look at some of these optimisation tactics and quick wins later on in this article, or you can jump straight in by downloading the webinar recording and slides below.
Access the webinar slides & recording
Rising consumer trends and how to capitalise on them
Search volume data gives you a strong indication of the level of demand within a market and analysing consumer trends is a great way to inform your content strategy.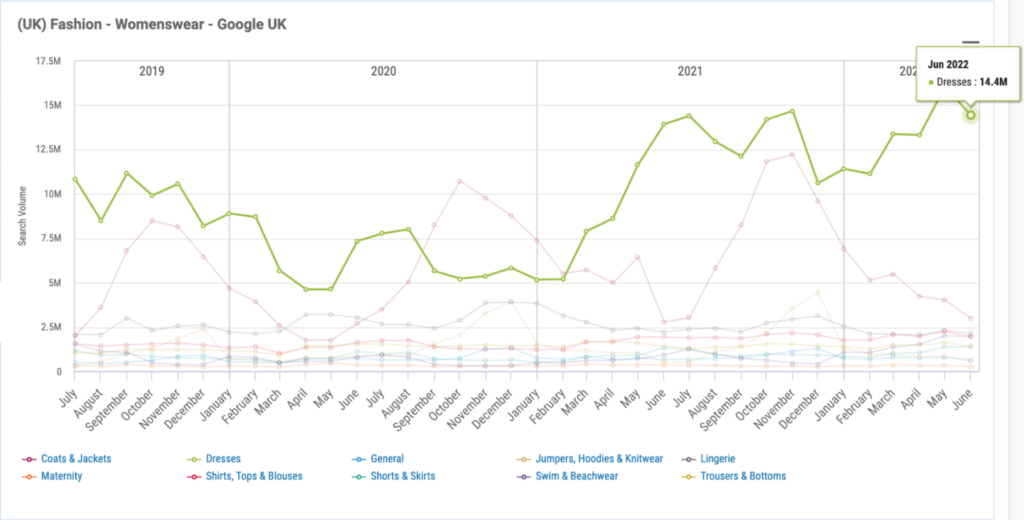 For example, the chart above displays a slow decline in searches for dresses throughout 2020 as the world went into lockdown. However, in 2021 we saw this decline start to increase, peaking in November with nearly 15M searches for dresses. 
This has since been surpassed in 2022 – the year of weddings – as many people tie the knot following restrictions being lifted. A trend that looks set to extend into Q4. 
It's also interesting to note that the demand for dresses has not yet been impacted by the potential of a recession – the cost of living crisis may not impact every consumer trend.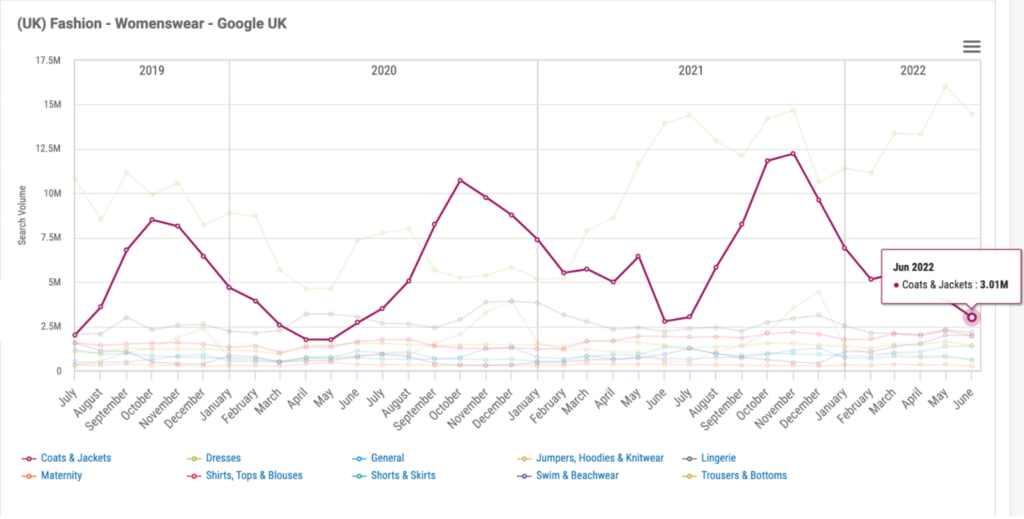 The second highest most searched for category in womenswear is coats and jackets.
Searches for these products start to increase early on in the year – as early as June and July. Although this is not necessarily when people start buying their winter coats and jackets, it clearly indicates a long product research stage in the buyer's journey. 
Therefore, you need to have your content in place well ahead of any peaks in search volume. This will help influence your customers early on in the buying journey, when competition is relatively low.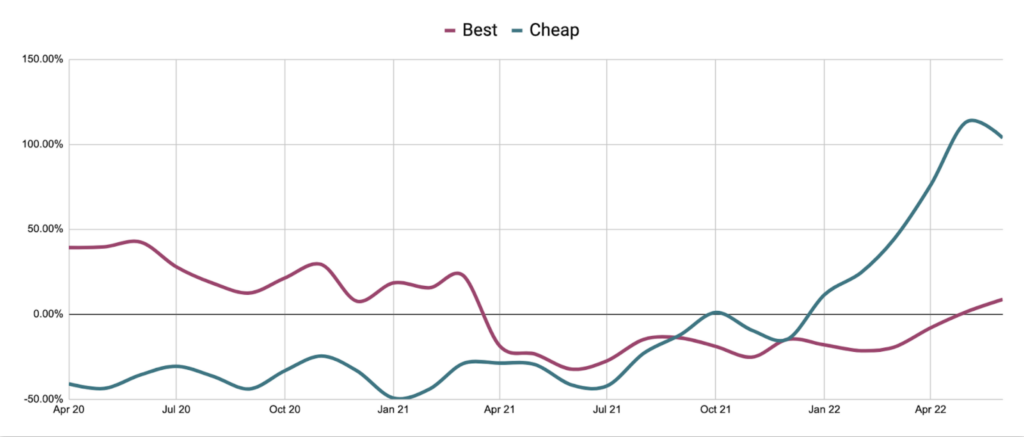 The chart above shows that since the pandemic, we saw an uptick in people searching for 'best [product]' as they moved away from searching for cheap products. 
However, going into January 2022 we start to see consumers moving back to cheap products and services as the search volume doubles.
It's important to note that 'cheap' is a proxy for affordable or good value – consumers aren't necessarily looking for cheap products, but they are looking for value within the market. 
This doesn't mean as retailers you need to be positioning your products or services as cheap, but you can start to think about how you might optimise your content for some of these terms without impacting your branding.
Commercial content opportunities
How do you find commercial content opportunities? The key is to focus on the terms that will deliver the highest commercial and strategic returns. 
This saves you spending lots of resources on finding new opportunities, and instead gives you the chance to implement quick optimisation tactics that will improve your conversion rate.
Cannibalisation – ensure you know how to identify it, fix it and prevent it – watch our short video here. Jon Earnshaw has done lots of research on cannibalisation and we've put together a comprehensive guide on how to tackle it, which you can download here.
Page titles – understand what common terms are featured in page titles for URLs on page one and optimise your content on pages two and three to include these terms in the pages' titles.
People Also Ask – harvesting People Also Ask questions that are relevant to your product is a great way to get in front of your customers. When people view an informative content-rich page before they view a product page they are more likely to be a returning customer and have a higher average order value.

Prove the ROI of SEO
With talk of marketing budgets being cut, it's more important than ever to ensure you're proving the value of your work as a search marketer.
It's important to look at data to inform future processes and SEO strategies. But not only should you use this data to inform your own decisions, also use it to make it easy for key stakeholders to view and understand the data too.
Our experts key takeaways…
There will remain a strong opportunity for organic marketers in Q4

Keep a close eye on the performance landscape and see what lessons you can learn from those who are doing it well
Focus on content and terms that will deliver the highest ROI, keep your strategy focussed on these topics
Keep track of how consumer trends are changing, but also use external information to help inform decisions
Shout about your successes!
Access the webinar recording and slides below to view the data in more depth and hear top tips on how to set yourself up for success in Q4.
Access the webinar slides & recording
Never miss a post
Join our mailing list and have our SEO news delivered straight to your inbox.
Never miss a post
Join our mailing list and have our SEO news delivered straight to your inbox.