How SEO software can help you to make key business decisions
07 Oct 2020|7 MIN READ
Search optimisation can give your business the edge over competitors, and help you increase your traffic and revenues, but it takes the right level of intelligence and insight to do this effectively.
This is where SEO software can be vital. It can save the time and money it would cost to perform SEO tasks manually, and can deliver a wealth of valuable insights.
SEO software such as Pi can mitigate risk, and can help identify opportunities for growth.
In this article, we'll look at how Pi's SEO technology works and how it can improve your SEO strategy.
Why search visibility is so important
For websites attracting lots of visitors, even relatively small changes in search performance can deliver an uptick in revenues, or reduce traffic and sales in the case of ranking drops.
Google is increasingly adding extra result types, ads and features to the SERPs, so organic visibility has become more competitive. The difference between one or two spots on page one of Google can affect whether a result is seen above the fold on desktop, or instantly visible to mobile shoppers.
Without effective SEO software, it can be hard for companies to monitor and maintain search positions across a wide range of keywords.
It can help you to answer several questions, such as:
Have you got your content strategy right? Are you targeting the right keywords? Is your content effective?
Are Google's algorithms negatively impacting your performance? Google tweaks its algorithms on a regular basis and Pi can help you to track effects and correct any issues.
Are your competitors outperforming you? Pi can provide insights into competitor search performance and help you to improve your own.
Do you understand the search landscape and all its new features? Search is constantly changing and being on top of current and future trends can give you the edge.
Do you understand what your potential customers are searching for? Knowledge of consumer search behaviour and trends can help you to optimise and attract your target customer.
It's estimated that the global content marketing industry is set to be worth £412bn by 2021, and much of this spend is wasted due to content related issues.
For example, let's look at the share of voice on Google for some leading fashion brands for a key term.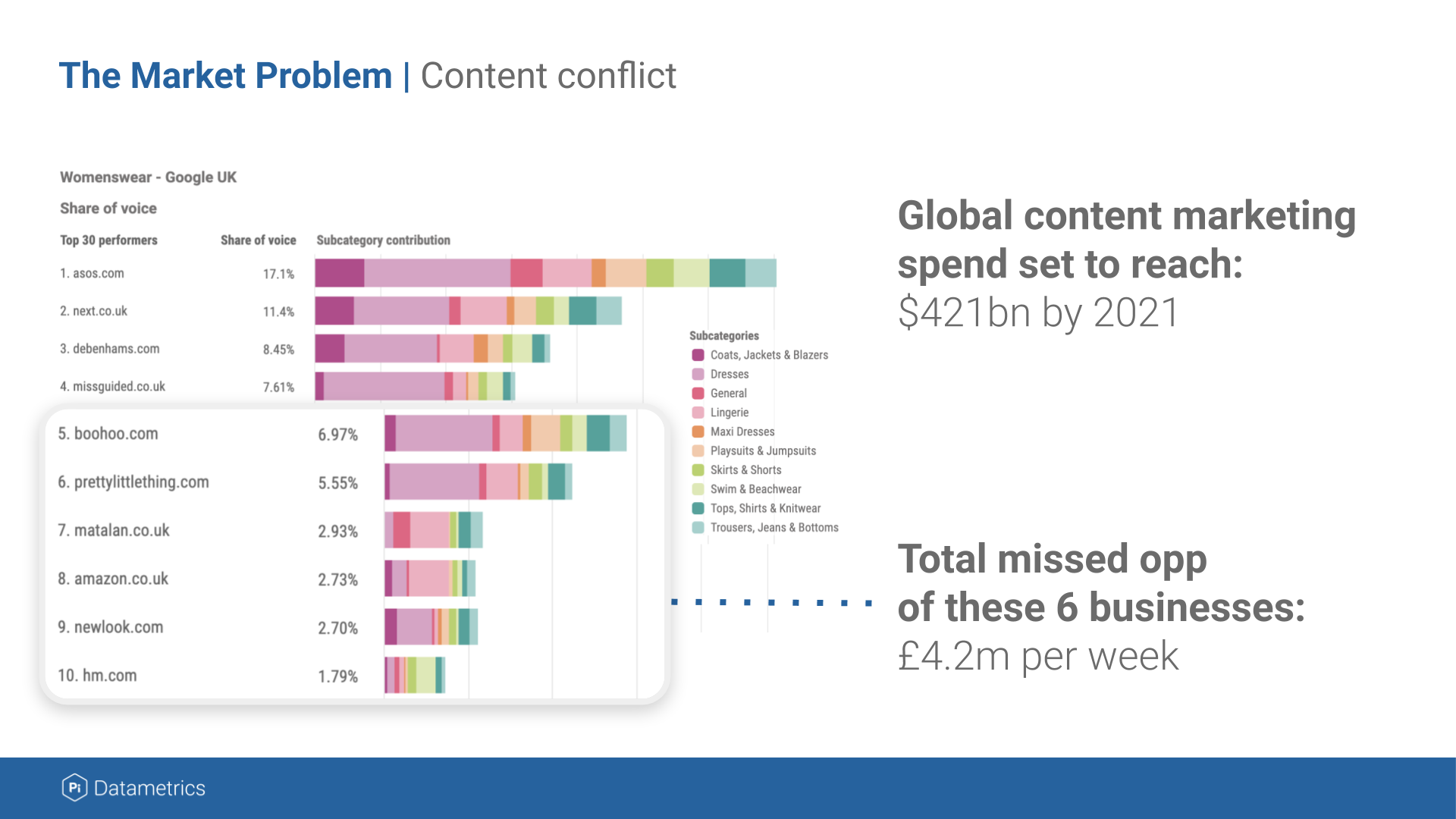 Those businesses sitting below the fold for a term which drives a lot of traffic are currently missing out on over $4m per week.
If we look more closely at one of those brands, we can see the opportunity they have with the right content and SEO strategy. The light blue shows the potential revenue they can gain from organic search for each of those product terms, just over £1m per week in total.
In the case of the brand featured, more than 70% of the problem is caused by cannibalization, something which can be easily fixed once identified.
Share of voice | Womenswear landscape | Google UK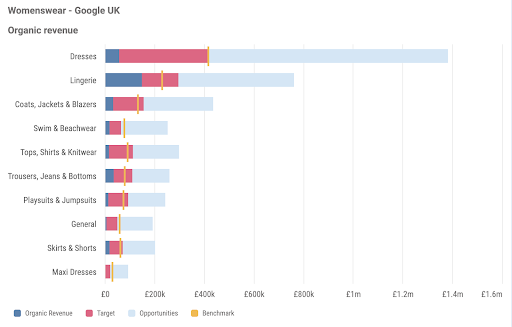 Algorithmic updates can also cause huge rises and falls in performance. This means search positions and therefore traffic can be inconsistent.
Share of voice over time | Womenswear landscape | Google UK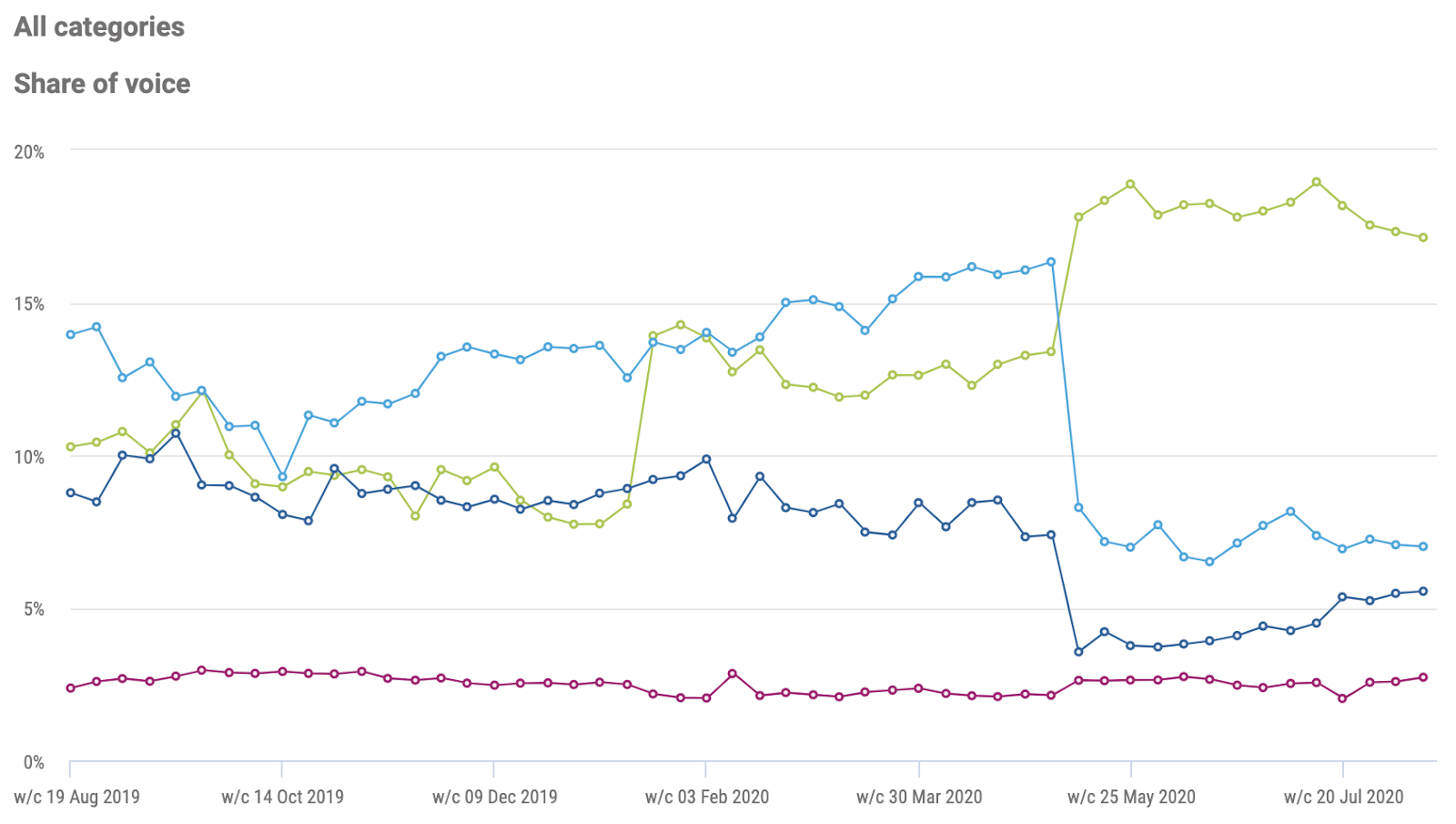 With the right data and insight you can catch both of these issues and solve them before they affect your traffic. Without such insight, you don't have control of your search performance.
How SEO software can help
Pi Datametrics is about democratising search data so that it can be used throughout the business, from the strategic to the technical. It no longer needs to be consigned to SEO teams.
With a wider business understanding of SEO, data can be used throughout organisations to support key business decisions and drive value.
For example, using Pi Market Intelligence you can see every competitor for any consumer search you can think of, and many are not even on your radar, giving you the most comprehensive pool of consumer search insight available.
Market Intelligence enables you to keep the whole company up to date with performance, share of voice and profit-led trend insights, and enables you to instantly and clearly visualise revenue opportunities, category by category.
About Pi
We have a team of 60 at Pi Datametrics. While the software is only six years old, we've actually been collecting search data for more than 15 years, and we have one of the largest and most comprehensive datasets on the market.
We currency work with more than 50 major brands, we have more than three and a half thousand active users, and offices around the world.
We have a wide range of companies using our technology, including Tesco, The Telegraph, IG Group, Vodafone, Harrods, and Lululemon.
These businesses use Pi in a number of ways to help achieve their business goals:
Big businesses use Pi as a damage mitigation tool to support complex global website migrations.
Others use our insights to size-up competitors and new opportunities in new markets.
Publishers use Pi on an hourly, daily, weekly or monthly basis to better understand the search landscape and the intent of their readers. This helps them to make well-informed decisions on content strategy, as well as page-level and site-wide contextual optimisation.
Many high street retailers are using the platform to significantly improve the performance of their online content & products, through the automated discovery and prevention of content conflict. This insight puts them at a significant advantage over their competitors.
Major parent brands use Pi to monitor and compare the commercial visibility of their entire online ecosystem.
How do we solve the problems our customers face?
One of the biggest problems that constantly results in missed revenue opportunities, is content cannibalisation, or internal conflict.
This happens when different pages within a website or domain are competing with each other for the same keywords. The result, as in the example from Pi's SEO Platform below, is that rankings are inconsistent, and brands lose out on potentially valuable search traffic.
Position Explorer Chart | Daily Rank Positions | Google UK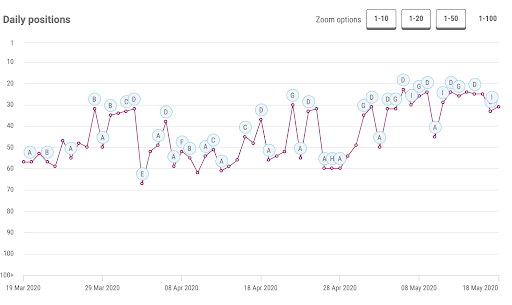 One key problem with keyword cannibalisation is that most businesses are unaware that they're suffering from it in the first place.
This can mean that businesses are spending billions every year on online content, but this money is wasted because if people are not consuming it.
This is because current approaches to content publication and curation simply aren't working, and content ends up unseen when users search for it.
If you're not using search data to inform content strategy, then there's a good chance that you're throwing money away.
Pi makes it super easy to fix the basic issues causing this waste, prevent them from happening in the first place, and identify opportunities for success.
How is Pi different to other SEO software?
One of the most powerful features of the Pi's SEO Platform is its global competitor data, and we have one of the largest sources of competitor data on the market.
This means that you have the ability to analyse your search performance alongside every other rival across the entire search landscape.
Some solutions require you to name your known competitors, but Pi Market Intelligence will reveal to you who your true competitors are, across the entire search landscape. This enables you to have a clearer and wider view of your competition.
Pi's data visualisation can help to inform the whole company about commercial performance, share of voice opportunity and profit-led search trend insights.
On a more granular level, Pi is one of the only platforms out there to track in four different time frequencies:
Every two hours – if you need to monitor a rapidly changing search landscape, such as during a new product launch.
Daily – essential if your SEO team wants to stay ahead of the game
Weekly or monthly – to help you report on your medium to long-term objectives.
Finally, with a changing search landscape and new result types, Pi can track every SERP Feature that appears in search results, from video and images through to PAA (people also ask) and Answer cards – which is invaluable when it comes to planning your content strategy.
How to use Pi to find key business insights
A good place to begin is at the MI (market intelligence) level where you can see your Share of Voice over time compared to your competitors, as this is an example for fashion retailers.
Share of voice | Womenswear landscape | Google UK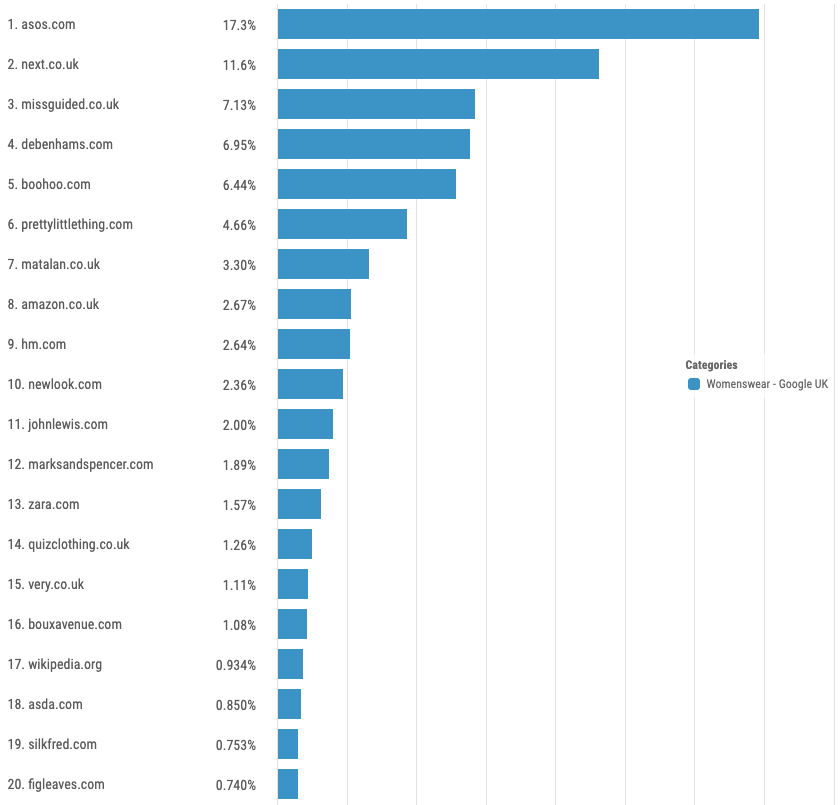 Scrolling down, you can visualise the market leaders for your target keyword group, and where you sit, quickly exploring performance against competitors, category by category.
Share of voice | Womenswear landscape | Google UK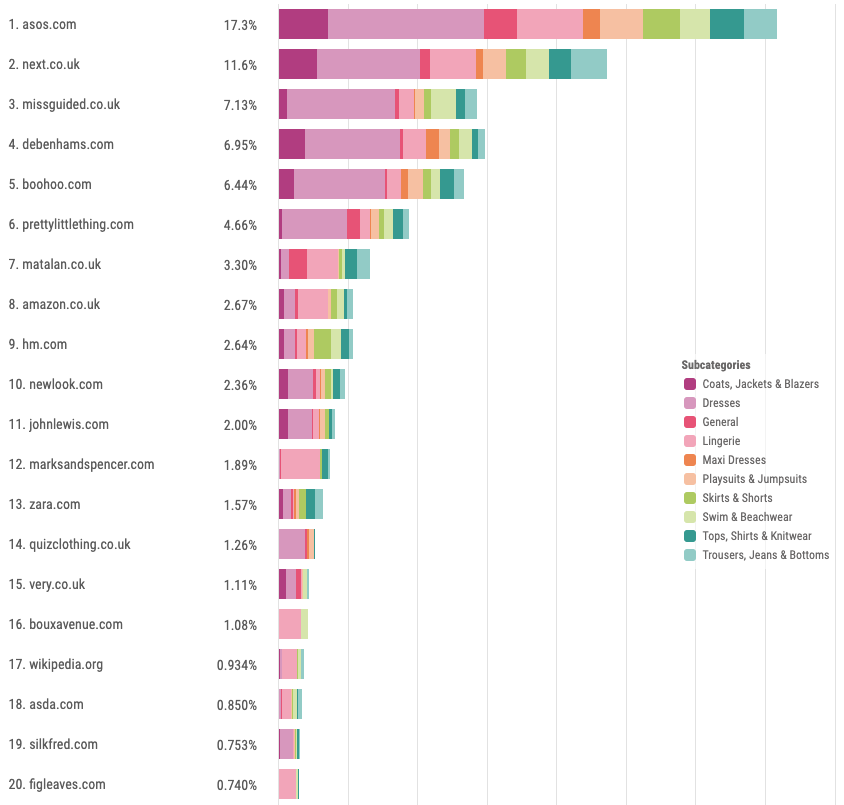 From here you can see the revenue opportunity for each term. It's super easy to drill-down to the subcategory level to reveal the value of content sitting just below page one.
Organic revenue | Womenswear landscape | Google UK

In this chart you can see the impact that a recent Google algorithm update has had on your competitors, positive and negative.
Share of voice over time | Womenswear landscape | Google UK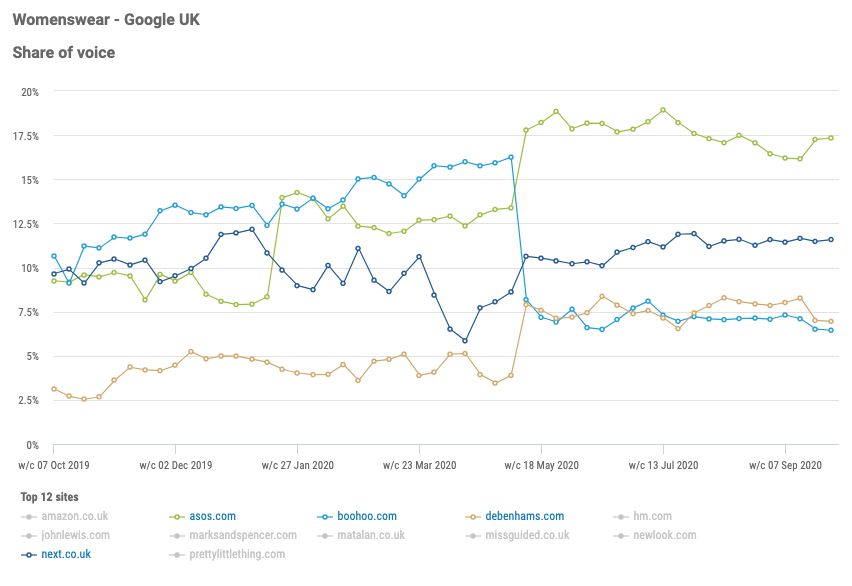 Here, the automated conflict detector report can reveal significant revenue opportunities.
Conflict Detector | Google UK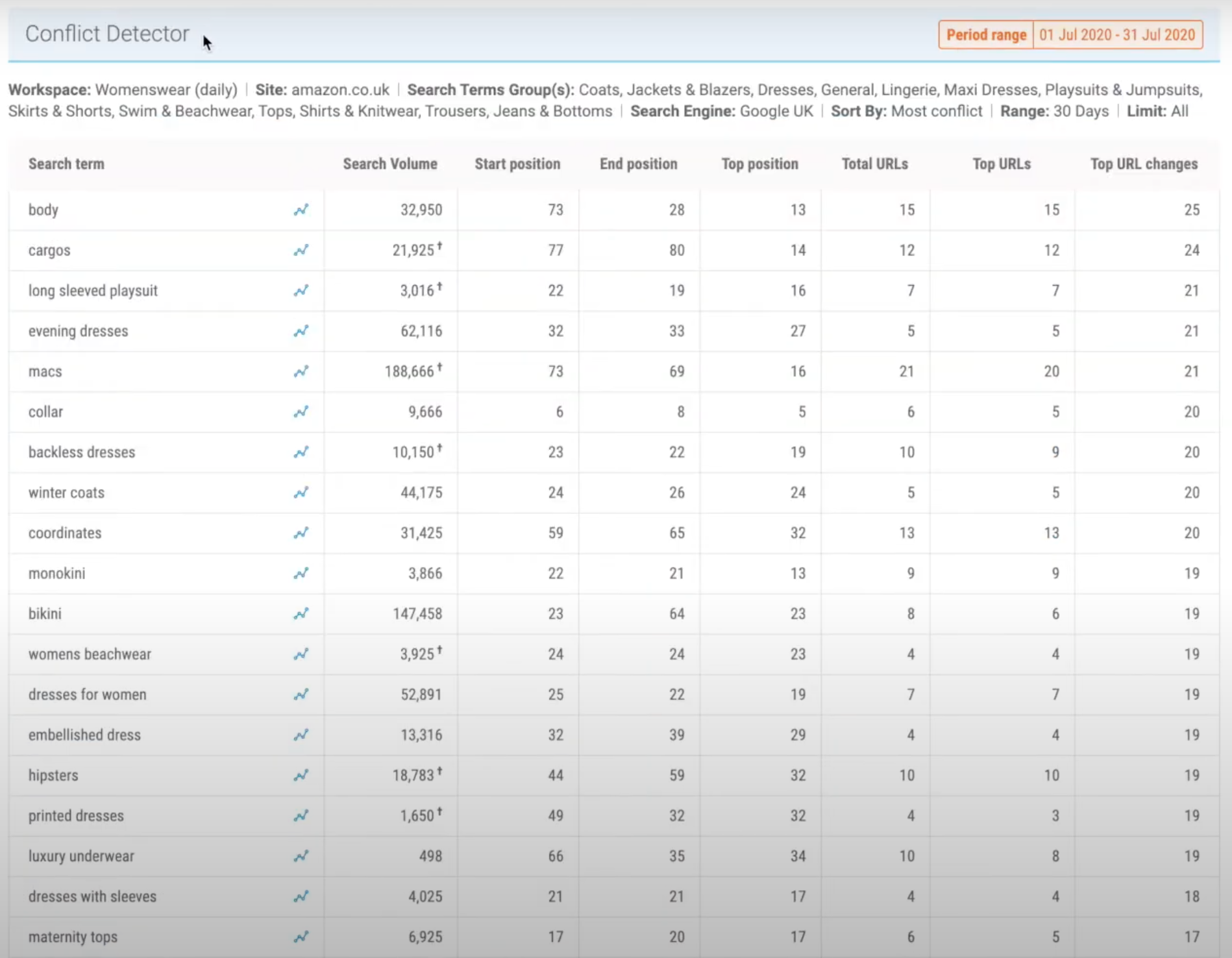 From this we can identify the content you have sitting on pages two and three of Google. The search volumes are huge, and this is the opportunity.
Position Explorer Table | Google UK
This chart reveals the problem further, in this case multiple URL changes for big money search terms. Google is confused and doesn't know which page to rank, so search positions are inconsistent.
Position Explorer Chart | Google UK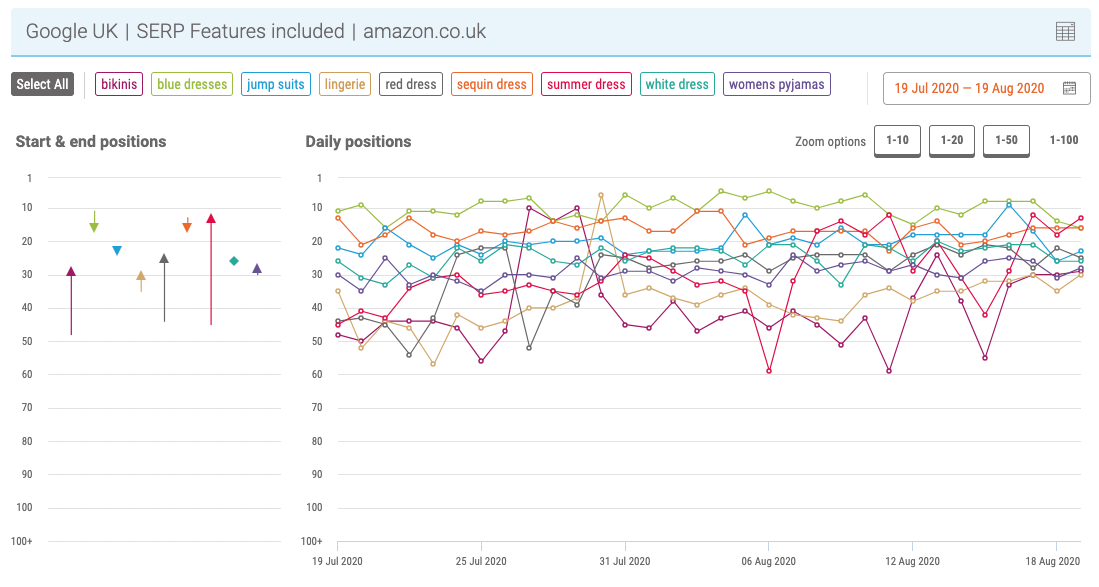 Once we have identified opportunities and issues to solve, these can easily be saved as an actionable insight to be shared with the team.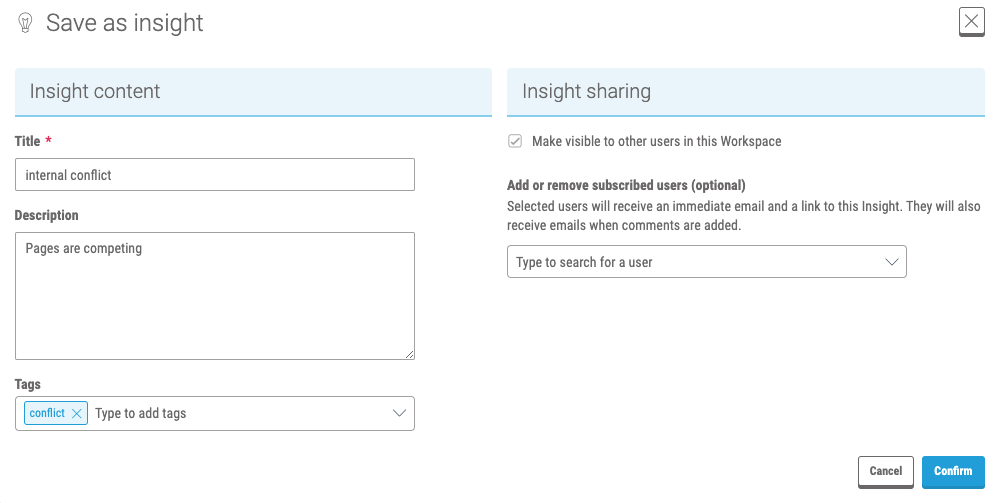 Let's take a look at some of the more unique features we offer.
This SERP Radar provides an unrivalled view of the search landscape from a feature perspective, showing the kinds of features that are important, category by category.
In this case that's 'Video' and 'Answer Card' content feature heavily in search results. So, producing video content may help your brand to stand out in this case.
SERP Radar | Beauty landscape | Google UK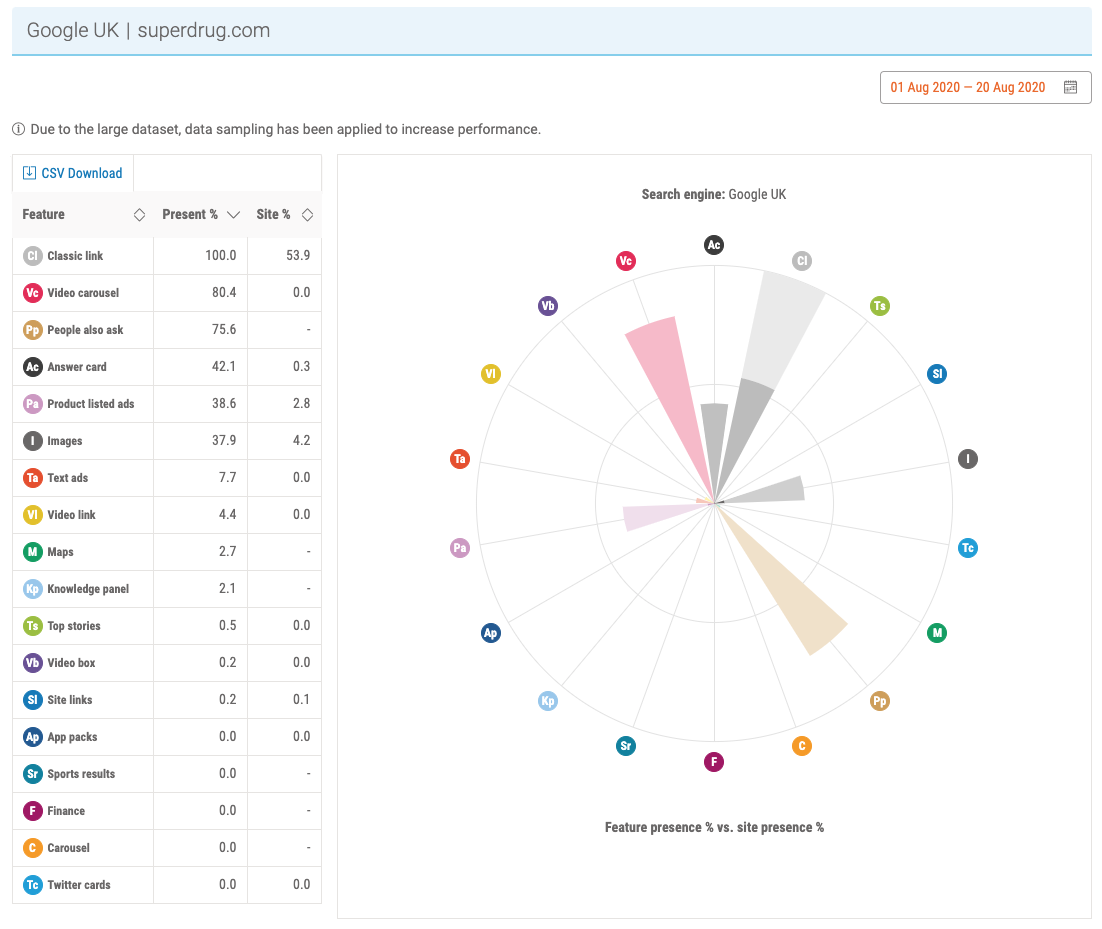 The unique SERP Matrix view really helps you to understand customer intent on a keyword by keyword basis. It shows the kinds of results that appear most commonly over time in key positions, and helps you to target your content more effectively.
SERP Matrix | Beauty landscape | Google UK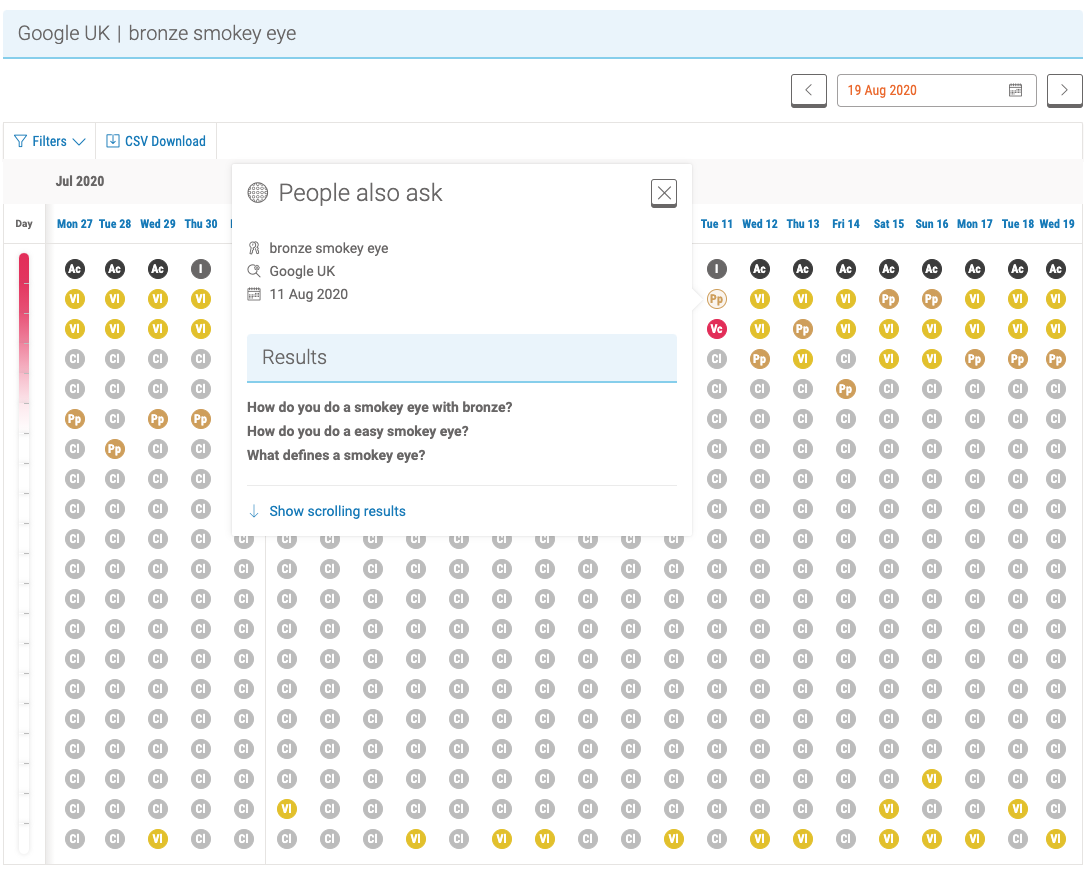 Finally the SERP Explorer Table helps you understand how your content performs from a feature perspective. For example, this allows you to see the results where your brand has answer card.
SERP Explorer Table | Google UK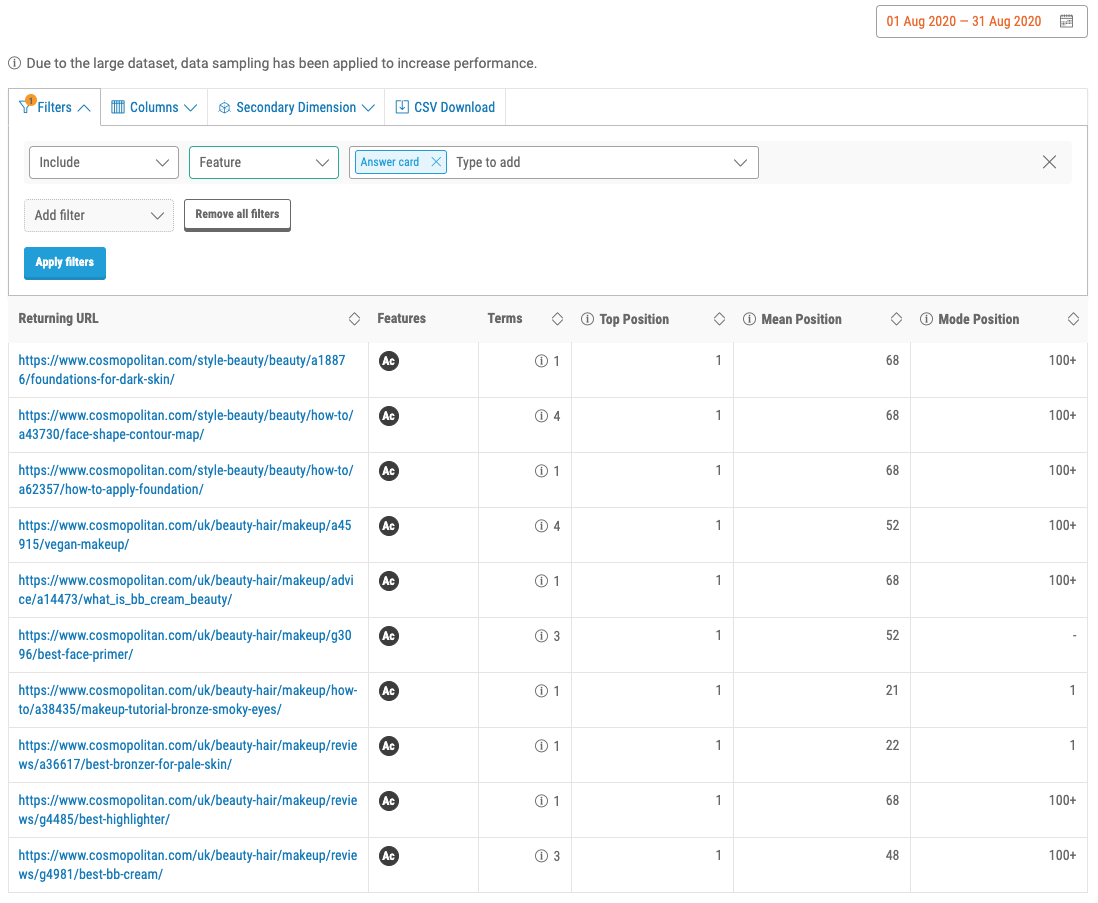 What's the expected impact of using Pi?
The first immediate benefit is a clear understanding of what your site or brand's organic share of voice is, and who your competitors really are – this often comes as a surprise as they're not always who you think.
Next it can reveal revenue opportunities and can help you to discover content and pages that are performing as well as they could. This presents opportunities to improve your search rankings.
You'll be able to reveal and share insights with relevant teams within the business – highlighting what's not working so well and providing intelligence-based recommendations to improve performance.
By acting on these insights, you're likely to see improvements in Share of Voice, search traffic and revenue in a very short space of time.
Pi is a cloud-based solution, straight out of the box, there's absolutely no integration required to use our software. Access to a web browser is all you'll need.
In addition to an API that all our customers have access to, we have Pi Sync, an add-on product that allows for teams to move their Pi data to a data warehouse, integrate with other data, and from there – analyse, transform, and visualise.
Where does Pi fit in the Martech stack?
Pi Datametrics is a consumer search intelligence tool that fits into the 'Content and Experience' part of your MarTech Stack.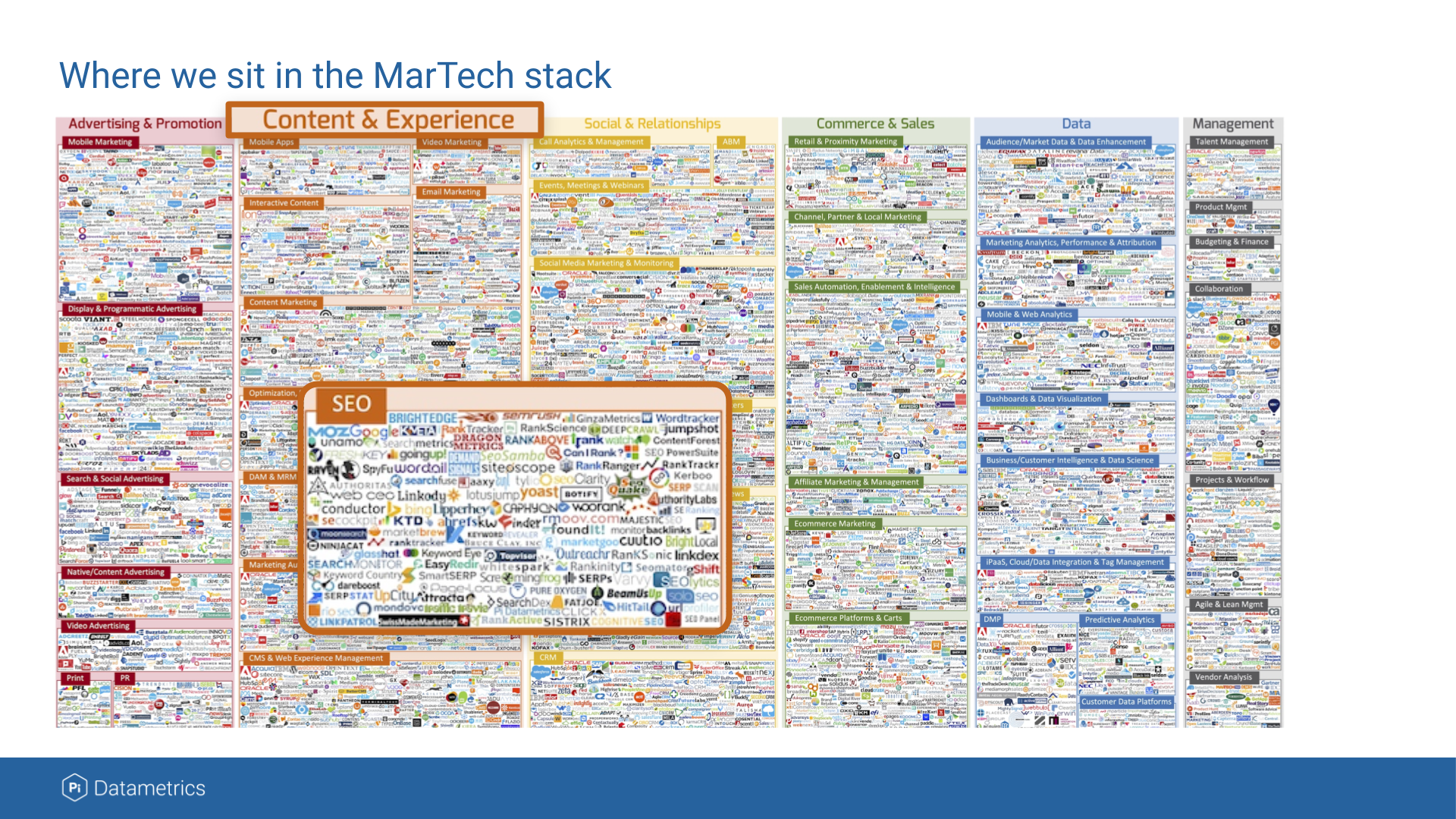 Though Pi will often be part of your SEO or Marketing budget, it has the power to inform strategy across the business, in teams far beyond search.
For example, Mergers and Acquisitions teams may use Pi's vast competitor data to identify new partnerships, while Merchandising teams might study Pi Market Intelligence consumer trend insights to know when to invest in certain stock.
Pricing and onboarding
The pricing model is very simple. It's based on a license fee and an amount dependent upon the number of queries made. For this you get unlimited domain tracking and unlimited user licenses.
In-app reporting, onboarding and training are included at no extra cost.When it comes to onboarding you're typically looking at a four week timeline.
Week one is all about preparation, including account configuration and a kick-off meeting.
Week two is all about training – tailored to your use case, designed to get you up and running and discovering and saving insights as quickly as possible.
In Week three there will normally be a checkpoint meeting along with follow up training sessions.
In Week four an onboarding review will take place, again with any follow up training sessions as required.
Never miss a post
Join our mailing list and have our SEO news delivered straight to your inbox.
Never miss a post
Join our mailing list and have our SEO news delivered straight to your inbox.