Google announces two new Core Updates
08 Jun 2021|2 MIN READ
Google has announced the release of its June 2021 Core Update, their first since a significant update back in December 2020.
This update was released on June 2, and Google says it will be followed by a second update in July, as some of the planned improvements 'aren't quite ready'.
What we know so far?
Typically Google's Broad Core algorithm updates drop on one day across markets and normally take around 4 days to settle, at which time the impact is usually pretty clear.
"So far, this Broad Core update is looking remarkably unimpressive and the only surrounding impact we've seen is hitting on the 6th and 7th of June. This pattern therefore is unusual to say the least. My bet is that the July Core is going to be more impressive and Google holding it back to get it absolutely right suggests that either Quality Raters weren't pleased with the proposed SERP or Google needs to get its story straight for a monster upheval! Either way it's going to be an exciting summer!" Jon Earnshaw – Chief Product Evangelist at Pi Datametrics
What we are seeing though is significant movement in and around the 6th of June, mainly originating in the News and Publishing sector.
There are a few possibilities why we're seeing this:
It is a result of the Broad Core algorithm update, which was smeared across a number of days (unconfirmed by Google)
It is this the beginning of the gradual rollout of Core Web Vitals (unconfirmed by Google)
It is a rollback of the product reviews update from April/May
Over the coming days, we'll update this with any findings we have.
As always, Core Updates can produce some anxiety amongst marketers concerned that their sites will be negatively affected.
For this reason, it's important to keep an eye on your search performance for any possible impact. If you've been working hard to improve your content and on-site performance, you may be rewarded for your efforts.
Track your daily SERP performance
As Google says in its announcement on Twitter:
"…any core update can produce drops or gains for some content. Because of the two-part nature of this release, it's possible a very small slice of content might see changes in June that reverse in July."
It's also important not to worry if you see any negative effects, as Core Updates can take some time to 'bed in'.
In general, if you're doing the right things in terms of content and experience, you shouldn't have too much to worry about.
As Google explains in a related blog post, Core Updates are generally about being able to assess content more effectively, and to improve the user experience for searchers.
They can also reflect the broad direction of travel for Google, so factors such as E-A-T (Expertise, Authoritativeness and Trustworthiness) can be important when Core Updates are introduced.
Essentially, E-A-T is the means by which Google measures quality, and can take factors such as the expertise of authors and domain authority into account when ranking pages.
Learn more about what Google E-E-A-T is in this ultimate guide.
One immediate effect of this Core Update is that Google's introduction of Core Web Vitals metrics into its algorithm will be pushed back, as predicted by Jon Earnshaw a month ago.
As Jon says, this makes sense from a Quality Rating perspective as it allows Google to isolate updates so the impact can be measured in isolation.
Tips for dealing with search updates:
Don't panic – no need to rush in and make changes if you feel you have been impacted.
The only urgent fixes you need are for webmaster violations.
Keep an eye on your data and monitor search performance for the next few days, to see how key pages are performing.
Remember another Core Update is coming in July. With two Core Updates in quick succession, it's likely to be best to assess the overall impact when both have had time to settle in.
Review Google's general advice on performance drops after updates.
Keep an eye on tools like Pi to check your own and your competitors' performance post-update. Perhaps there's something you can learn from rivals that seem to have benefitted from the updates.
What we have seen so far?
Pi's Visibility Index | Voucher and discount code space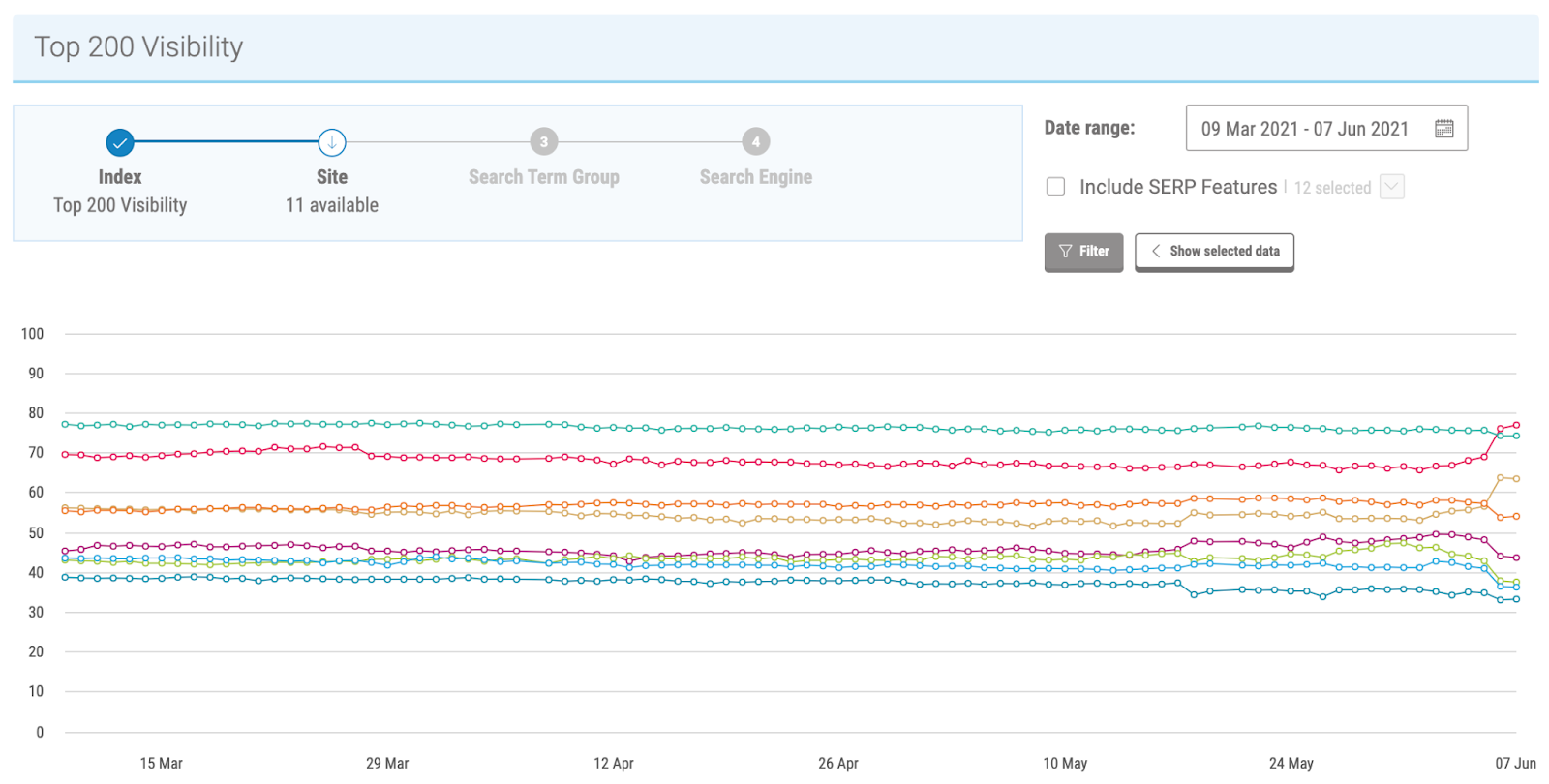 Although the big movements took place on the 6th June – if we look closely – the subtle roll-out actually started on the 3rd for most of these big sites in the voucher and discount code space. The top two trading places are the daily mail, dropping and Vouchercodes moving into top spot.
The fact that all sites move at the same time (some up and some down) whilst the SERP features remain the same is a big indicator of algorithmic update.
Here's Vouchercodes.co.uk making some considerable gains from below the fold to position one and from page two to above-the-fold. This team must be feeling pretty pleased with the outcome. Let's see what happens with Part two in July!
Pi's Position Explorer Chart | Vouchercodes.co.uk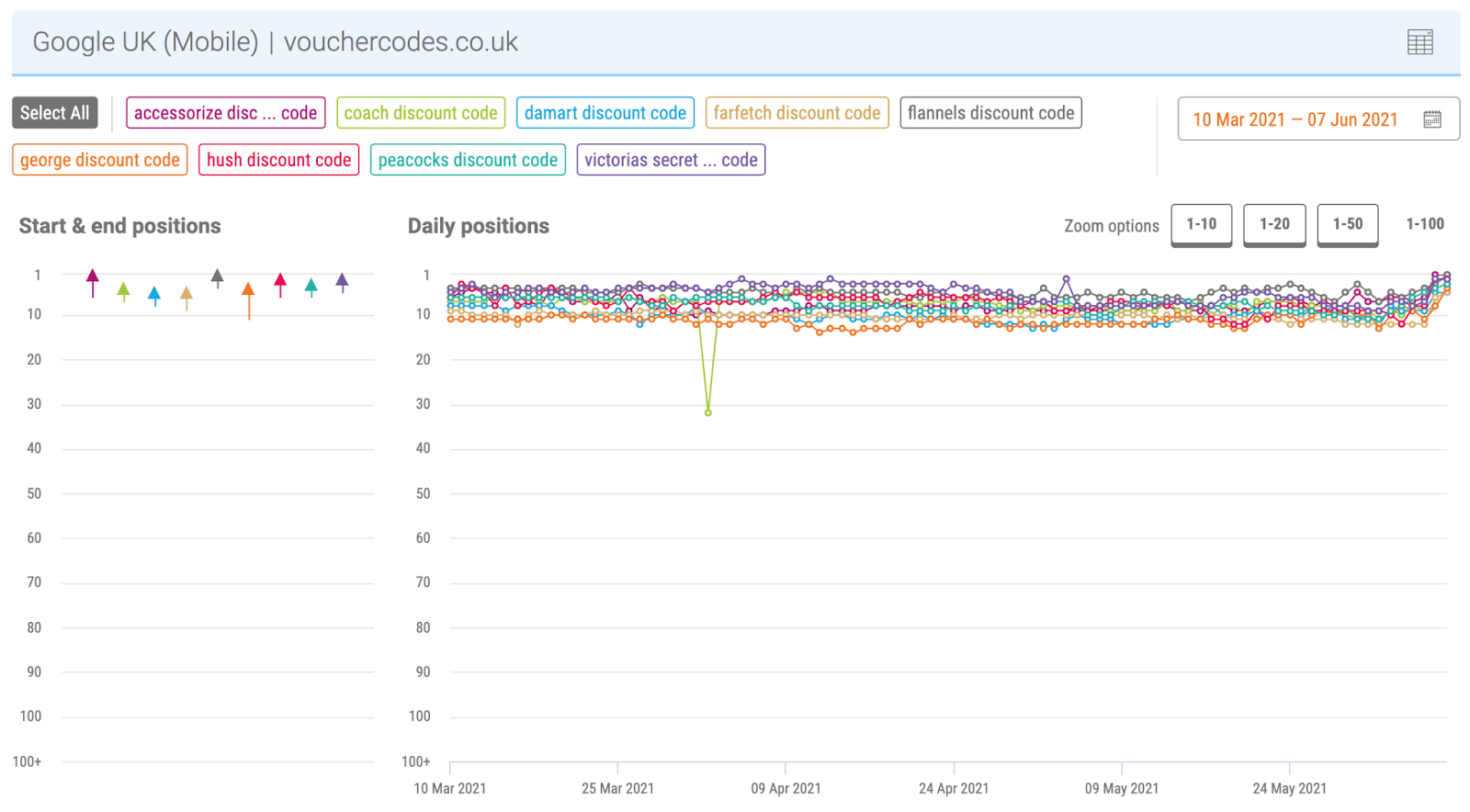 Track your daily SERP performance
Never miss a post
Join our mailing list and have our SEO news delivered straight to your inbox.
Never miss a post
Join our mailing list and have our SEO news delivered straight to your inbox.