The rise of the UK online home and small appliance markets
16 Jan 2023|5 MIN READ
The online small appliance market is worth an estimated $107bn globally. The evergreen products alongside the new trends are driving this market up in value despite a global downturn. 
With half of all purchases made online, the best performers in search within the UK, such as Amazon, Argos and Currys, are perfectly placed to drive revenue against home electrical must-haves. And in total the UK small appliance sector is set to grow from $3.9bn to $5.2bn over the next five years. 
Here, I want to take a look at the trends within the market and to see who is owning each segment in Google, as well as looking at the demand in eCommerce within this sector and the average order value per person. I'll be looking at the Small appliance (toasters, vacuums, small cooking appliances) and Home appliance (cookers, fridges, dishwashers etc) markets in the UK.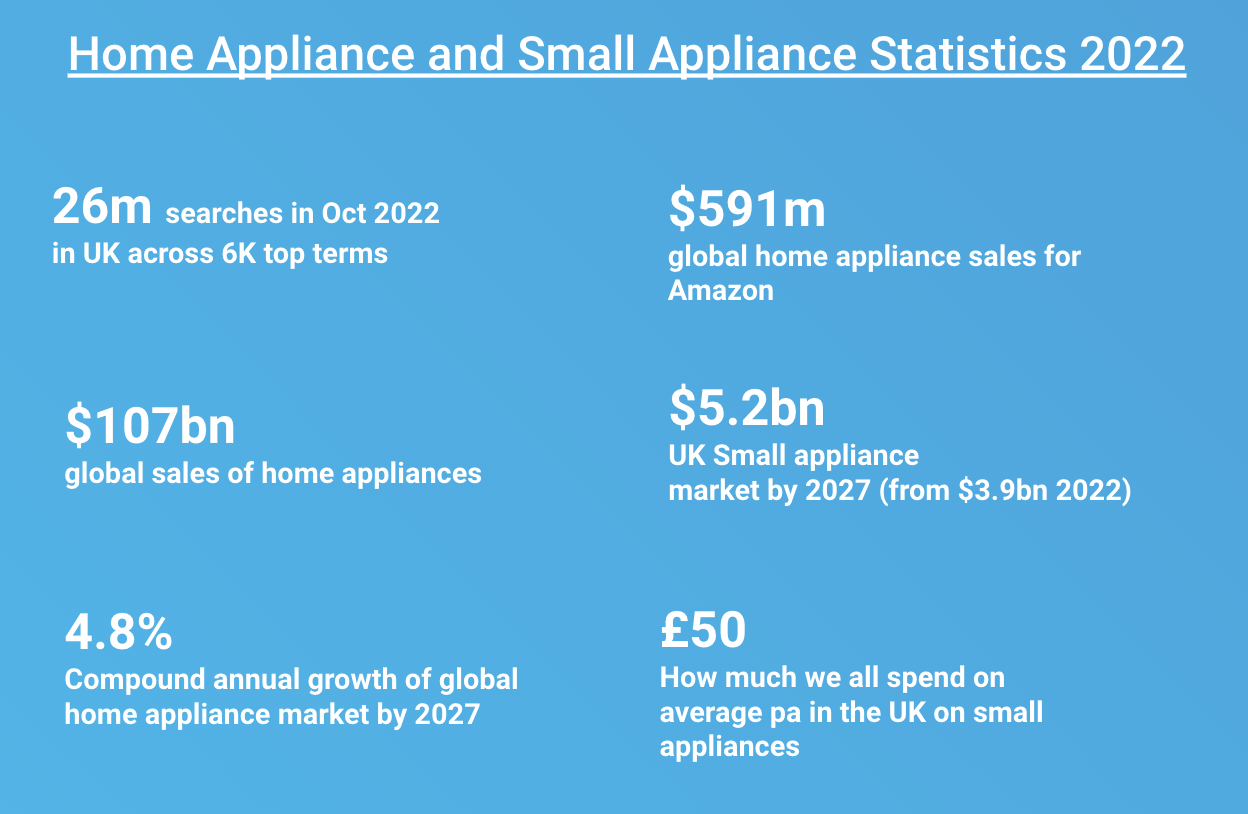 The UK Home and Small appliance market – in SEO and search
Since the pandemic overall demand for electrical items has waned slightly. In the image below we see this reflected in total revenue for the Small appliance market in the UK from 2014 to 2027, with a peak in 2021 of $5.9bn spent on these shores.
Image 1: Total Revenue for UK Small Appliance market 2014-2027 ($)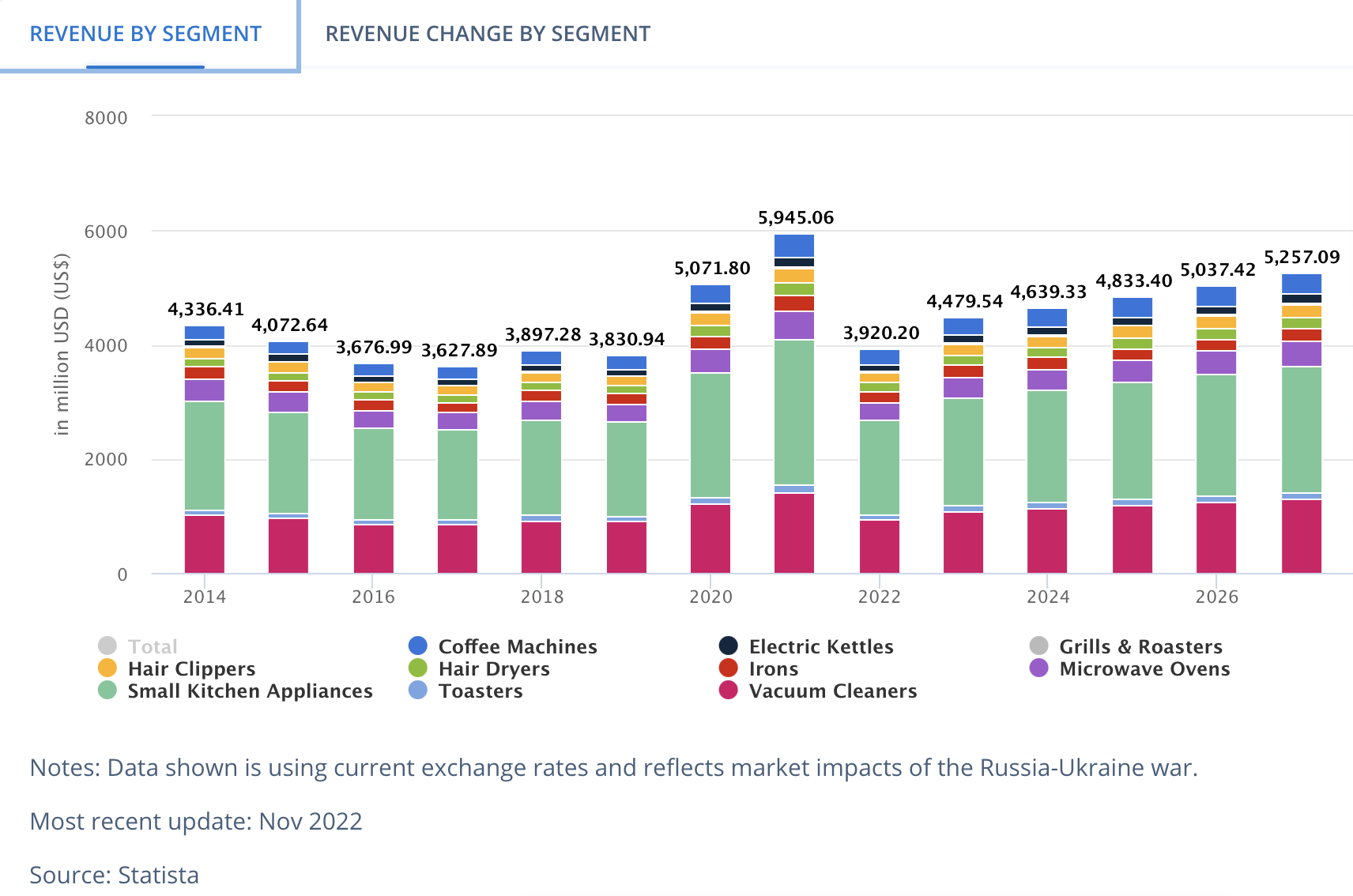 If you notice in the above chart, there was actually a gradual decline from 2014 to 2019 in the small appliance market prior to the pandemic. It's as if in lockdown we all started to get a new passion for electrical items and now the market is now set to grow considerably YOY.  
This growth in the Home and Small appliance market in the UK over the next five years will have a compound impact on online sales and Google searches, as online will take a greater share of acquisitions from 2022 onwards as the image below shows, this is almost double the average online versus offline sales for the UK for all products.
Image 2: Share of purchases across online and offline providers in UK small appliance market 2014-2027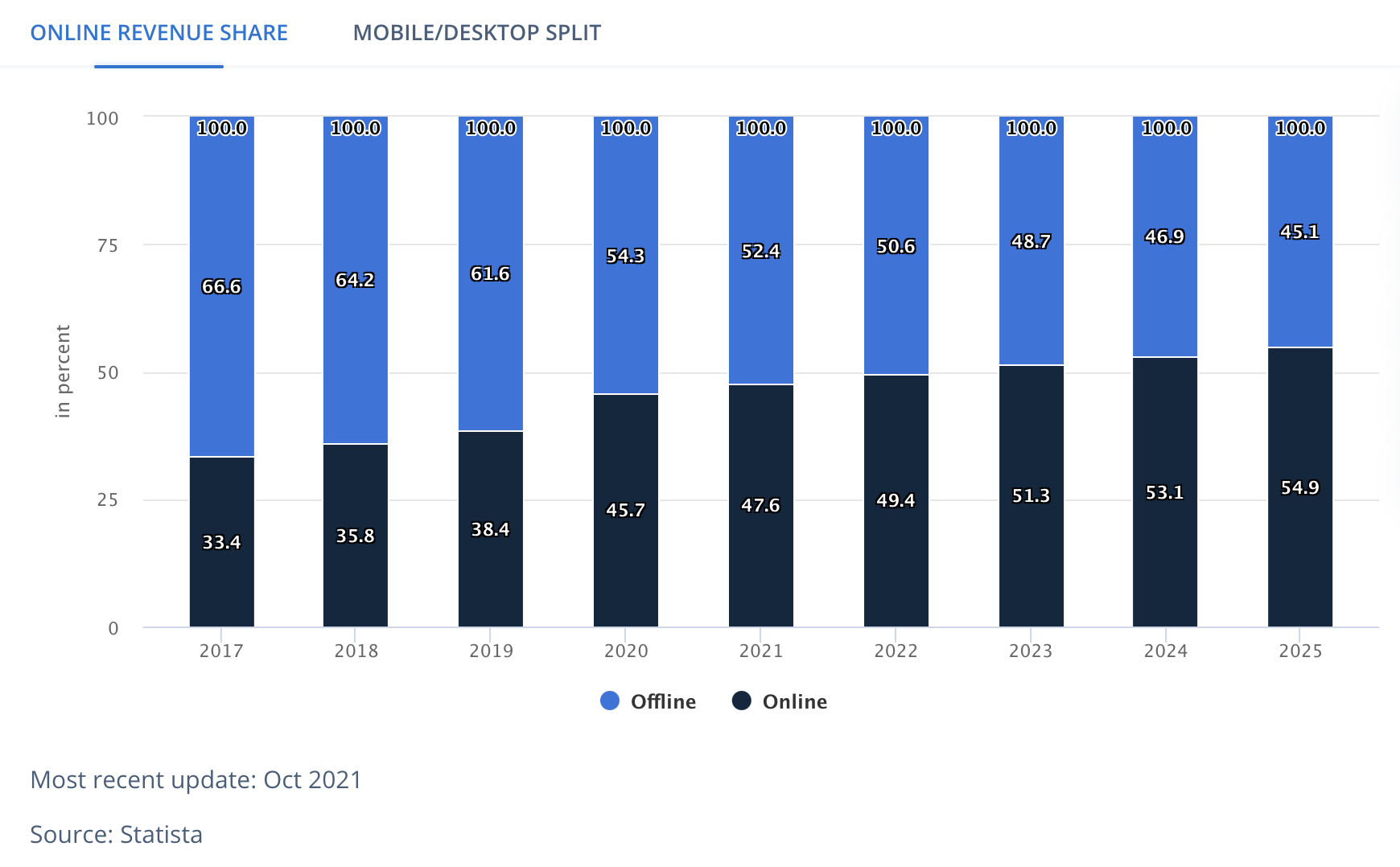 So with online purchases increasing, marketing drive should therefore be incresingly focussed on the main attribution channels of search. When it comes to sheer quantity of searches 2021 also saw a peak, with 2022 down considerably compared to the year before – however, the market, and especially the online market, is set to grow and continue to grow for the next five years – with a 10% increase next year.
Image 3: Search Volume UK Electricals (20,000 terms): 2019, 2020, 2021, 2022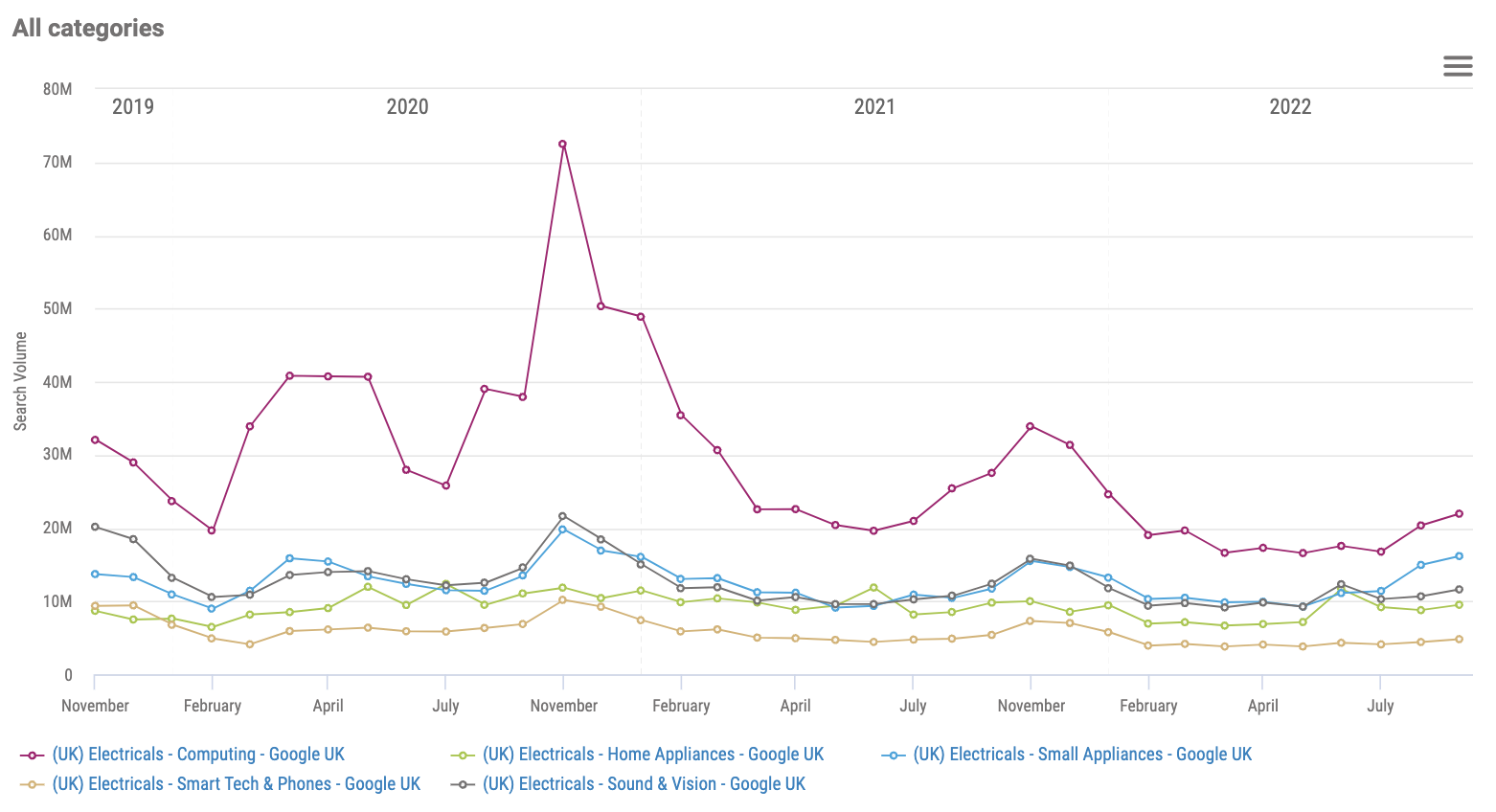 Here we see the top 5 categories in the UK electrical space: Computing, Home appliances, Small appliances, Smart Tech and Phones, and Sound & Vision. 
This is the volume across 20,500 search terms within the Pi Datametrics platform. Total search volume for these terms = 74.1m for Oct 2022.
Image 4: Search Volume UK Electricals (20,000 terms): 2019, 2020, 2021, 2022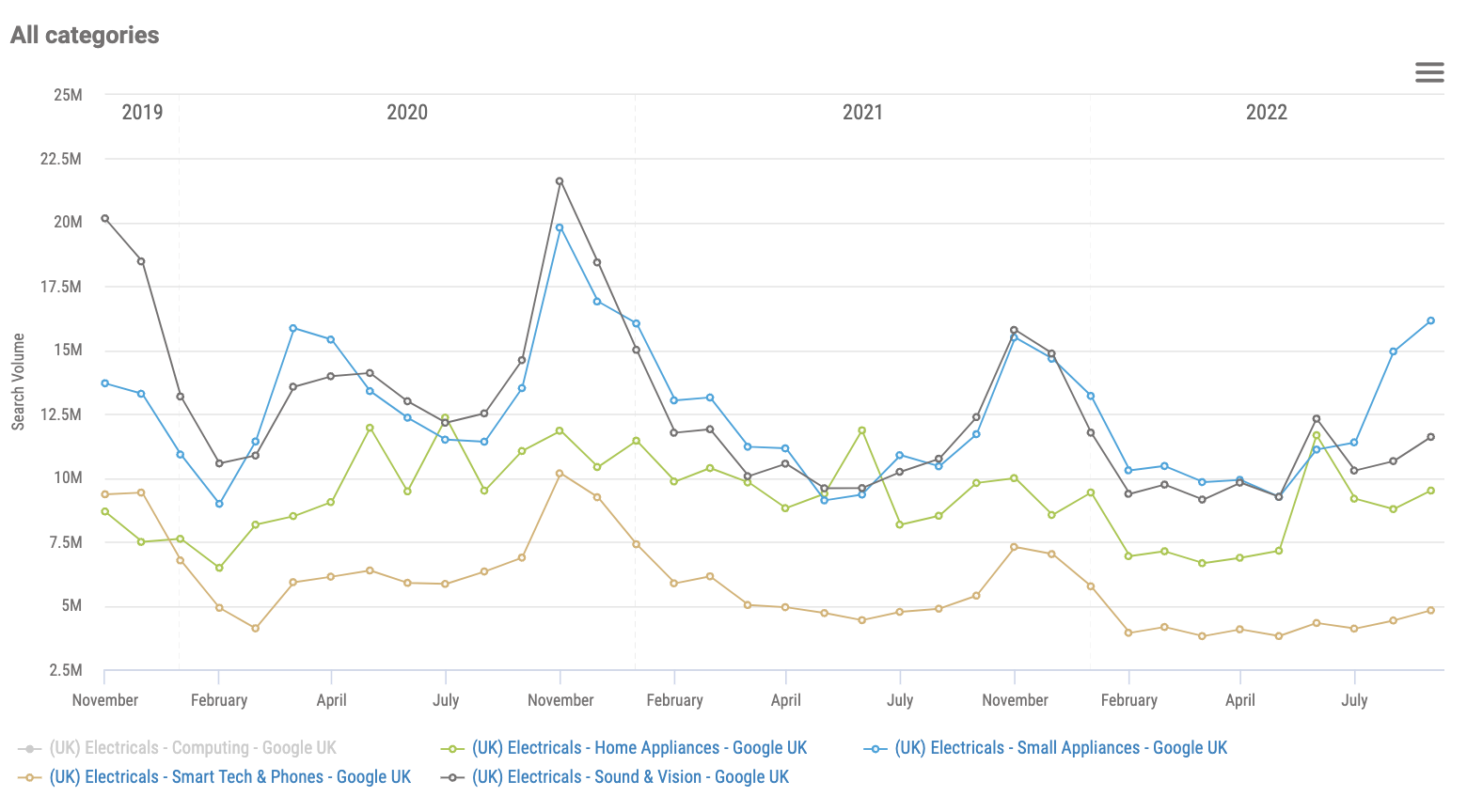 In the above image, with computing taken out, we can clearly see the drop after the pandemic in searches, but a gradual rise in searches, most notably the small appliance market. 
A combined total for small appliances plus home appliances saw around 26million searches in October across just 10,000 terms in the UK. The potential ROI on the SEO in the electrical market is therefore significant. 
Image 5: Search Volume UK Electricals – the rise of the Air Fryer and efficient cookers (orange)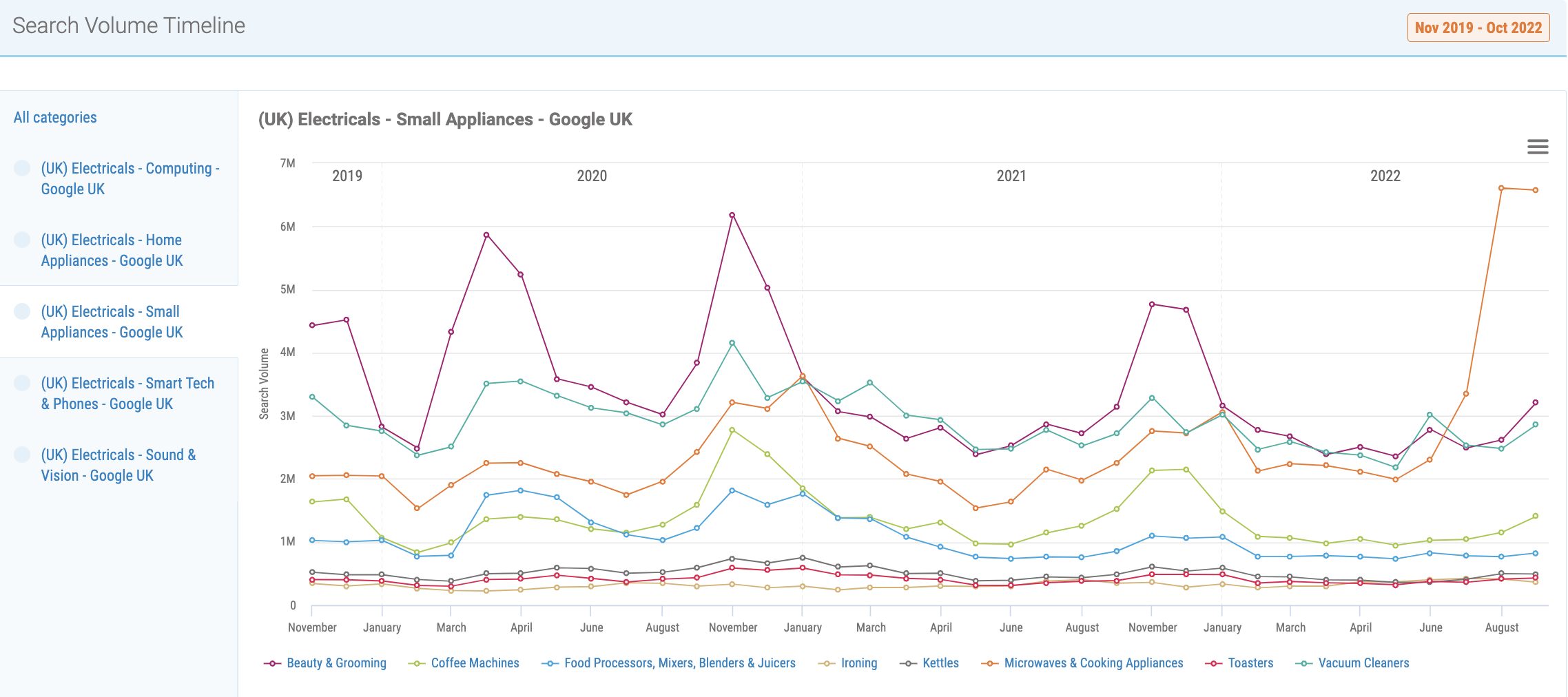 2022 – the year of the Air Fryer and cost effective cooking
This year one of the most searched items (across all product lines) in Google UK was the "Air Fryer". This was searched 80,000 times a week. This increase for Air Fryers is shown in the orange line in the above chart.
Pi Datametrics estimates the SEO return on investment (ROI) on this product for position one in Google, would equate to: 320,000 searches a month
@ 35% CTR (average Google CTR for position one) 

@ 2.0% On page purchase rate 

@ £120 AOV 

= £268,800 per month revenue
That's a significant return for just one search term. This type of search also attracts publishers into the electrical market too, where they can gain high revenue from good SEO performance across multiple searches.
For the term "Air Fryer Reviews" publishers such as The Daily Mirror, Good Housekeeping, Cosmopolitan, and The Independent offer multiple reviews and links to the product with assigned affiliate codes. This is more lucrative than just plain advertising (when the SEO goes well) and a better return for the commerce partner.
Image 6: Publisher / newspaper affiliate links to Electrical suppliers and eCommerce sites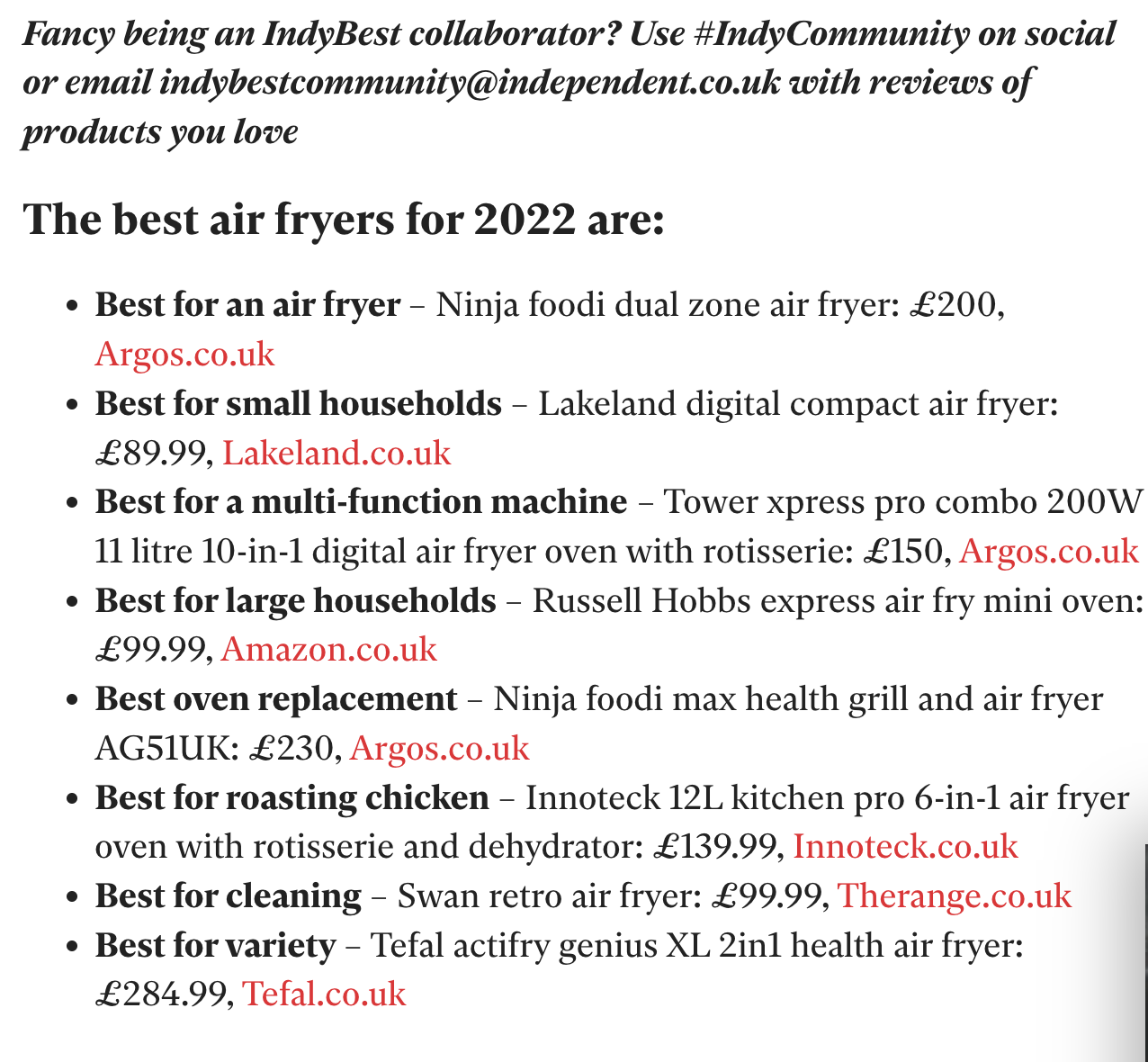 Who is best placed in Google to gain from the growth in the UK Electrical market?
With 26 million searches across home and small appliances in the UK in October, there will be a significant return for the main players.
Image 7: Share of Voice for search terms in Small Appliance Market UK 2022 (Source Pi Datametrics Market Intelligence SOV)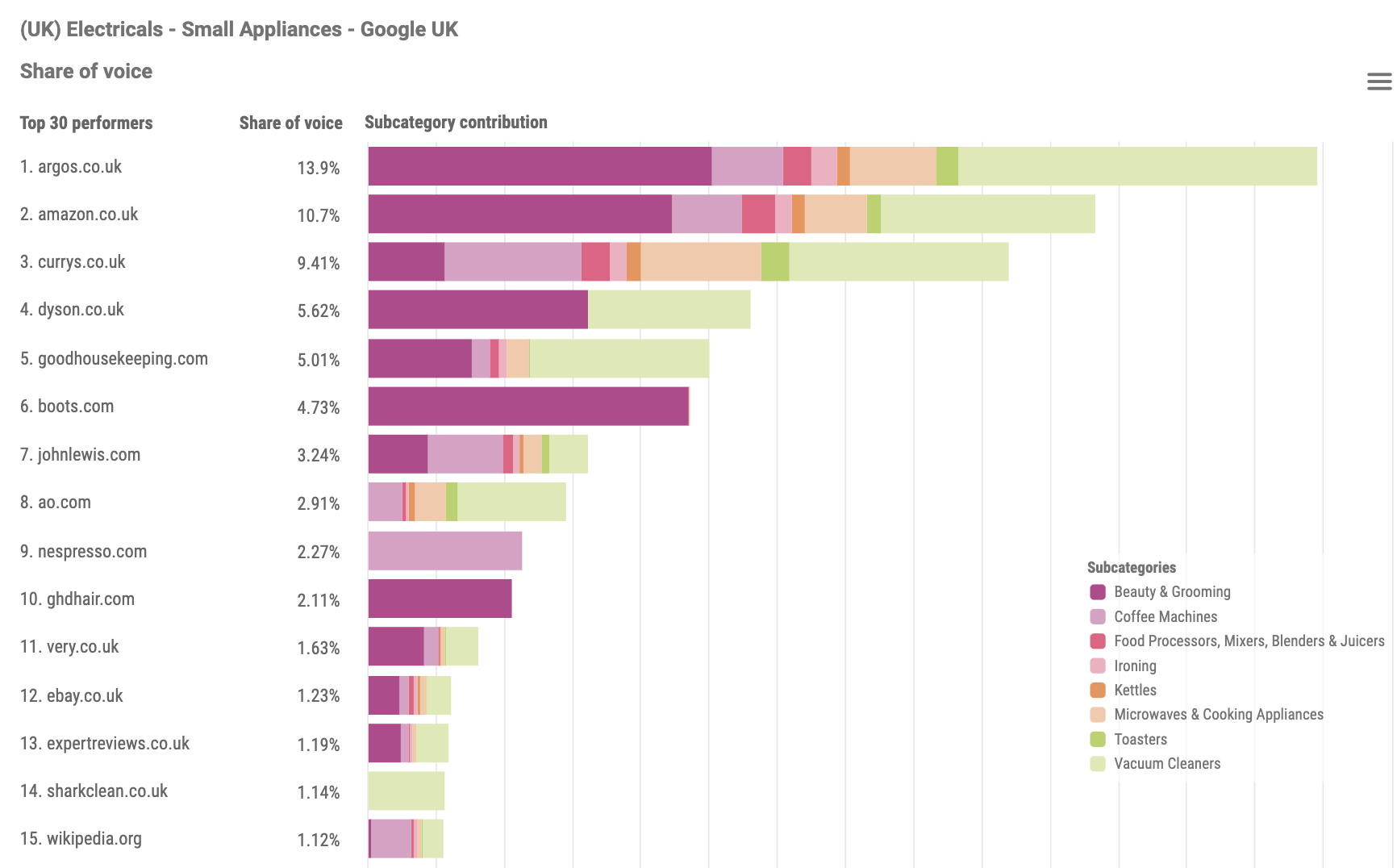 Share of Voice from Pi Datametrics is calculated by taking the volume, value and competition of a term, then calculating the share of each domain across all terms tracked in a space. 
The major retailers of Argos, Currys and Amazon are owning the markets here and therefore gaining a huge potential return from high value, high volume searches in Google. 
Based on the high value of terms, the market is crowded with retailers, brands and publishers / affiliates. 
Above top 15: 
8 = retailers 
3 = affiliates / publishers 
4 = brands
Image 8: Share of Voice for search terms in the Home Appliance Market UK 2022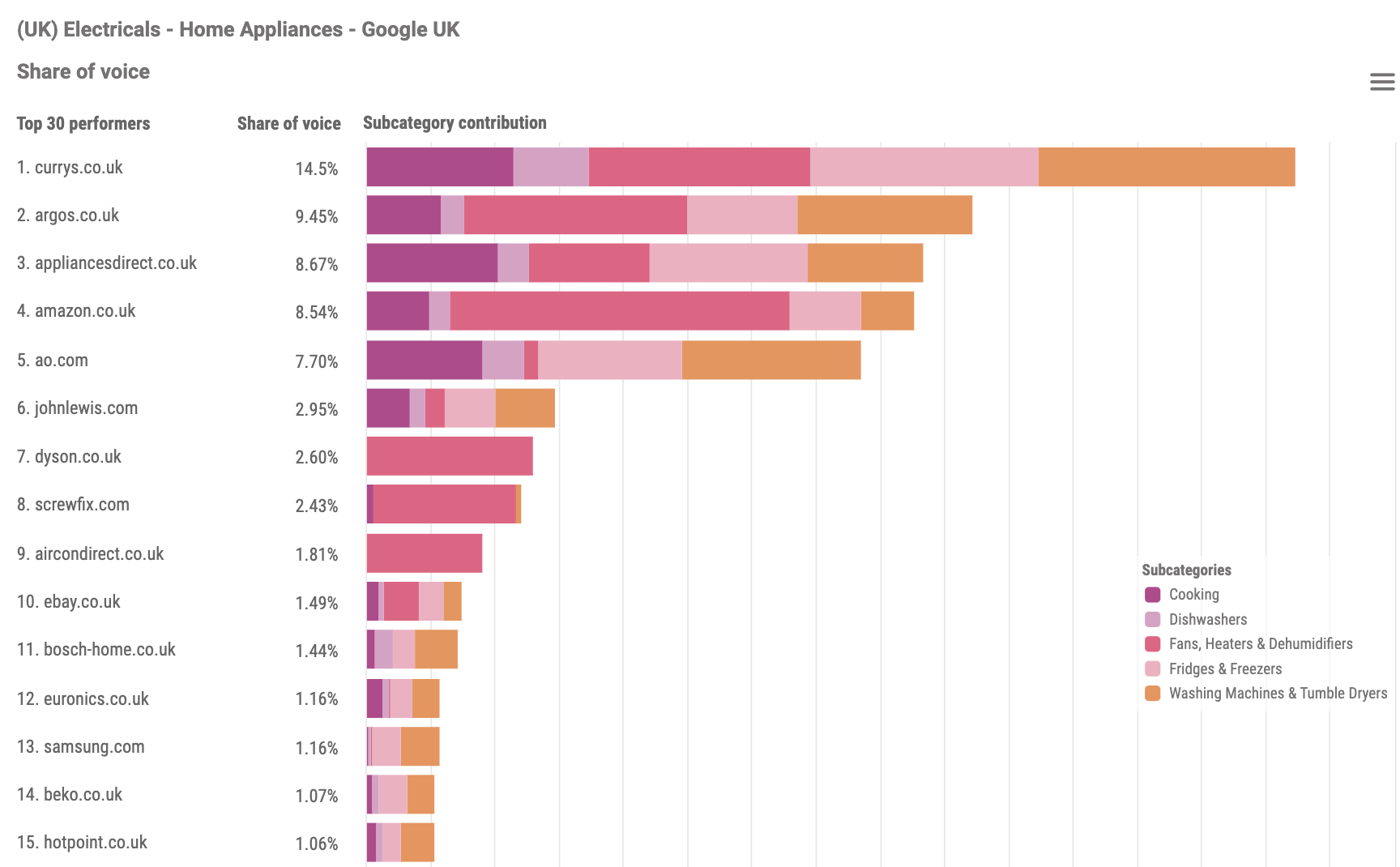 Again in the white goods – home appliances category, Currys and Argos are leaders, with appliances-direct gaining good ground. However, there seems to be great opportunity for publishers and affiliates to enter this space as none are represented. 
The above top 15 is made up of: 
10 = retailers 
0 = affiliates / publishers 
5 = brands
Amazon's performance in the Home Appliance and Small Appliance market UK
For certain categories in retail, such as the home appliance market, searchers use Google for their initial product searches, then possibly Amazon (or other marketplaces) to then compare prices. Amazon therefore garner a huge amount of searches via Google as well as it's own direct searches. 
Here are some stats from Factor-A.
Image 9: Amazon sales statistics appliance market

It's interesting to see which individual terms Amazon perform for, and the potential revenue they could accrue based on AOV, positions and average CTR.
Here we see data from the Pi platform showing Amazon's positions in Google and the potential return they are receiving with an AOV at £125 and an onsite conversion rate of 1.5%.
Image 10: Amazon's SEO performance in the UK Home Appliance market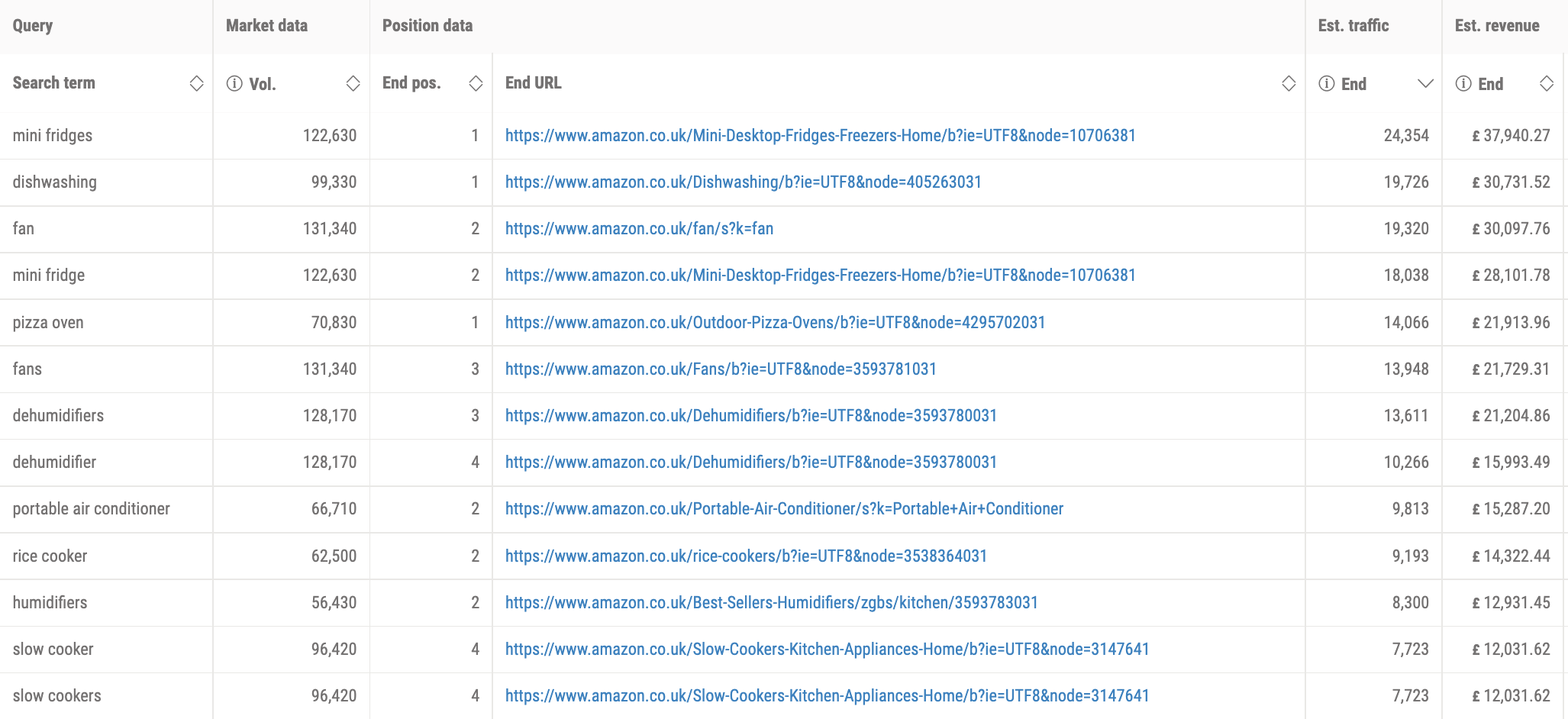 The electrical and home appliance market was flatlining prior to the pandemic, then took a massive surge and is now seeing YOY growth. With the compound impact of more online purchases, plus higher demand generally for new products, the small and home appliance market in the UK is a hotbed for opportunity even for brand new players.
Additional data for the small appliance market:
Image 11: Revenue per Capita in the UK Small Appliance market 2014-2027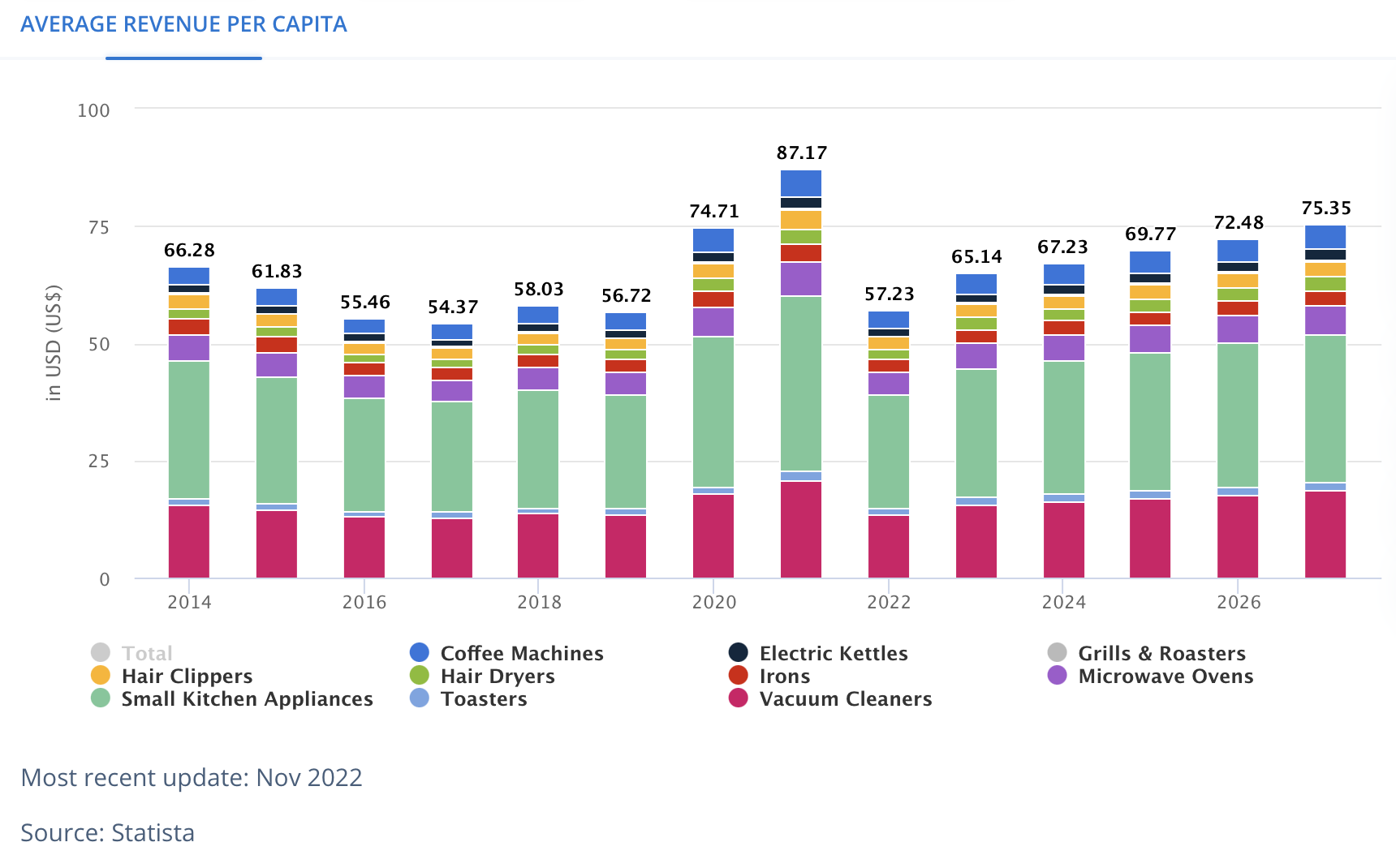 Image 12: Volume of products in the UK Small Appliance market 2014-2027
Image 13: Revenue change by category in the UK Small Appliance market 2014-2027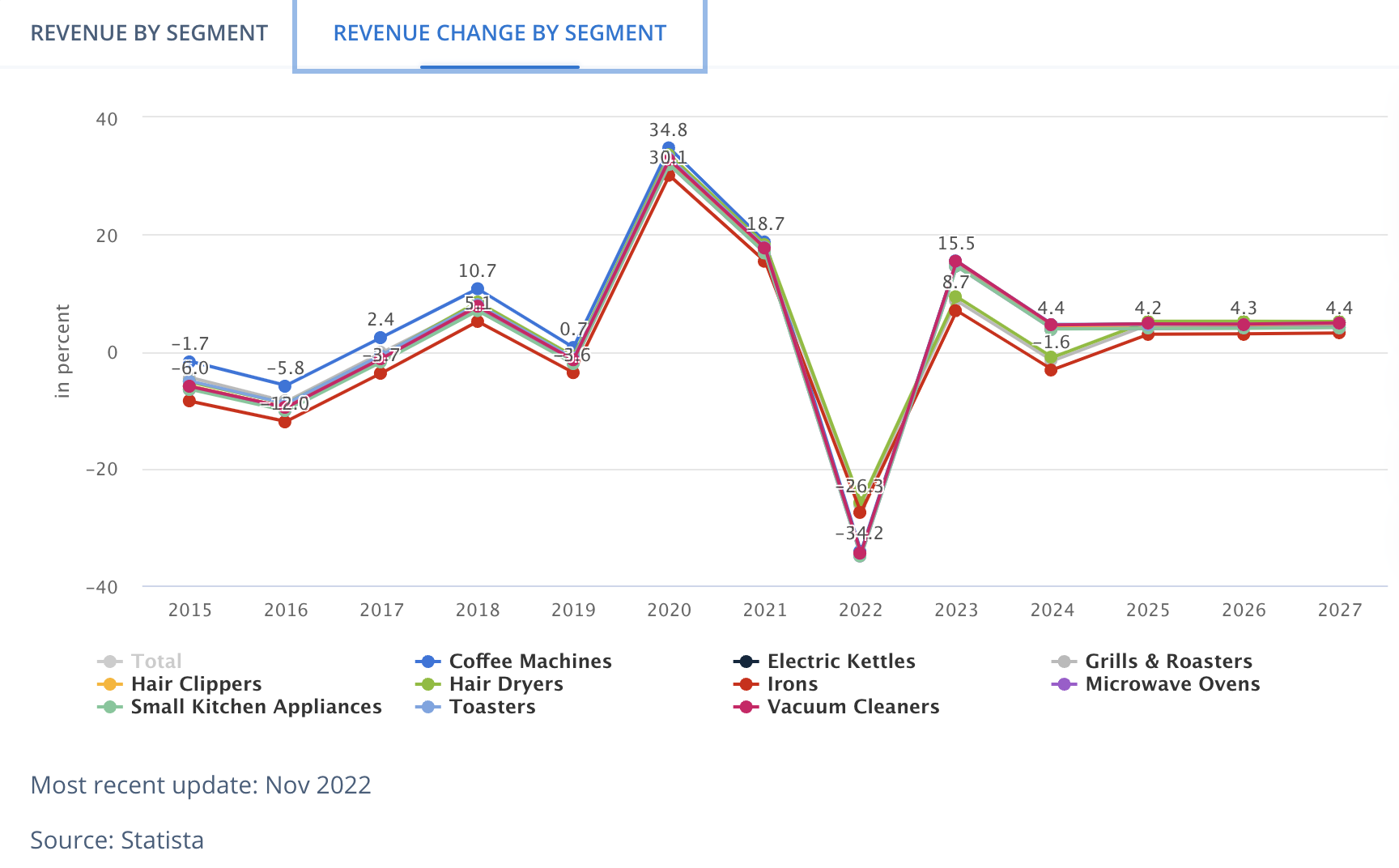 If you would like to commission a bespoke Market Intelligence report on any sectors, in any market, please get in touch with the Pi team.
Never miss a post
Join our mailing list and have our SEO news delivered straight to your inbox.
Never miss a post
Join our mailing list and have our SEO news delivered straight to your inbox.