2019 trends: What were people searching?
10 Dec 2019|5 MIN READ
What products defined us in 2019? We take a look at the trends that emerged across a number of industries in 2019.
Using our Market Intelligence tool, we have tracked a broad spectrum of search terms to discover the 2019 trends that defined us this year.
Automotive 2019 trends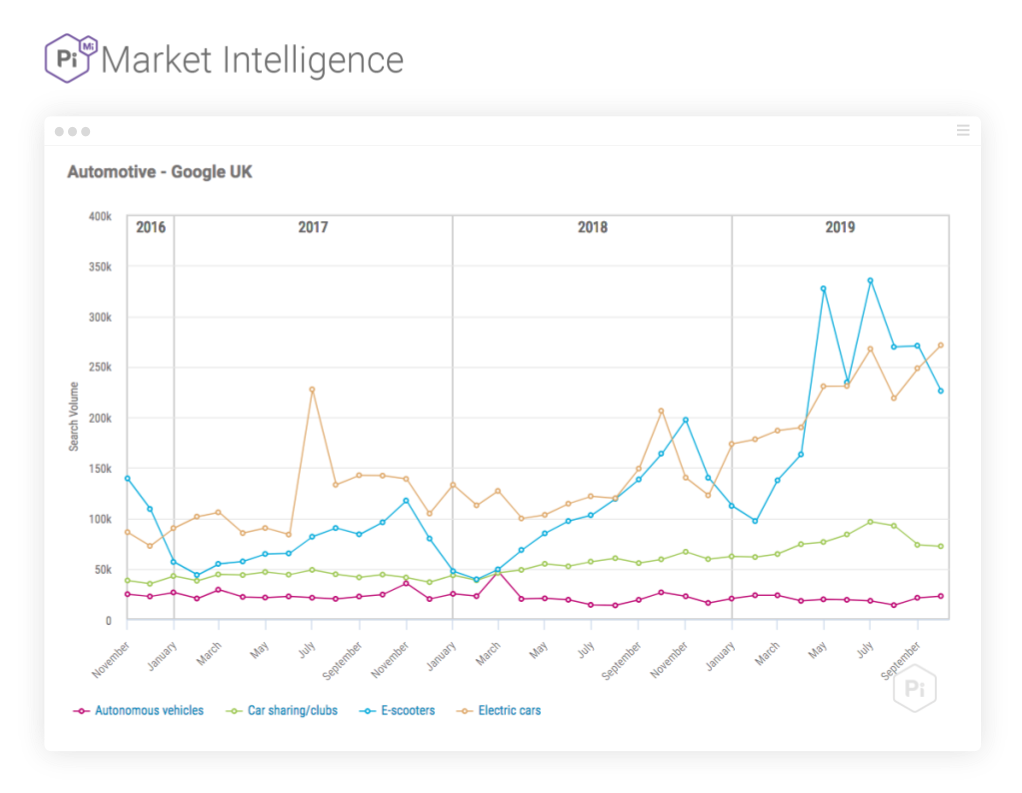 Electric vehicles grew by 32% in search
Interest in electric cars has really grown in 2019. We saw some tentative growth of this in 2017 and 2018, but between Sept '18 and Sept '19 terms surrounding electric vehicles grew by 32%.
The increased coverage around climate change, coupled with Tesla's prominence in the automotive world have helped to drive this trend.
Despite bad press, interest in electric scooters are growing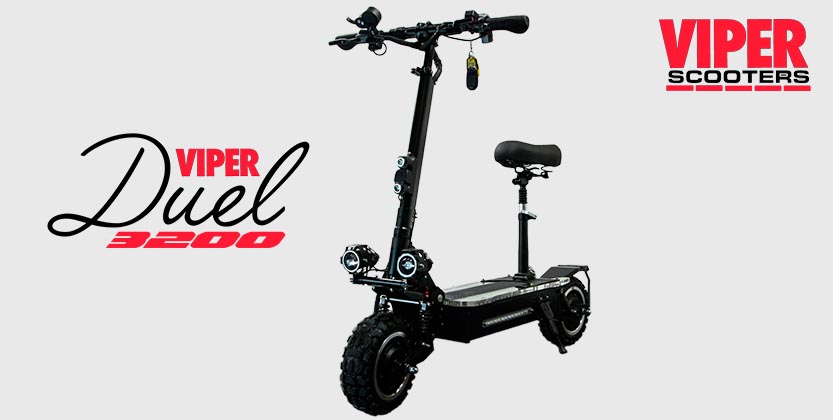 Another type of electric transport has shot up this year; electric scooters. This has grown even more than electric cars in the last year, peaking highest in May and July.
However, these peaks aren't all positive - in May Paris threatened to ban electric scooters from their streets after they terrorised motorists and pedestrians.
Even more upsetting is the peak in July, which is likely due to users searching for news surrounding a fatal e scooter accident.
Fashion 2019 trends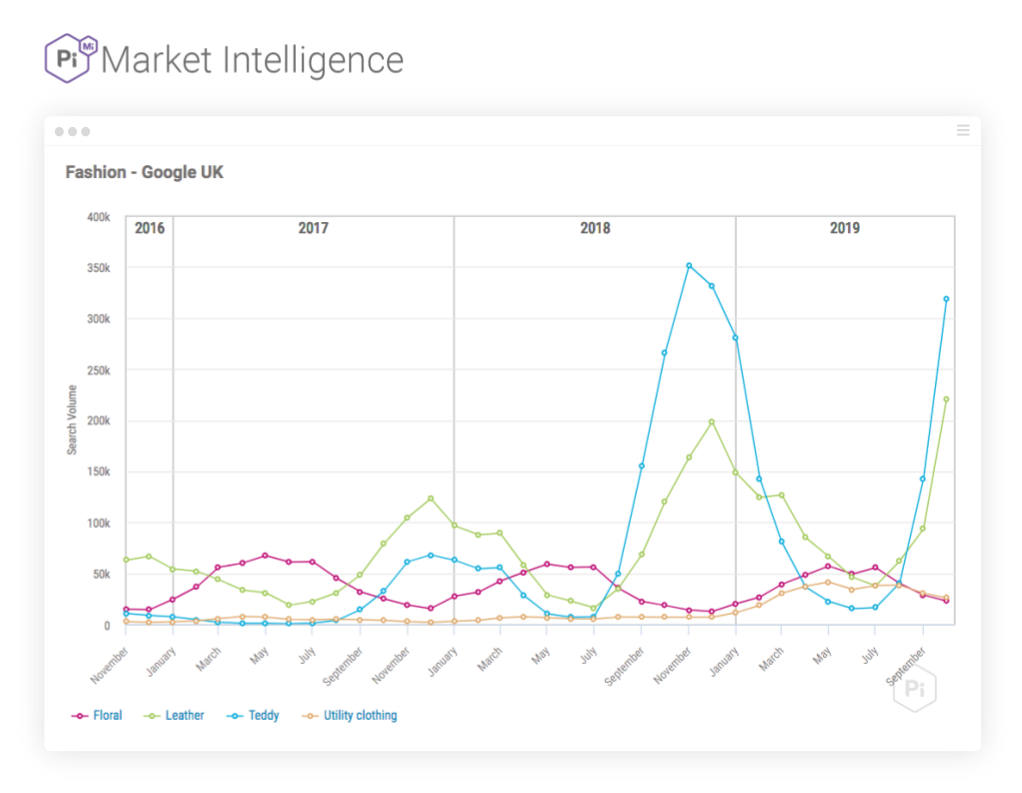 Teddy coats set to be even more popular in 2019
Teddy coats have been on our high streets for a couple of years, but had their biggest moment so far in November '18.
However, if we compare Oct '18 with Oct '19 searches, teddy coats are 20% more searched in Oct '19. Therefore, we predict an even higher search volume in Nov '19.
This prediction is strengthened as we are seeing more and more celebrities endorsing the teddy coat - most notably, Meghan Markle.
Leather look trousers increases by 83% in search
Trousers made of leather could only be worn in the colder months, which is also when we're searching for them!
Each winter, searches for leather bottoms peaks, but between Oct '18 and Oct '19 searches grew by 83%.
The search terms in this group include 'Leather leggings', 'Leather jeans', 'Leather look leggings' and 'Faux leather trousers'. Whether its real leather or not, we want to capture the leather clad look.
Food 2019 trends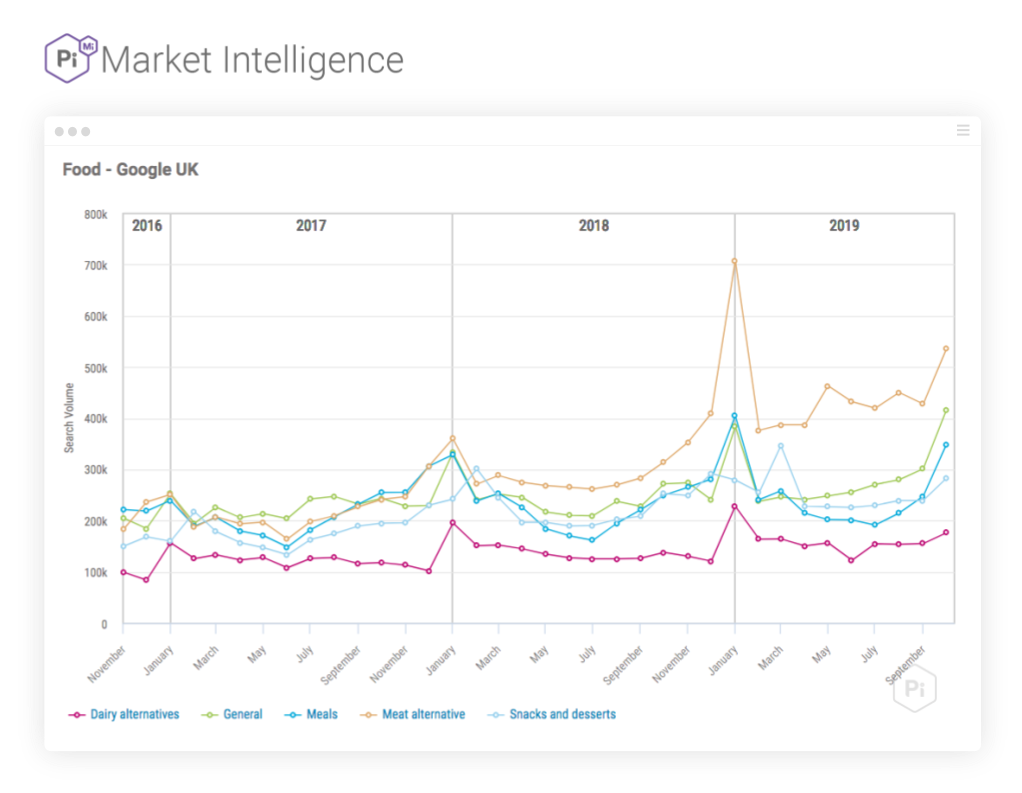 Vegan and vegetarian terms continue to grow
We tracked vegan and vegetarian searches, including terms surrounding 'Meat alternatives', 'Dairy alternatives', 'Meals', 'Snacks and desserts' and 'General' (best veggie food, veganism, vegetarian recipes) vegan/vegetarian terms.
All these search term groups are growing, peaking each January as a reaction to the 'Veganuary'. The largest January peak was for 'Meat alternatives' in Jan 2019 - when hype around Beyond Meat and the Impossible Burger was growing.
With growing concern about the meat industry and its effect on the planet, the vegan/veggie trend is only set to grow.
Electrical 2019 trends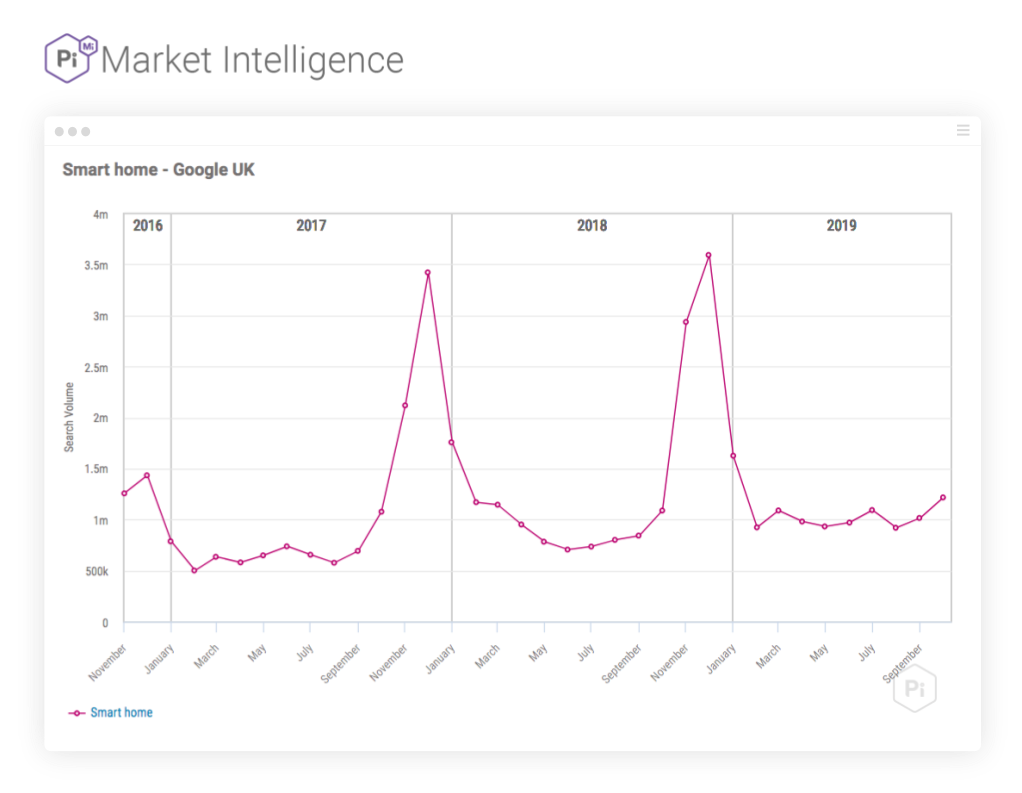 Our homes are becoming smarter
In the UK, 22% of households now have a smart device. That's super quick adoption of a new technology.
This quick uptake is reflected in search volume for smart home devices; we can see searches peak in December each year (a popular choice of Christmas gift), but compare the peak in Dec '16 to Dec '18 and there's a 151% increase!
With even more devices on the market in 2019, there's no doubt that this trend will reach new heights come Dec '19.
Travel 2019 trends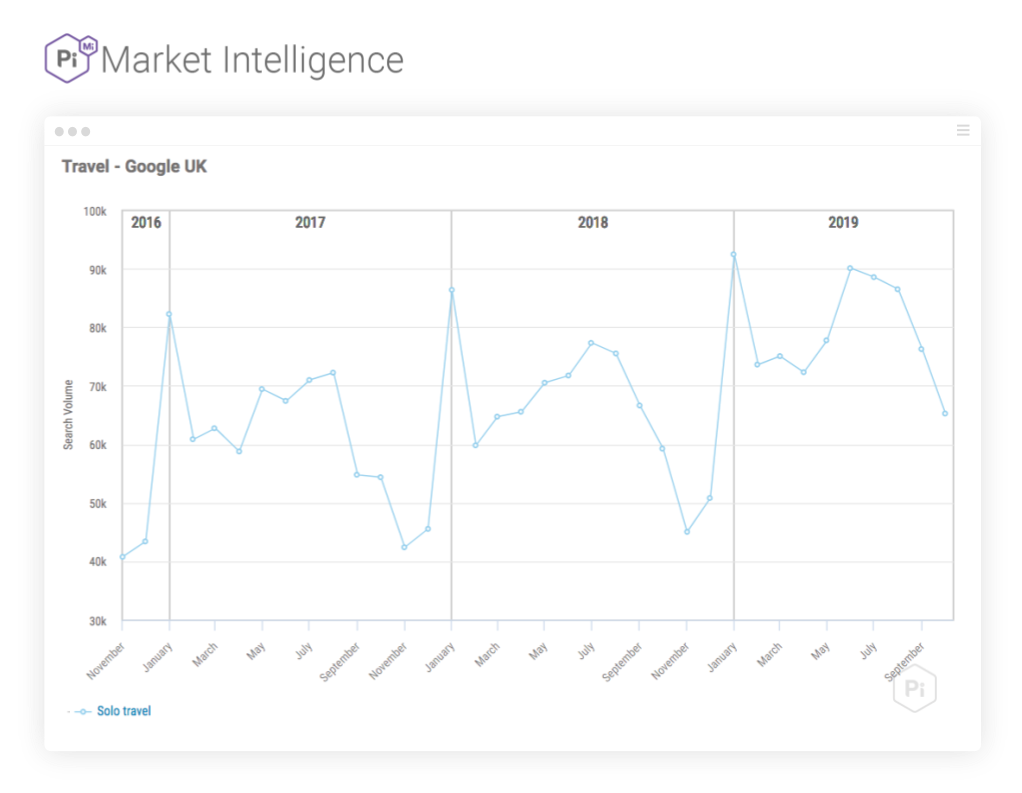 A steady increase of people travelling solo
Traveling solo is on the up, and we don't mean tacky 'Singles' holidays, we mean journeying around the world with me, myself and I.
Searches peak each January as people look to their new year adventure, and rise again in the summer months.
The trend has seen steady growth over the last three years, increasing by 25% between Jun '18 and Jun '19.
Interestingly, a lot of these searches concerned places women could solo travel, looking for safety information as well as destination ideas.
2019 trends into 2020
These trends have all seen significant growth in 2019 and show no signs of slowing down. Having access to trend data like this is essential to Product teams as well as Marketing, and indeed all teams throughout the business, providing them with consumer insight to inform lucrative strategies.
Never miss a post
Join our mailing list and have our SEO news delivered straight to your inbox.
Never miss a post
Join our mailing list and have our SEO news delivered straight to your inbox.