SERP Feature Cannibalisation: What it is and how to avoid it
13 Jan 2021|7 MIN READ
We've often spoken about the risk of keyword cannibalisation, i.e. conflict between your pages and domains which can hamper your search rankings, but Google's increasing use of multiple SERP features means there's a potential risk of competition between different result types.
In a recent webinar, Pi's Jon Earnshaw spoke to Alina Ghost, SEO Manager at homeware retailer Amara on this subject, looking at some examples of feature cannibalisation.
What's feature cannibalisation?
The big question is whether images and other result types are conflicting with content on Google. We know that cannibalisation can happen with classic link results, when one or more pages on the website compete against each other for the same term.
The result of this kind of cannibalisation is frequently inconsistent and often lower search rankings, so can feature conflict produce the same issues?
The first example comes from a search for "living room inspiration" in which Google displays 15 images related to the term, which are displayed prominently, and also catch the eye much more than text results would.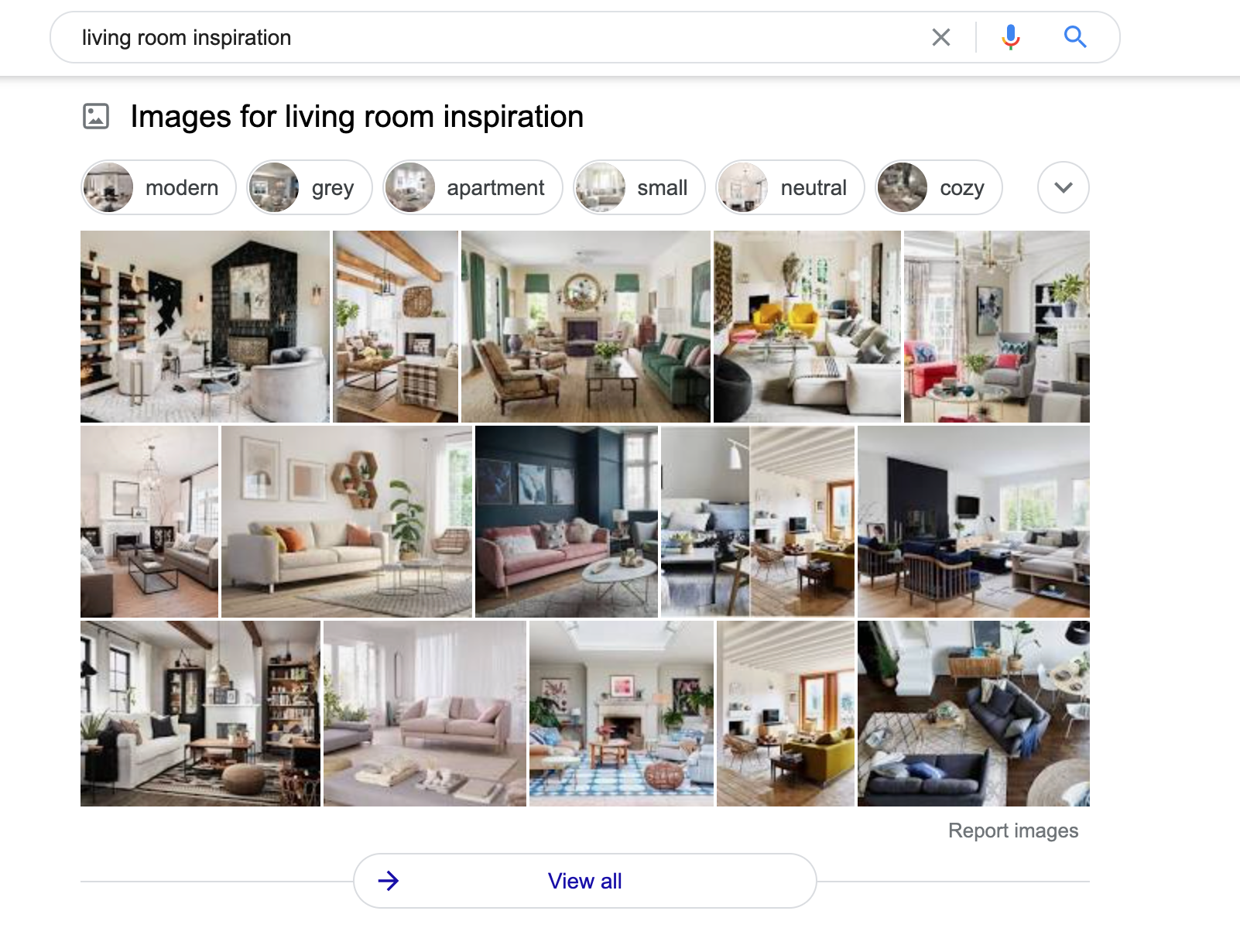 It's a term that suggests people are looking for visual inspiration, so Google is doing its job well in this sense, and for businesses in this sector, images are a great way to promote their products and services.
As Alina says, images are one of the most important factors affecting conversion rates in this sector, and images found in search and on sites like Pinterest are a valuable source of traffic for bloggers and retailers in this space.
Alina:
"People love to see products in situ, which is why companies have been developing apps to allow shoppers to see products. When it comes to images, not a lot of companies seem to utilize this so the fact that Google is adding more layers into search results means it's likely to become a lot more important".
In the search example shown above, one or more of the images belong to Elle Decor, along with lots of great quality imagery which matches the search term.
In the period shown below, that image is consistently showing up on page one of Google for Elledecor.com, except for a dip around 17th March.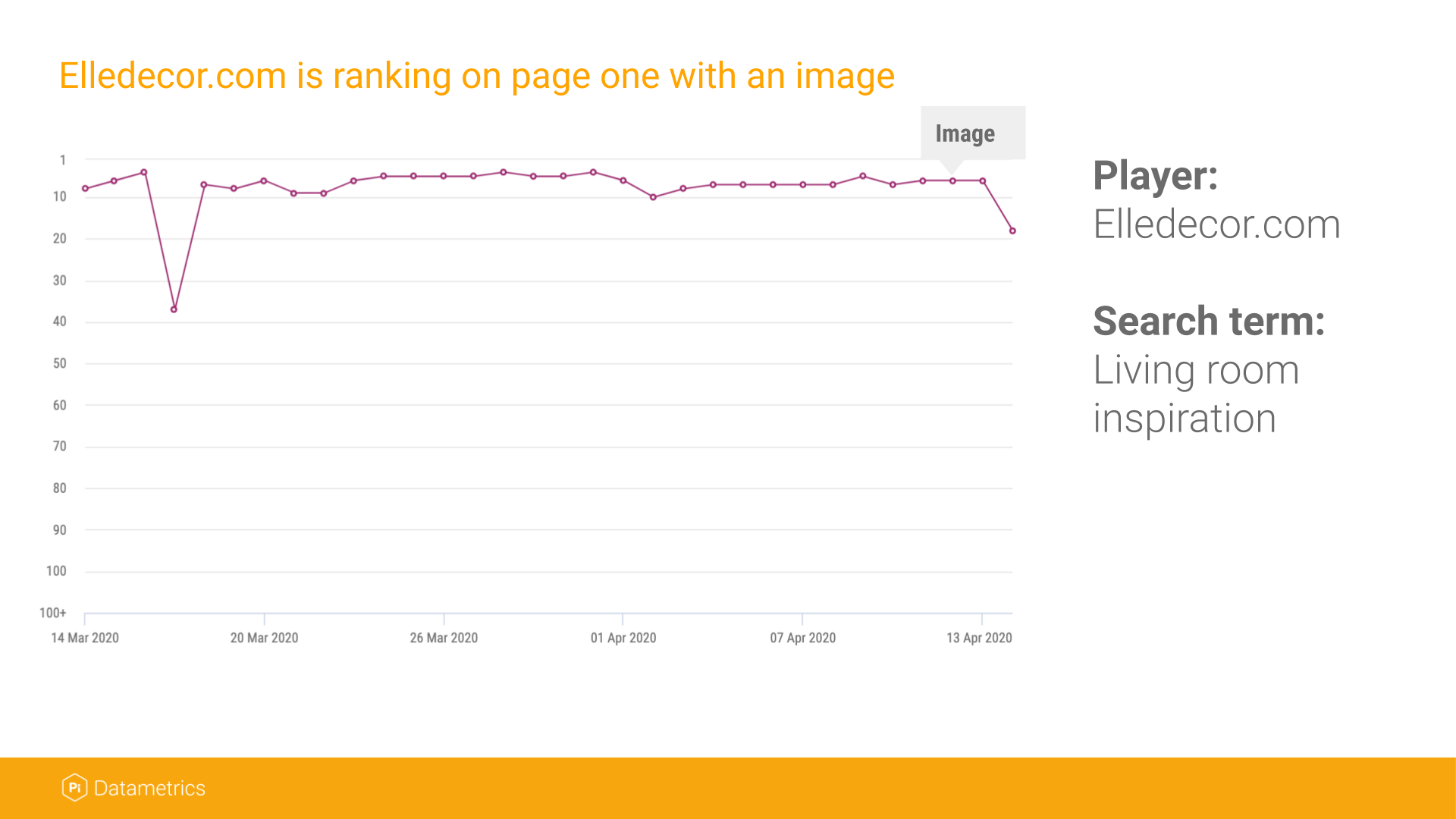 On closer inspection, we can see that the image result, which could potentially have been driving lots of traffic to the site, was usurped by a standard text result, a content page from the same site.
The image came from this page on small living room ideas, and was replaced by the text link to this page, on best living room ideas, which ranked down on page three.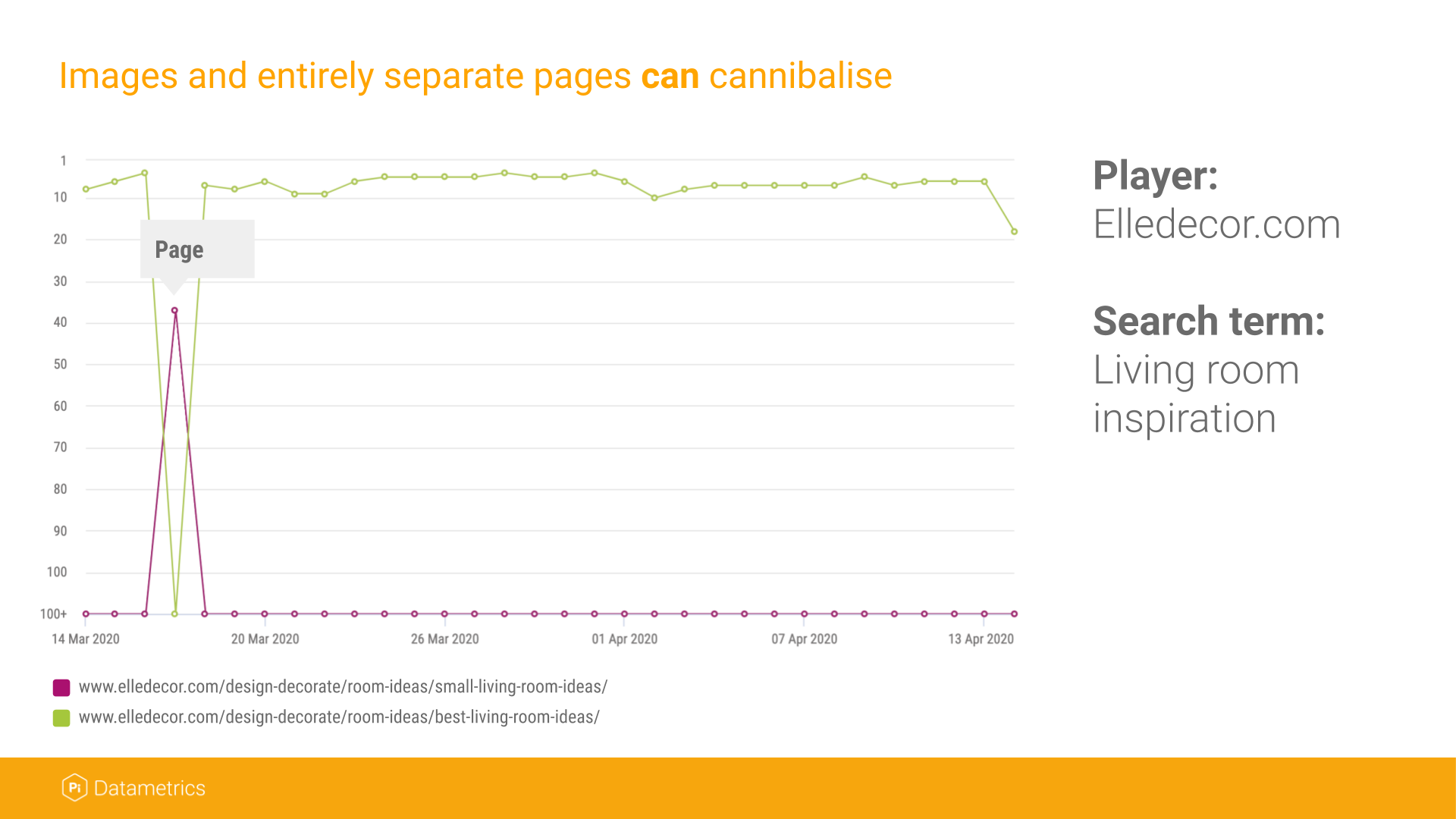 They are similar pages, both image-heavy and featuring galleries of living room inspiration, but the key takeaway here is that text results from one page can compete with image results taken from another, and vice versa.
As Alina says, Google has previously stated that pages with featured snippet results would not be ranked twice so she isn't surprised to see a similar principle potentially applied to image results.
It's certainly something to be aware of, as you'd normally be looking for cannibalization from another text result when a classic result vanishes from page one. Now it's important to look out for images, and to focus on SERP features.
Can images and text results cohabit on page one?
One question raised by this finding is whether different result types can be shown on the same page.
Google's changing results and its increased use of SERP features in its results certainly encourage us to optimise for different result types, producing images and videos, using structured data and so on, but will they conflict with each other?
Here's an example where images and text results can live together. The key here is that the image and the text result need to come from the same page.
As Alina says, it's about having one page which is optimised for Google, by using images, schema, and helping Google to understand the page. Alina also highlights the importance of using alt tags for images, and the content around images which provide important context for Google.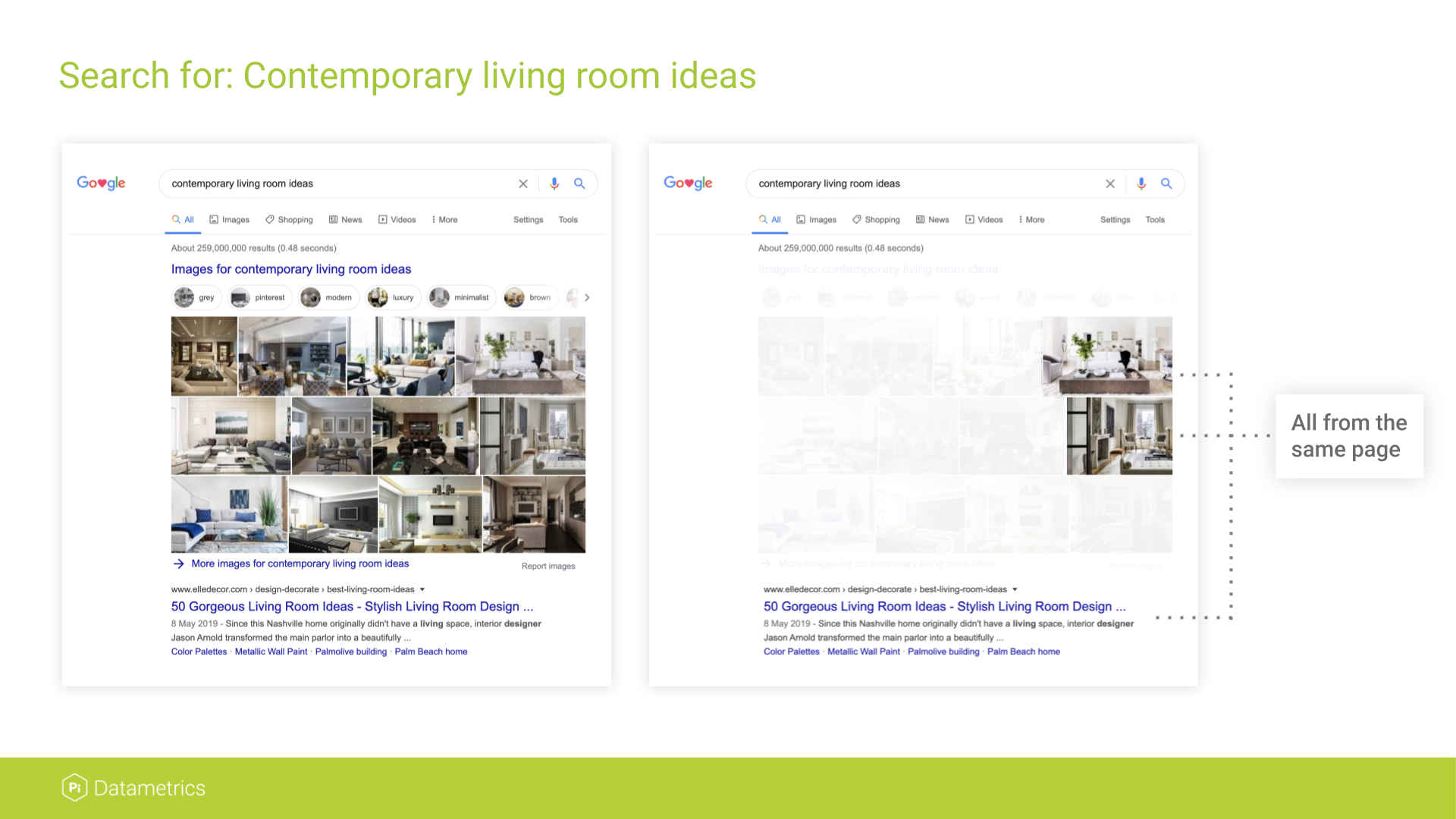 Different SERP features can also co-exist on page one. Jon picks out an excellent example of an answer card result from curbed.com. It's a great fit for the search term, but crucially it doesn't shop all of the tips, so people still need to click through.
So the site picks up a very prominent search result, but still keeps traffic coming in by giving people a reason to click. In that respect, it's a textbook answer card result.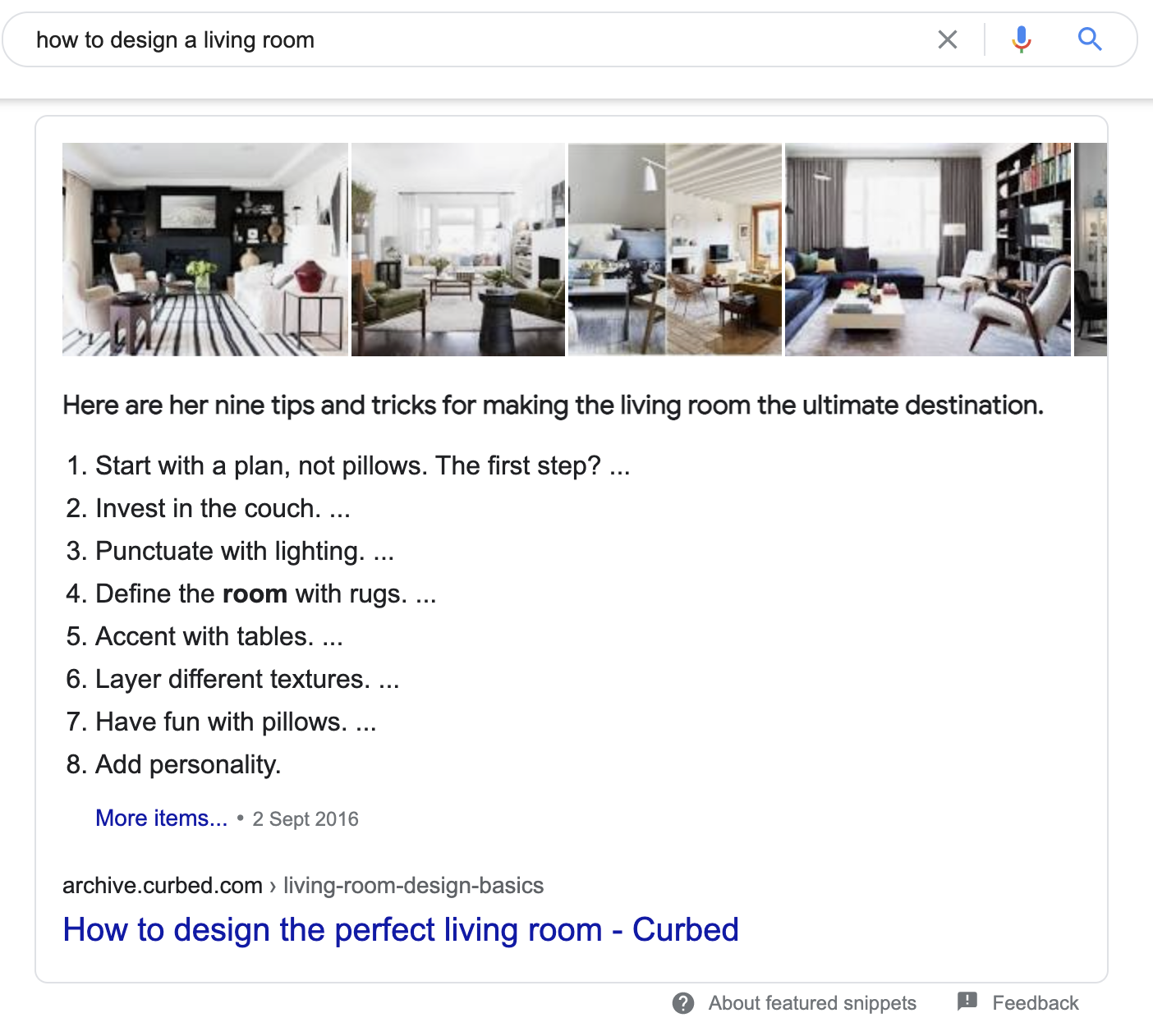 Here's the SERP feature landscape for the term "how to design a living room". It shows answer cards as the top result on all but one day, all of them owned by curbed.com.
In this period, curbed.com also owned the classic text result, until Google's January 21 change removed the links.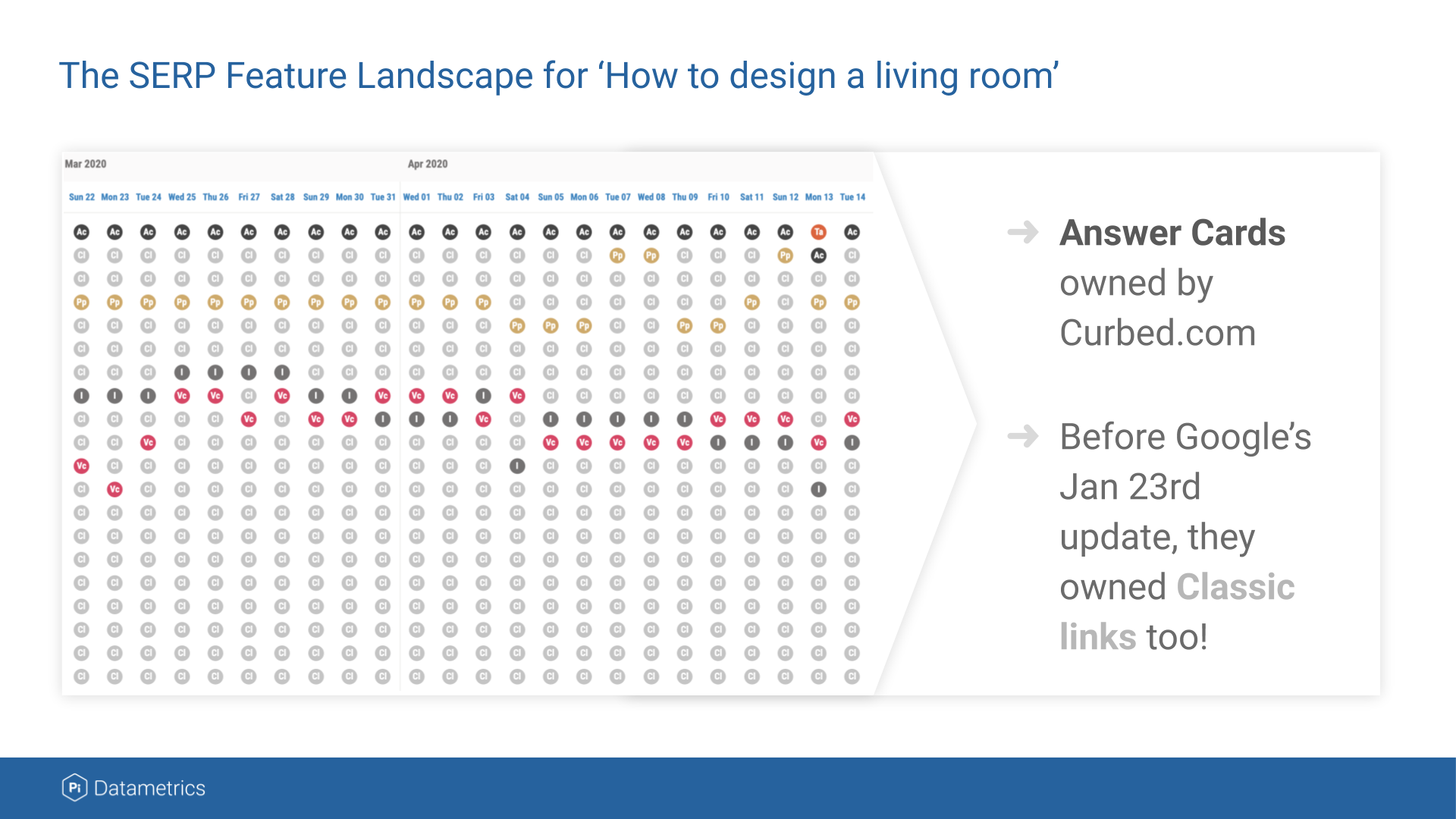 Since this update, curbed.com owns images and answer cards, proving that sites can be ranked for two separate search features.
One possible improvement is to add videos. Alina makes the important point that having video on a page increases customer engagement, and the time they spend on a page. This works from a conversion perspective, but also it's a metric that Google takes note of, and one that can therefore improve ranking.
How to find and fix SERP feature cannibalisation issues
Finding and fixing conflict is a relatively simple process. It's about using data to identify and to focus on your most valuable content.
Step 1 – You can focus on quick wins – the most valuable potential opportunities. OPn the chart below they're highlighted in pink. These are the pages that sit on pages two and three where optimisation efforts can push them onto page one.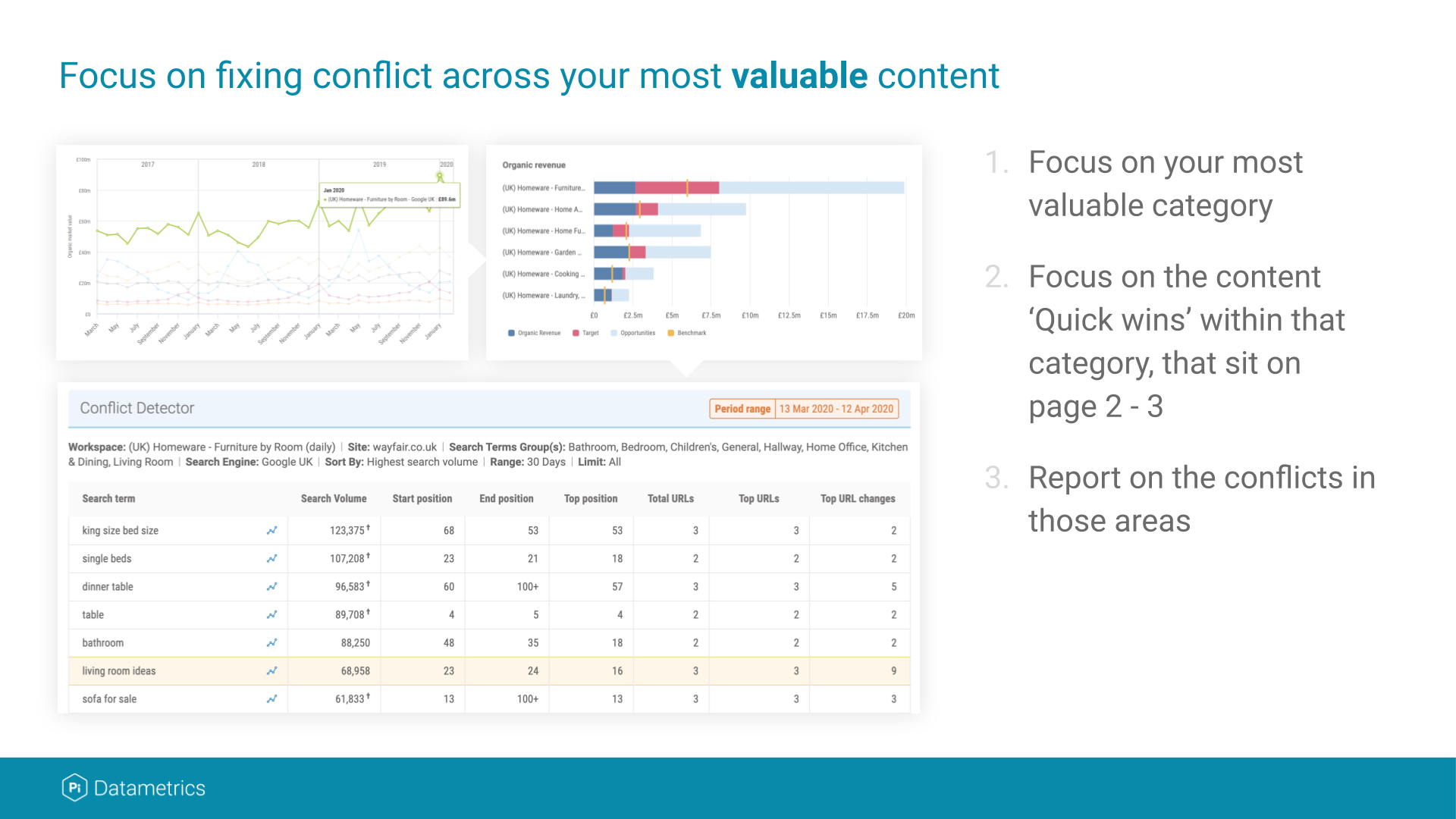 Step 2 – It's also important to monitor your high volume and high value search terms for potential conflict. If you see drops on ranking, it's vital to look for potential conflict within your site's page.
Part of Pi's SEO Platform ranks terms by volume and value and can help alert you to any drops in ranking which need to be investigated.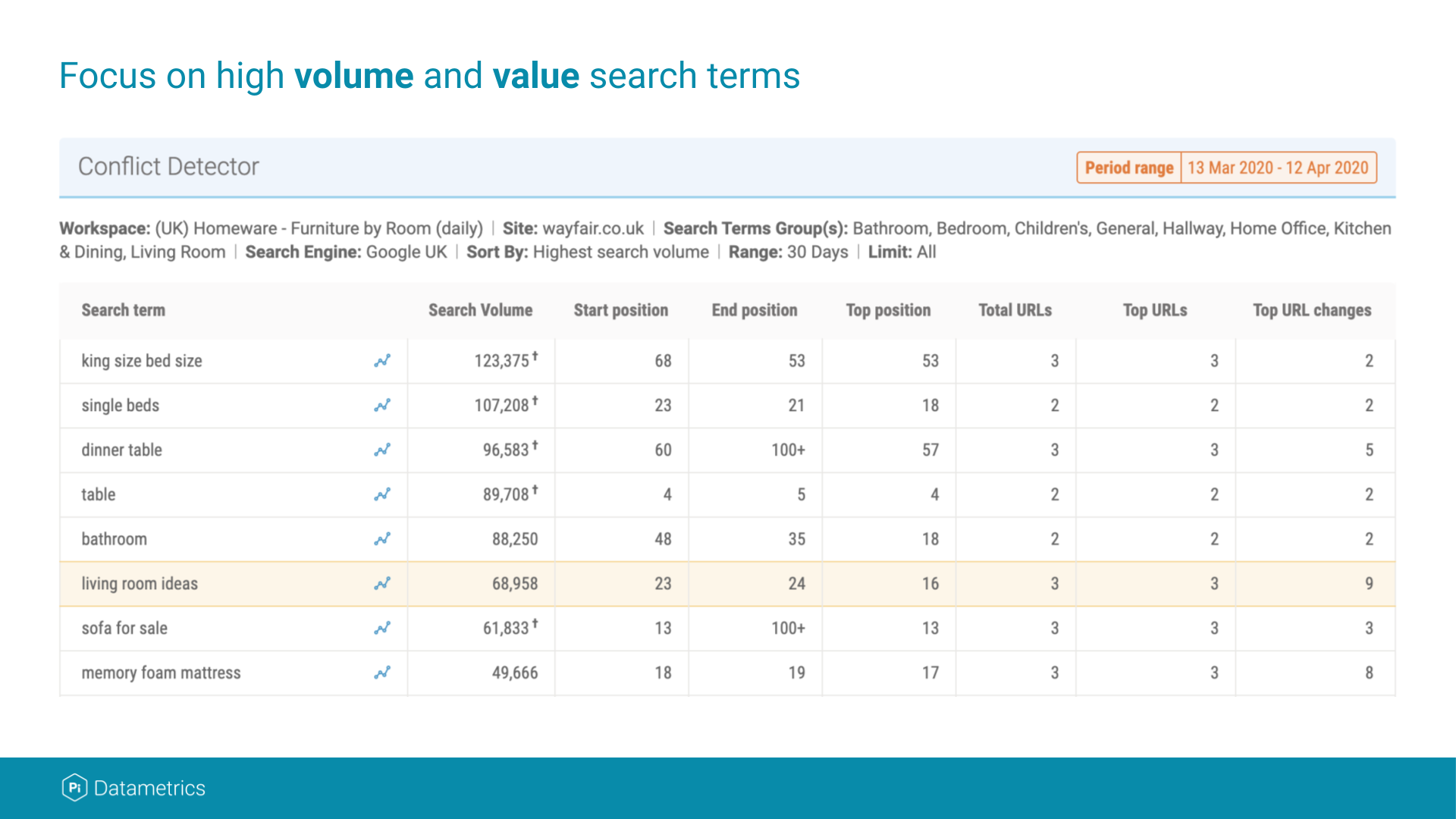 Step 3 – Then it's about identifying the conflicting pages so the problem can be addressed.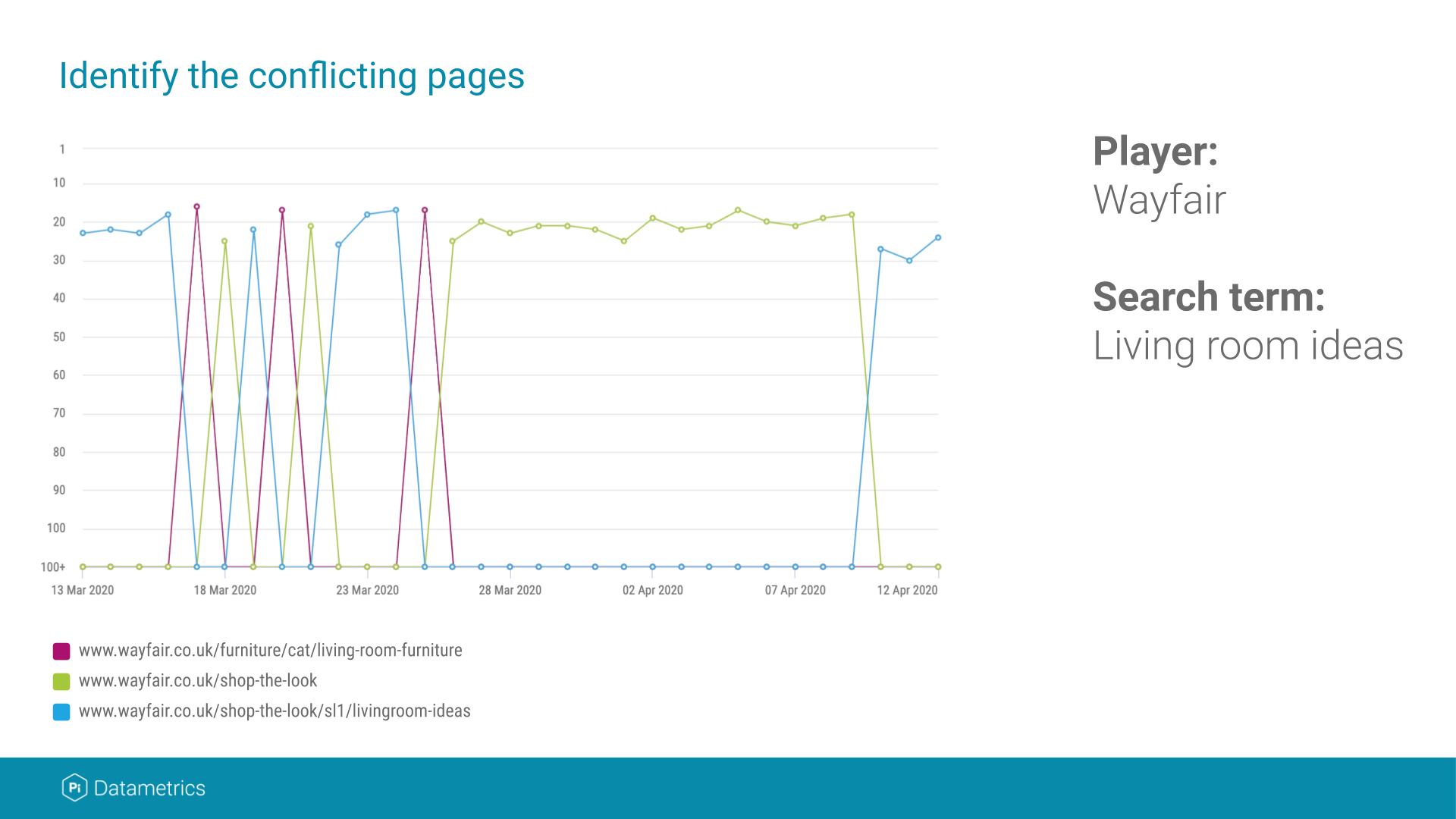 In the example here, three pages are conflicting with each other. Google doesn't know which one to prioritise so here the site needs to help Google.
This means picking the page you want to rambo for the term, so it can do so without conflicting with each other. This way the page will rank more consistently, and higher, for the target term.
When thinking about your choice of page, Jon points out the areas to consider, from the backlink profile of the page you choose, to the SERP profile over time.
Check backlinks.

Historic analysis.

Check them.

Check position for derivatives.

Check the SERPs.

Make the change.
Once you've made the change, it's important to support the new page with internal links from the pages which previously computed with it.
Internal linking helps to point Google to the target page, providing a clear signal that it should rank for the target term.
In Summary
As we've explored here, there is the potential for conflict between different result types, so it's important to look at image results which may harm text rankings, and vice versa.
The other key takeaway is that SERP features can allow you to achieve separate rankings on page one, if you optimise your pages well for different content and result types.
As always, the key to reducing conflict and taking maximum opportunity from SERP features is data. By monitoring your most valuable pages you can identify and fix conflict, and make the most of new opportunities to improve search visibility.
Image SERP Feautre Cannibalisation

Never miss a post
Join our mailing list and have our SEO news delivered straight to your inbox.
Never miss a post
Join our mailing list and have our SEO news delivered straight to your inbox.