The flexibility of multiple tracking frequencies
28 Jan 2019|5 MIN READ
Using your search data with complete efficiency requires total flexibility.
At Pi, we're proud to be the only platform with four frequencies of tracking, so you can get the very best out of your data, whatever your objectives.
The right frequency for the right objectives
Using daily rank tracking is entirely appropriate for highly competitive or volatile terms that you want to keep a close eye on, but more stable content calls for longer tracking periods, that you check every so often and can digest at a more top level view.
For example, a sports betting site will need to monitor a specific event that occurs within a small window of time. Being able to analyse the search landscape quickly gives them the insight to compete for those top spots in Google.
Two-hourly tracking
Our Rapid Tracking frequency not only shows the SERP landscape for selected terms, but also the percentage share of real estate claimed by any one site.
Below we can see how much real estate is available for searches for the Grand National and what percentage the Skybet.com performs.
SERP Radar
(the percentage share your content is taking of the available SERP real estate)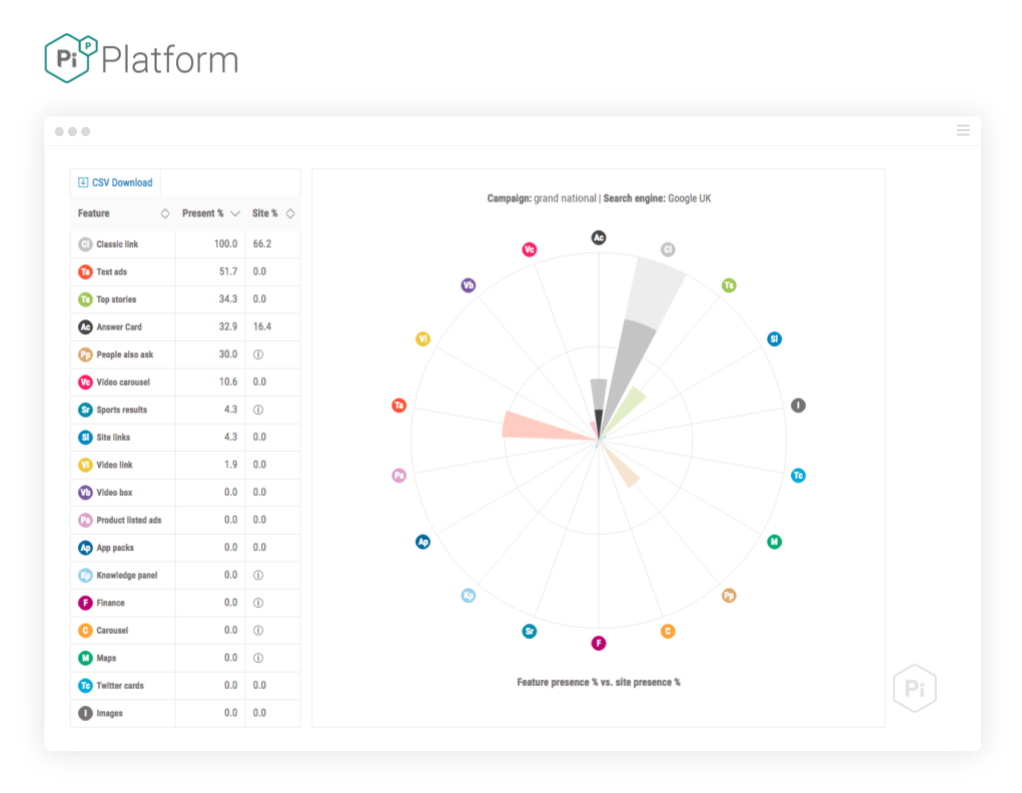 This allows businesses to react in real time, and gain immediate insight into their time-critical content campaigns with the most accurate tracking of the SERPs on the market.
Track the SERP landscape every two hours for any given search term to assess content and brand performance across any position or rich SERP feature.
SERP Matrix
(the SERP landscape for a single search term every two hours, focussing on the composition of page one SERP features)
Daily rank tracking
Alternatively, tracking an event that lasts over a longer period, such as the World Cup, calls for daily data.
Using our Position Explorer Chart, Skybet.com can track its daily performance of its returning URLs for the World Cup throughout the duration of the tournament:
Using daily data to spot conflict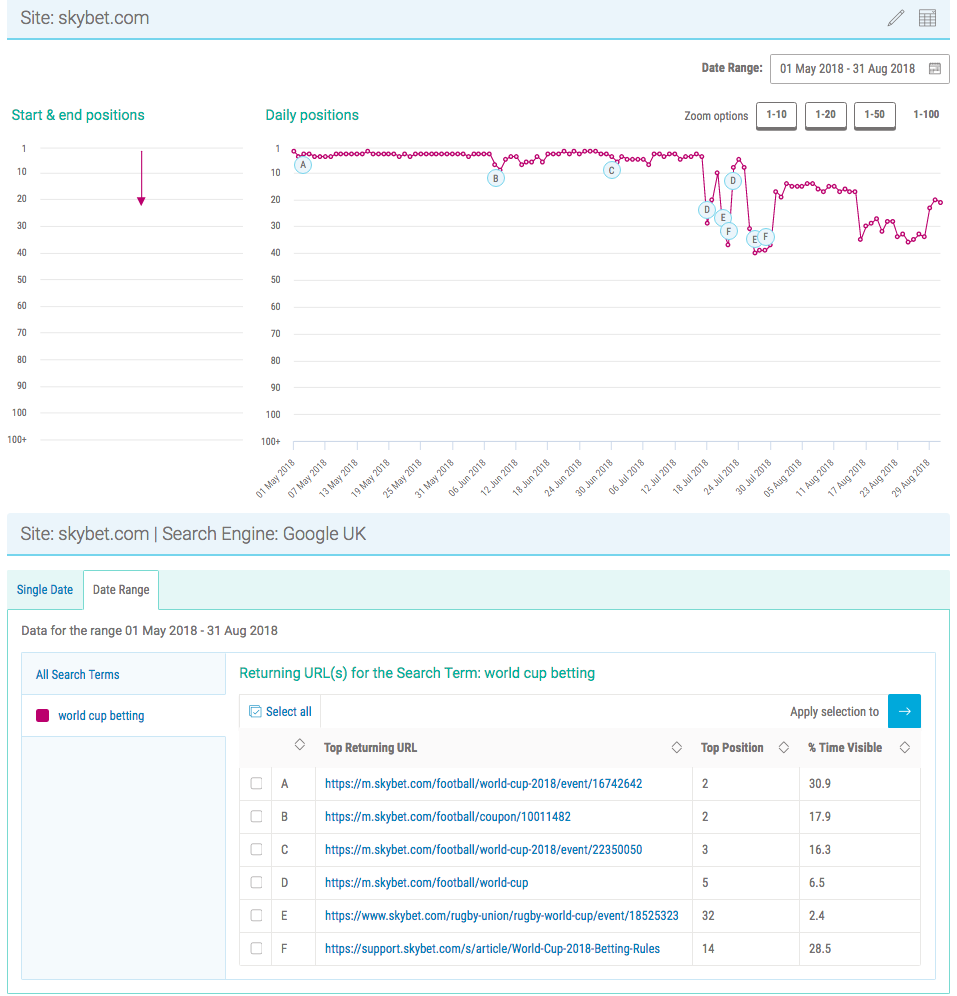 The main benefit of using daily data for competitive and timely terms is identifying cannibalization. If you experience a drop in your content's performance for a valuable term, it could be due to cannibalization. In this instance, tracking is a necessity!
Weekly tracking
Weekly tracking is great for regular reporting on evergreen, stable terms that require longer term action.
See weekly trends developing over time, to reveal MoM and YoY performance. For example, Skybet.com may want to keep tabs on content across the enduring category 'Football betting'.
Weekly SEO reports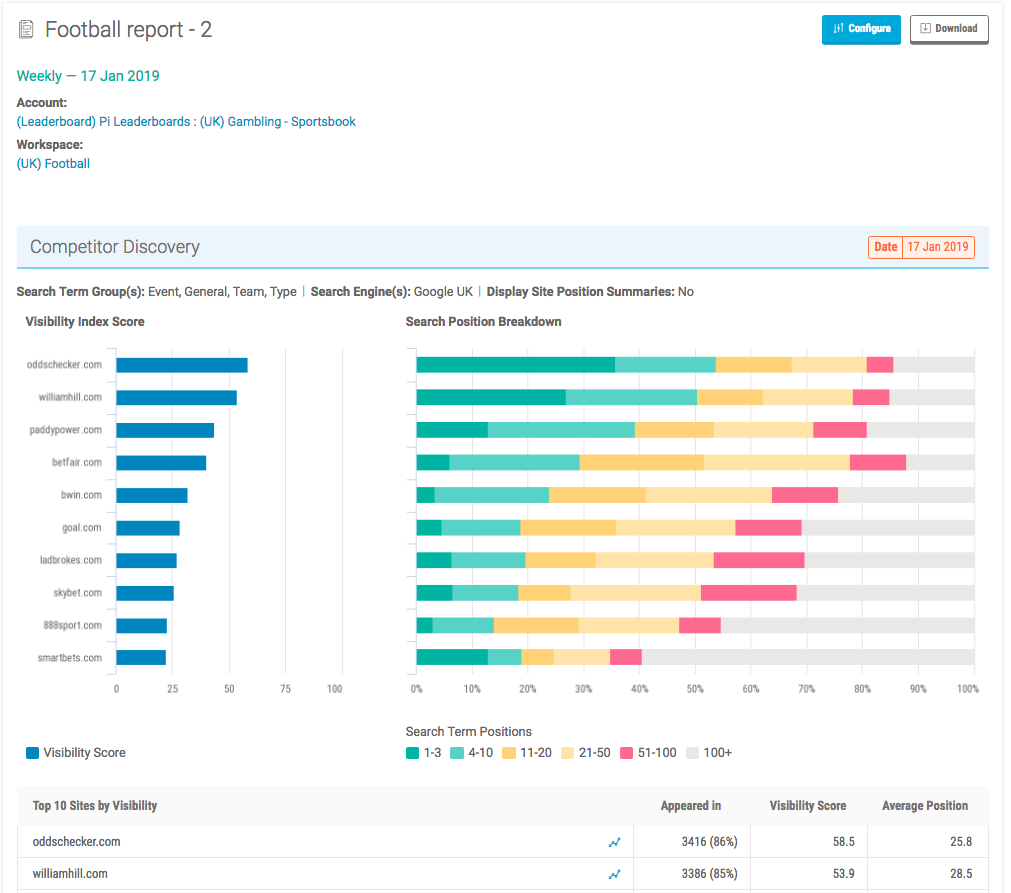 Monthly tracking
For more top-level industry insights, monthly tracking is ideal. It's better for seeing top line, rather than granular data in order to identify emerging market trends, benchmark competitors and track your overall dominance in your industry.
The below chart shows search volume across three years for sports betting categories: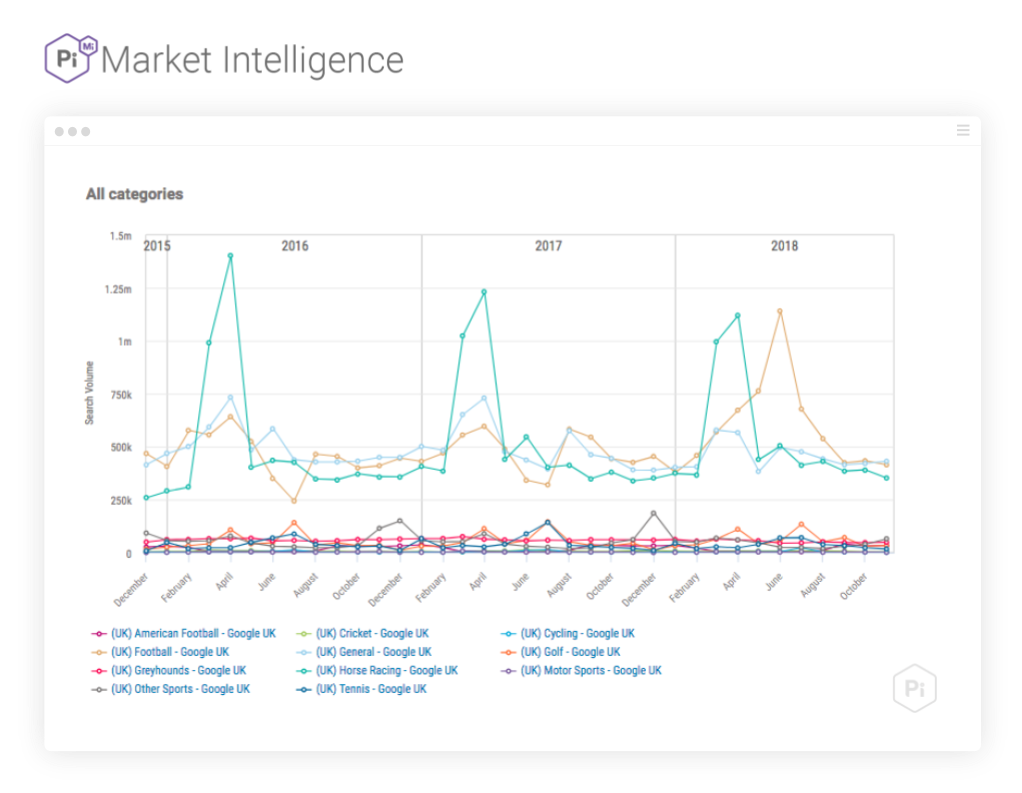 Full flexibility
You may have different sets of terms you need to focus on at different times of the year due to seasonality, brand campaigns etc., so when your focus shifts, you need to be able to rearrange your tracking easily.
Our four different tracking frequencies can be rearranged whenever you want giving greater flexibility to your search intelligence.
With two hourly, daily, weekly and monthly tracking, Pi Datametrics is the only enterprise search solution to offer flexibility of four tracking frequencies, giving you access to the right frequency of data, for the right objective. To find out more, get your demo today.
Never miss a post
Join our mailing list and have our SEO news delivered straight to your inbox.
Never miss a post
Join our mailing list and have our SEO news delivered straight to your inbox.