Air Fryer most searched UK product and will be big for Black Friday in SEO
13 Sep 2022|3 MIN READ
For all TikTok users, it will come as no surprise that Air Fryers are hot at the moment (pun intended). They seem to be everywhere, and lots of TikTok and YouTube mums and dads are showing off what they can do with chips, casseroles and chicken etc. The hashtag #airfryer has amassed over 4.5bn views already this year.
Last week (w/c 5th Sept 2022) Argos announced that "Air Fryer" was the most searched product in the UK. That's a huge 1.84million searches in a week.
That's a huge climb and puts the Air Fryer more popular than PS5, Xbox and iPhone 14 and 13.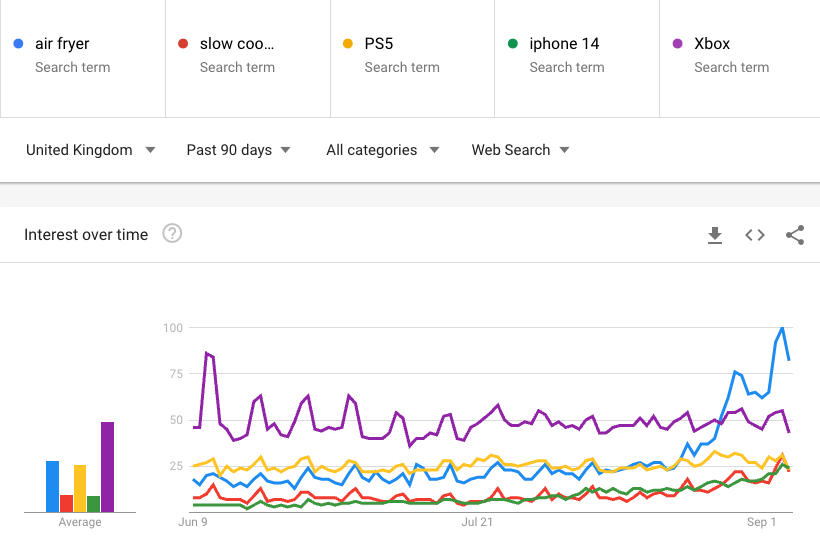 This has helped the Argos alone sell 1.6 air fryers a minute so says the Mirror (who seem to be doing a nice promotional post for them here).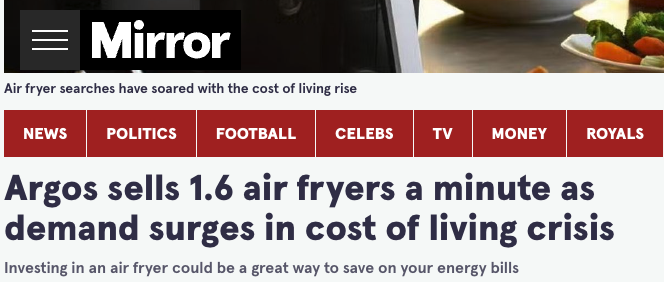 Why are people buying Air Fryers? Energy saving:
As well as doing your chips without the need for oil, energy saving is a key reason the Air Fryer is flying off the shelves during this cost of living crisis. 
According to the Independent an Air Fryer costs about 1/6th of the price of running a normal cooker. They quote energy provider Utilita who states that air fryers are far more efficient:
"air fryers are more energy-efficient than your usual cooker – which, for example, costs 87p a day to run, while an air fryer will set you back just 14p a day."
Who is winning in SEO and Search for Air Fryer?
For the single term of "Air Fryer" (that has on average been searched 365K times a month this year, but has now gone up to 1.84m this week) 
We can see movement here between some of the biggest retailers and publishers for top spot. 
Position one could deliver double the traffic of position 2.
The ROI of just this one term, based on 1.84m searches a week, at an average order value of £100 could run into the millions each month.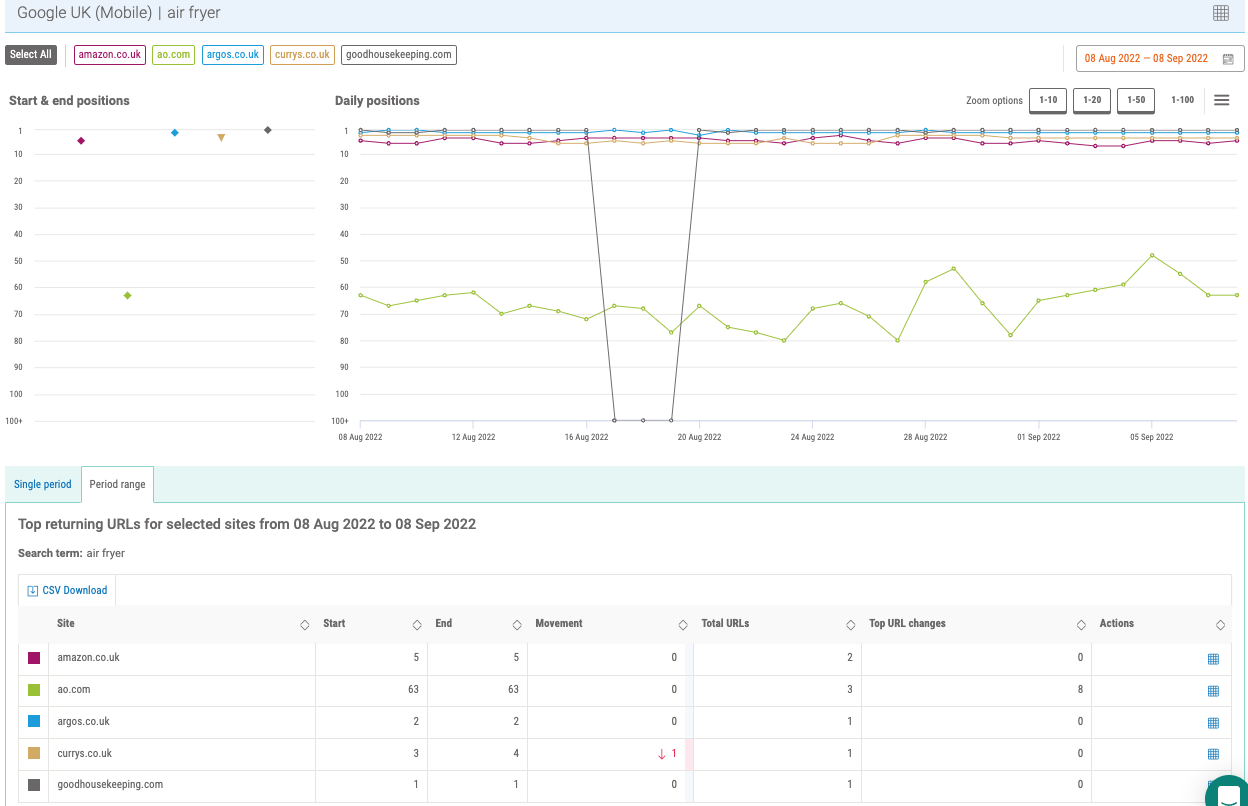 Currys and Argos have their performance well managed. They have a single page returning for the the very lucrative term. AO on the other hand seem to have multiple pages returning for Air Fryer which is cannibalising their performance and thus meaning they are not getting a return on this sought after term.
Never miss a post
Join our mailing list and have our SEO news delivered straight to your inbox.
Never miss a post
Join our mailing list and have our SEO news delivered straight to your inbox.