Semantic Flux: When groups of interrelated domains conflict in Google
05 Nov 2015|4 MIN READ
Have you ever experienced conflict between your family of sites for a similar search term or theme? Or felt that your family of domains are severely fluctuating in Google? Is one site within your group of sites inexplicably underperforming?
If so, your site is probably affected by semantic flux - one of the least common forms of cannibalisation.
The complete guide to cannibalisation
Using Pi Datametrics SEO platform, we've unearthed some unmistakable examples of semantic flux, when two domains (related or in some case entirely unrelated) conflict in Google.
What is semantic flux?
In our series of blog posts we've identified 3 different types of keyword cannibalisation or flux:
1) Internal cannibalisation
3) Semantic flux
In this post we are focussing on Semantic Flux – the relatively unexplained and most unusual of the 4 forms of SEO cannibalisation.
Semantic flux occurs when two or more interrelated domains coexist in the SERPs for the same search term, and Google fails to differentiate between them due to duplicate theming. Google registers their similar content and pits them each other; treating them ostensibly as the same domain and giving positions to just one at a time.
Family owned assets or resellers who use duplicate content are typically victims of semantic flux.
The complete guide to cannibalisation
International family sites penalised by Google: STA Travel
Chart 1: statravel.com showing mysterious flux in Google US for the search term: Cheap Flights Buenos Aires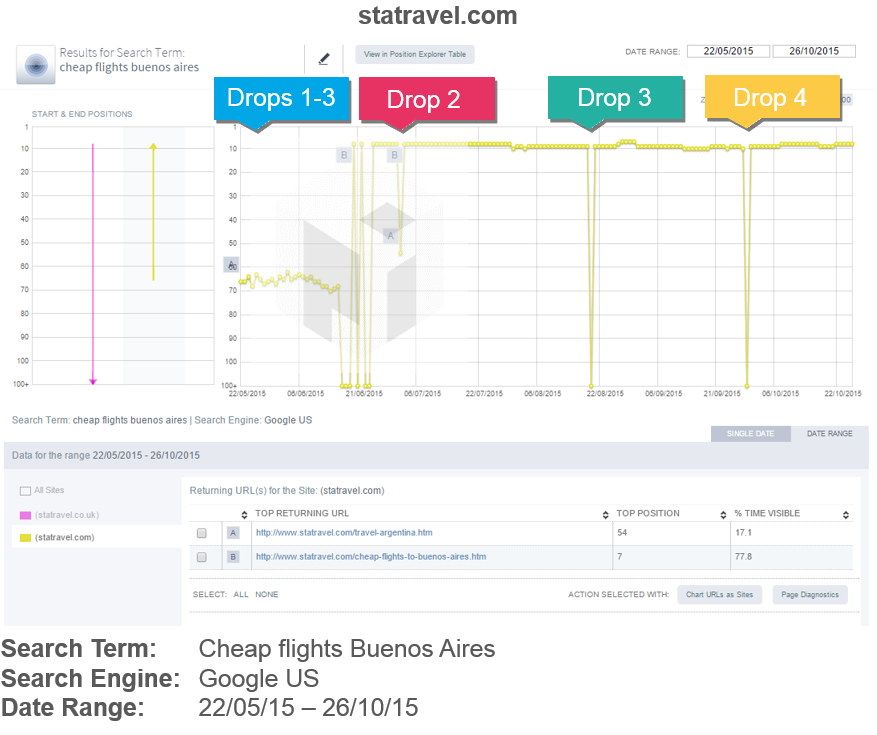 As we can see, Statravel.com has dropped out of Google US six times over the course of five months. What's causing this flux?
Chart 2: statravel.co.uk appearing in Google US for the search term: Cheap Flight Buenos Aires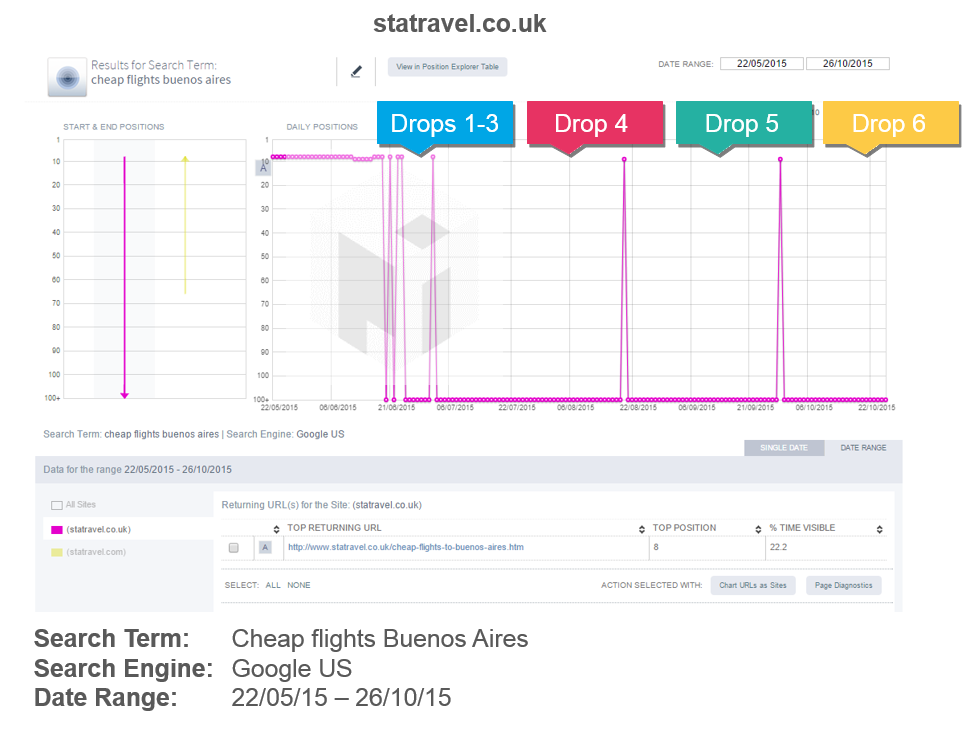 It seems that statravel.co.uk is also returning in Google US for the same search term, and its peaks and troughs look suspiciously familiar…
Copied content is ruining Statravel.com's performance in Google US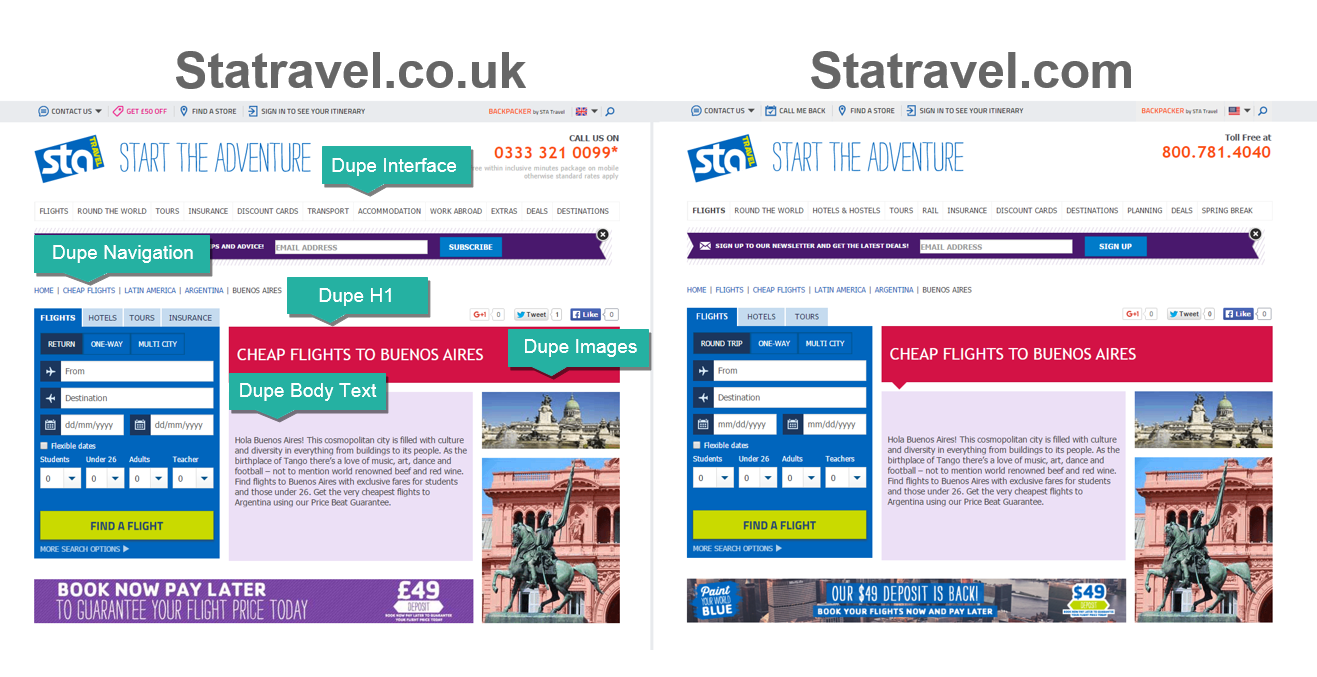 But what is the cause of this semantic flux? Well, when having a look at STA's international homepages it becomes pretty clear. Both sites look nearly identical, in theming and in content. The only slight difference is in the site's adverts, contact number, and link infrastructure. The duplicate content is the major issue at hand here, and therefore it's not really surprising that Google US sees the pages as one and the same.
Chart 3: Statravel.com and Statravel.co.uk flipping positions in Google US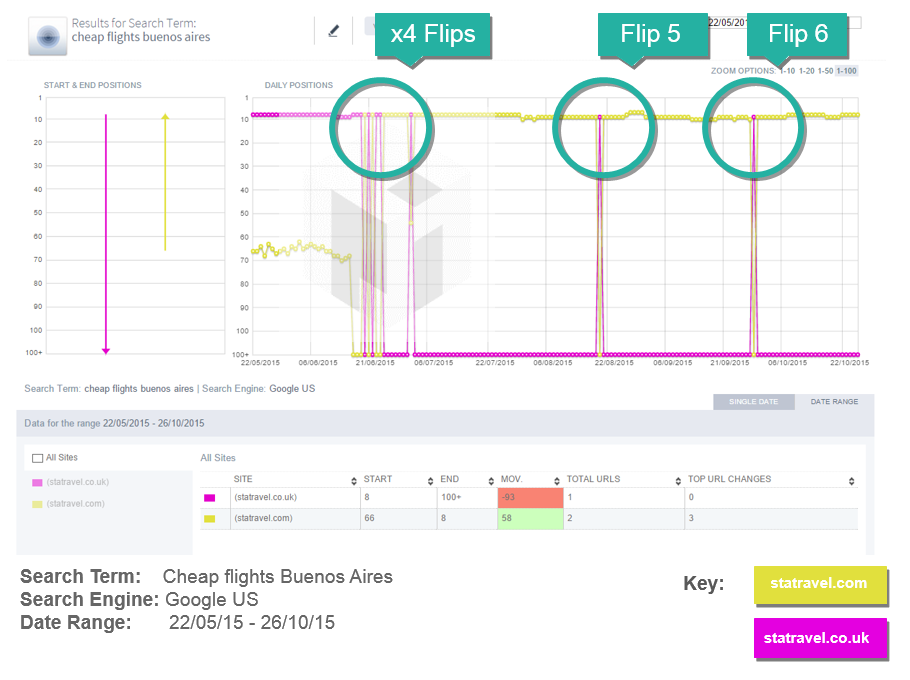 Looking at the sites in conjunction with one another it's clear there's an inverse relationship between the two, as they continuously flip positions in Google US. Evidently, they're suffering from semantic flux due to an international, TLD issue.
Isolated analysis limiting discovery of semantic flux
Sta travel's UK and US department were likely analysing their domains in isolation, and were probably confused by their fluctuating positions as a result. This is why it's so important to keep tabs on all of yours and your competitor's assets.
Curing semantic flux
Semantic flux can mean both sites lose out to competitors, so theming pages uniquely and appropriately is pivotal to establishing visibility. Sta travel must therefore differentiate their international domains through re-theming and/or rewriting their copy.
Semantic flux between family sites Gap, Old Navy and Banana Republic
These sister sites are brands within their own right, with completely separate URLs. They're owned by Gap Inc. but often sell similar types of clothing.
We've seen that semantic flux creates a glass ceiling effect, meaning that neither site can peak above a certain position. In the below example, that's position 23.
Gap, Old Navy and Banana Republic mirroring/flipping with each other in Google US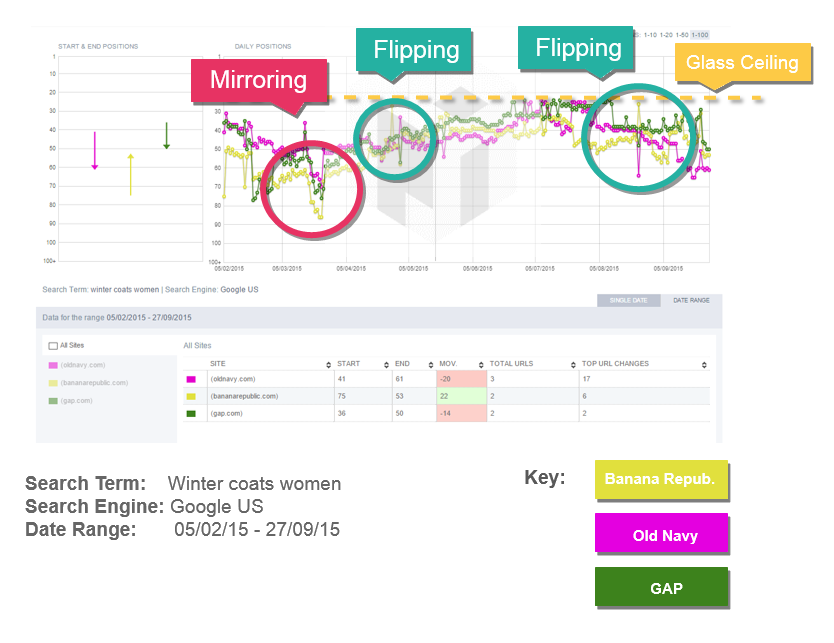 Semantic flux can assume two kinds of forms in the SERPs: flipping and mirroring. Some sites also portray elements of both.
As we can see, Old Navy, Banana Republic, and Gap are all intertwined in Google US for the search term 'winter coats women'. While they do sometimes flip, they mostly mirror each other in fluctuation.
Why is this? Let's look at the sites…
Duplicate structure and theming limiting visibility for Gap, Old Navy and Banana Republic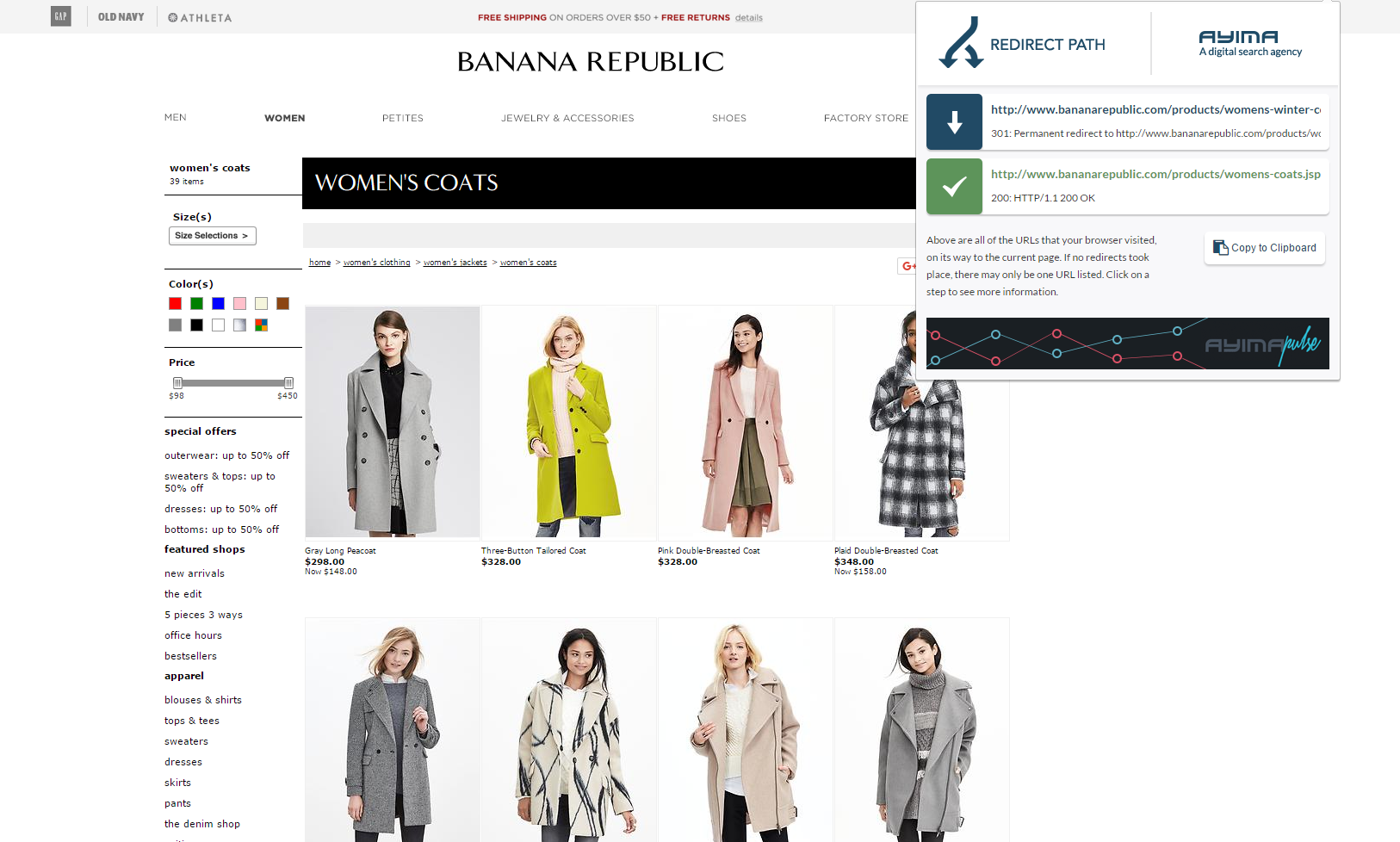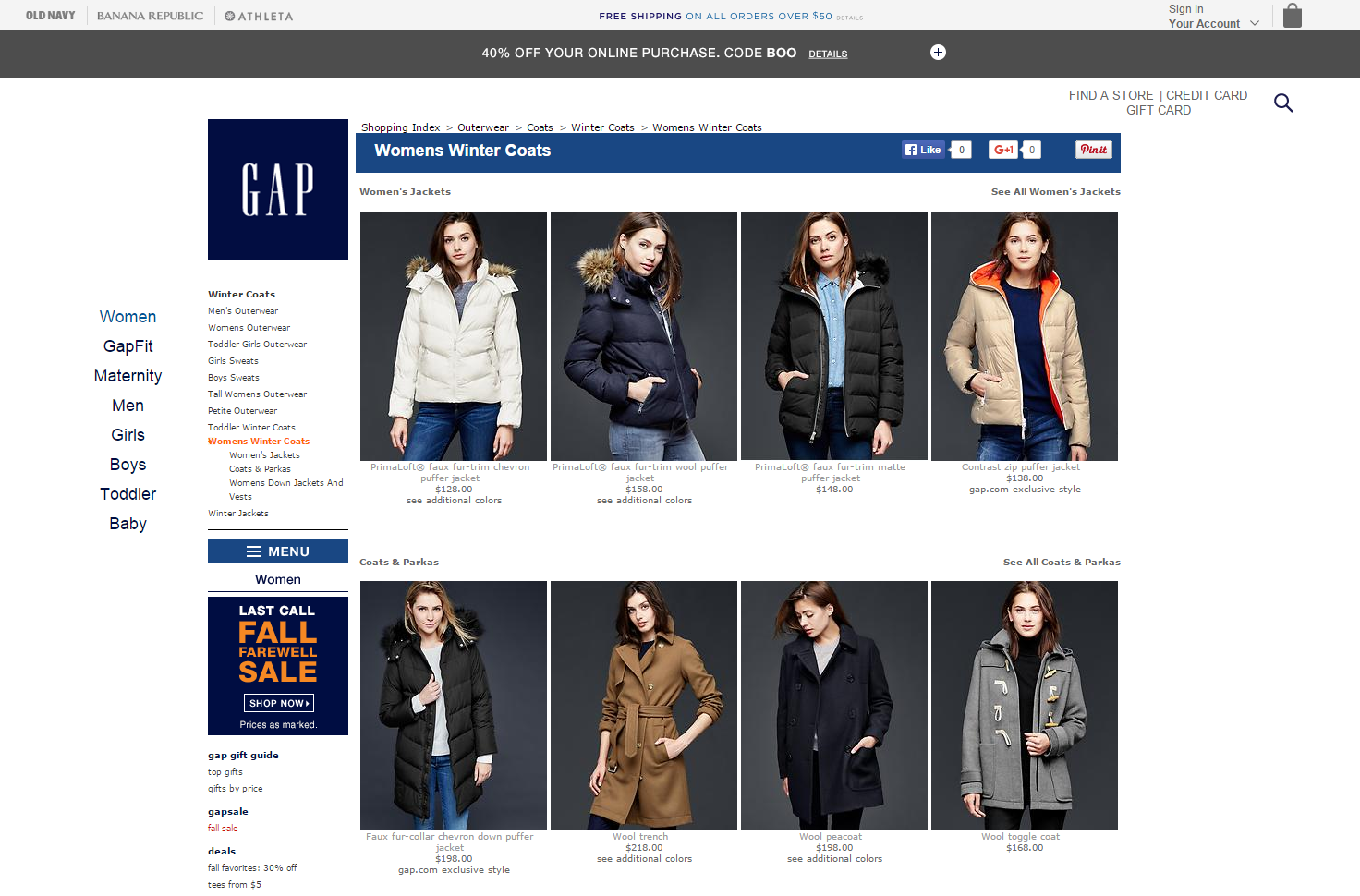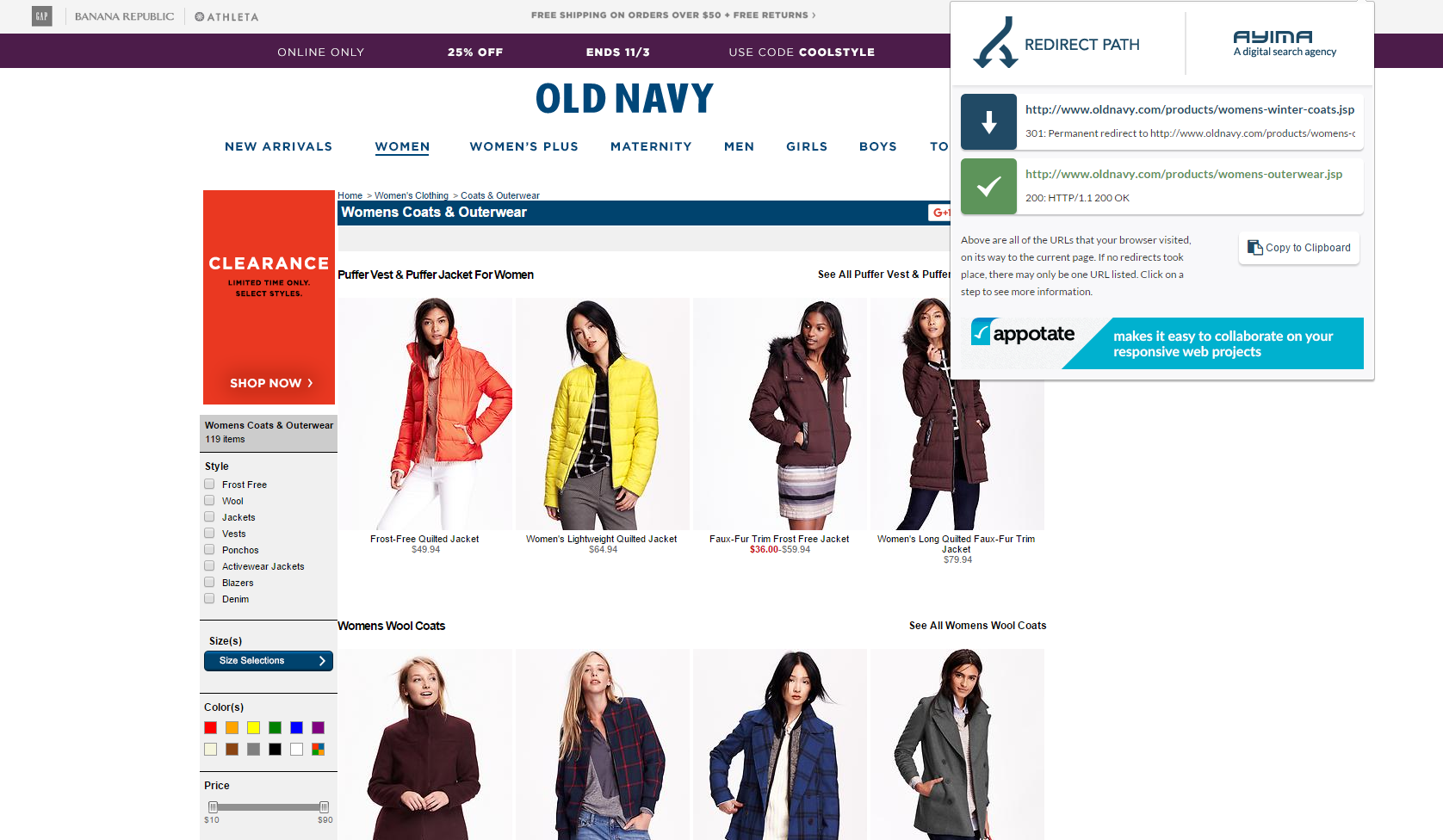 Since analysing these three sites, two of them have applied 301 redirects (seen above via the Ayima plug-in); changing their duplicate folder names from "/womens-winter-coats", to "womens-outerwear" (Old Navy) and "womens-coats" (banana republic).
It's clear from the examples above that all three sites, despite making changes, still share certain similarities such as large product images, similar sidebar search/navigation, and a distinct lack of content. This makes it hard for Google to distinguish between them.
The solution
The most obvious thing for each brand to do, since it would be timely and costly to restructure the site, and ultimately hard to avoid using a similar product page layout, would be to bulk up the amount of copy by creating unique descriptions for each product page. As a result there would be more content to differentiate between, meaning Google's bots would recognise each site as a separate identity, and subsequently grant them their own distinct ranking.
Other causes of semantic flux
Despite the above examples being relatively similar in terms of theming, the products on offer on each site are entirely different, in image and in name. It's likely then that Google penalises family sites simply because they share some form of relationship. This is something which requires further investigation.
The complete guide to cannibalisation
Semantic flux between Yorkshire and Clydesdale Bank
Yorkshire and Clydesdale bank flipping in Google UK repeatedly
Both UK banks are owned by the National Australia Bank Group, and continuously swap positions in Google UK, so it's anyone's guess which site will rank on any given day.
Copied content and theming is ruining Yorkshire and Clydesdale bank's positions in Google UK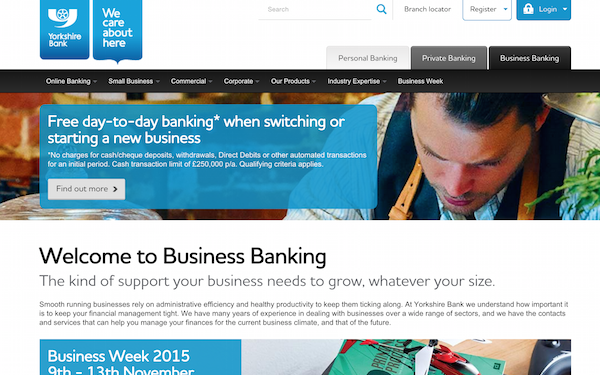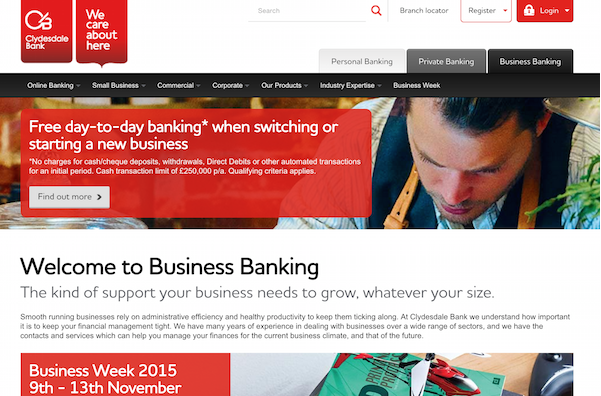 Well, apart from the colours and names, both sites appear to be pretty much exactly the same. You can't really blame Google for confusing the two.
Family sites, such as Yorkshire and Clydesdale bank, are essentially just stealing content from themselves. Similar to how some unrelated sites poach copy from their competition to save a bit of time and money, family sites probably also apply duplicate templates and copy across the board, for the same reasons.
However, whilst family related sites are likely losing traffic and conversions as a result of replicating copy or theming, the (unrelated) master criminals of the web are actually performing better in many cases, as we found in our stolen content tests.
The National Australia Bank Group needs to consider whether they are actually making a saving at all in this instance.
Littlewoods and Boden: Semantic flux between two completely unrelated sites
We've identified another type of semantic flux that's somewhat of an anomaly. In the example below Littlewoods and Boden are competing on the term 'holiday dresses'.
This isn't a typical example of semantic flux because the sites involved aren't actually related in any way (they aren't owned by a parent brand, and neither one resells the other's products), yet both seem to share an intrinsic relationship in Google UK as they constantly flip positions, and as a result don't manage to rank very highly.
Chart 1: Littlewoods and Boden share an inverse relationship in the SERPs despite being unrelated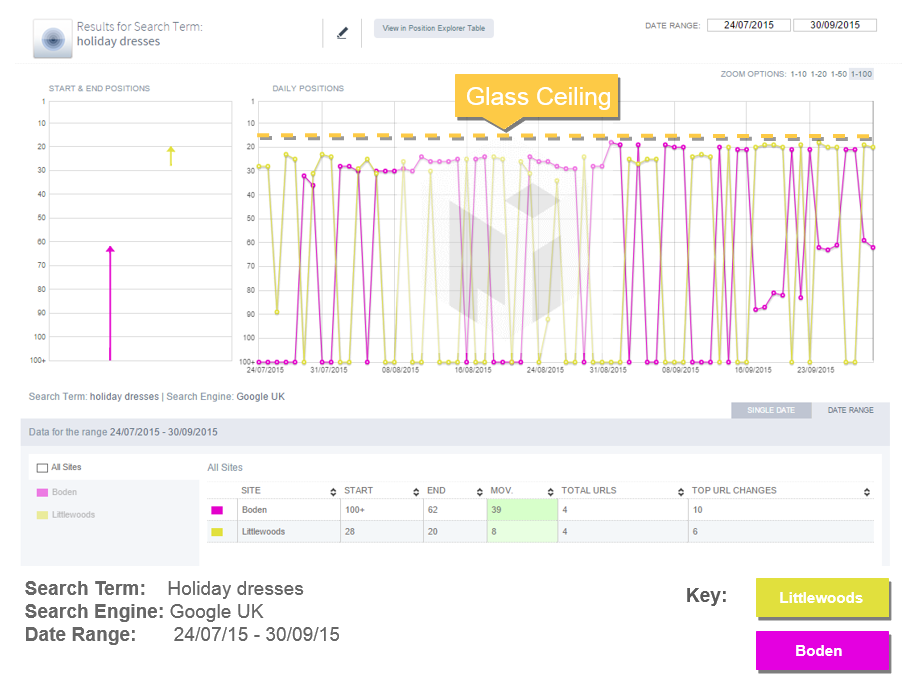 Oddly, we found this example when analysing the relationship between Very and Littlewoods: two sites owned by the parent company Shop Direct.
However, neither Shop Direct site seemed to negatively affect the other in any way.
Chart 2: Littlewoods and Very are family sites but are not affected by semantic flux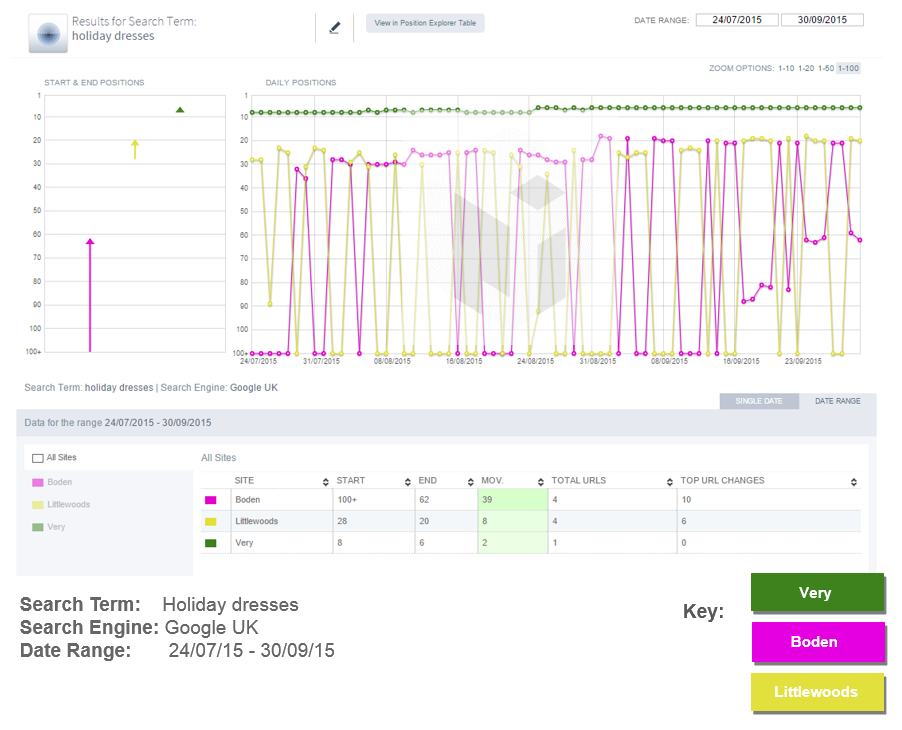 It seemed Boden was the only one causing problems for Littlewoods.
Chart 3: Littlewoods and Boden were unable to break through the glass ceiling, whereas sites like Missguided performed well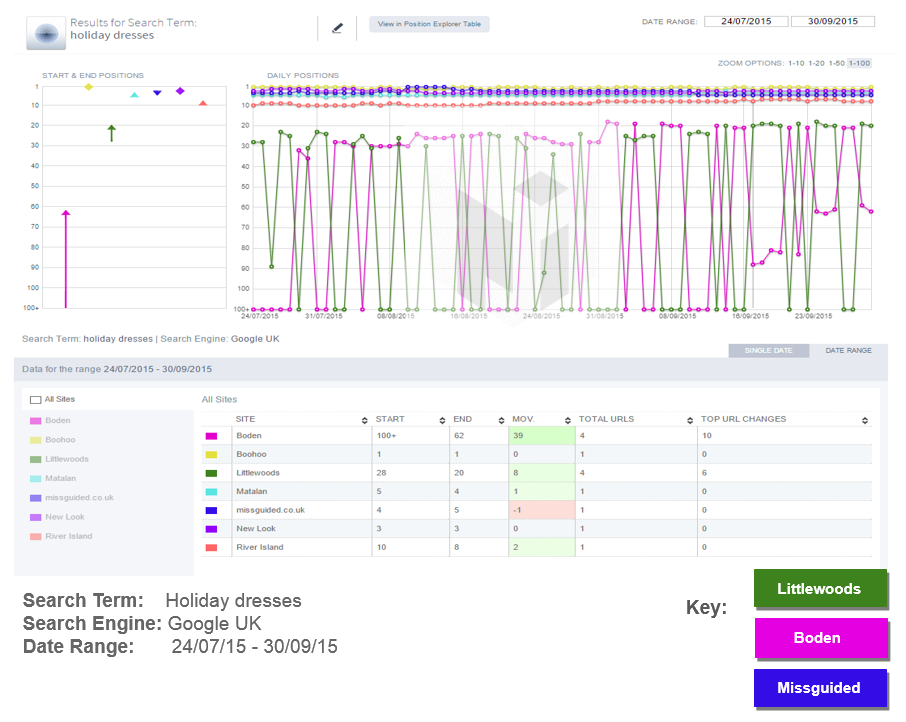 Other fashion retailers like Missguided and New Look also managed to retain their strong rankings while Littlewoods and Boden fluxed beneath them.
So what caused this rare case of semantic flux between two seemingly unrelated sites? You guessed it…
Google couldn't differentiate between the Littlewoods and Boden due to their lack of content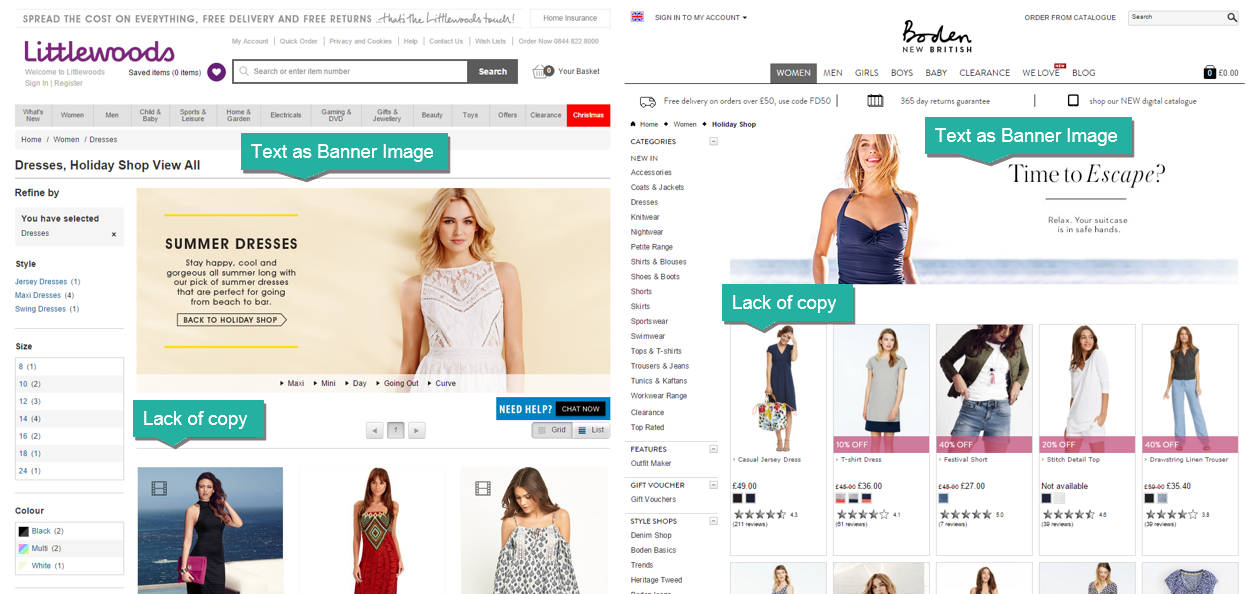 Similar to Gap, both Boden and Littlewoods showcase a great deal of images but incorporate very little copy. Littlewoods' homepage has actually got a reasonably sized description for its 'Holiday Shop', but only in image form, which is completely useless to Google's bots because they can't read it when indexing the page.
Missguided is able to stand out in the SERPs with its unique content
Missguided, on the other hand, has a good amount of relevant copy on its 'Holiday Shop' page. That's probably why it has a stronger, more stable position in the SERPs.
Key takeaways when dealing with semantic flux:
Monitor your sites performance on a daily basis to be aware of any flux in the first instance.
Communicate and share information across your brand to keep on top of any interdepartmental conflict.
Create relevant, unique, and generous copy to differentiate your domain from other, similar family assets.
Be aware that semantic flux doesn't just happen to family brands or resellers. Look out for flux between yourself and competitors.
This style of analysis can only be conducted with Pi Datametrics, seo tool, as it provides you with unlimited competitor and domain tracking.
Semantic Flux: When groups of interrelated domains conflict in Google
How can Pi help
No other SEO platform shows the impact of semantic flux like Pi Datametrics does, due to its ability to track performance on a daily basis. If you think your site has been affected by semantic flux, book a demo to find out how Pi can help.
Never miss a post
Join our mailing list and have our SEO news delivered straight to your inbox.
Never miss a post
Join our mailing list and have our SEO news delivered straight to your inbox.