A 7 step keyword research strategy that converts
25 Nov 2020|5 MIN READ
In this article we'll show you how you can go beyond thinking of SEO as Search Engine rankings, to discover the true revenue value of your keyword research.
The challenge for an SEO is the time it takes to collate, analyse and put together all of the data that they would need for a winning keyword strategy.
It's an extensive and ongoing process, which can take into account everything from your own audience knowledge to competitor ideas, search engine data, social media data, and so on.
The better you know your customer, their pain points and how your business alleviates those, the more accurate your keyword research is going to be.
1. Create a keyword set
The first thing you need for your keyword research is, unsurprisingly, a keyword set, which means collecting the search terms with the highest search volume that suit your business objectives.
We recommend starting with a simple structure or simple tagging system. You can take a website's navigation and subpages and turn these into categories and subcategories. Or it might be something similar like a list of articles you want to create. It helps to define all of this at the start of the process.
Then using a tool like Pi's Search Discovery tool, you can generate relevant keywords. All of these tools have your input "seeds" - a starting keyword - which then generate relevant keywords with search volume data (it's worth noting that free versions tend to restrict the amount of keywords you can see a day. Paid versions speed up the process)
Other keyword tools include:
Google Keyword Planner

Keywords Everywhere

Google Search Console

SECockpit

Google trends
From the generated keywords, we recommend meticulously selecting the terms most relevant to your objectives, rather than taking everything generated. It can easily take a day of work to generate less than 1000 terms, and while this might seem extreme, a great keyword set is the foundation of everything we do in SEO. It's worth the time.
As Google has advanced in its ability to semantically understand and process complex queries (Hummingbird, RankBrain, BERT) it's no longer vital to stick to short-tail search terms within your keyword research. In fact, there are some great opportunities to be had when optimising for long-tail searches - especially when it comes to voice search. Explore popular questions surrounding your business for blog content and FAQ pages. Some handy tools to help you find those keywords include:
Alsoasked.com

Answerthepublic.com

Google 'Auto suggest'

Google 'People also search for'

Google 'People also ask'
In the example below, we're going to focus on search data as our primary source of keyword insight.

Whilst you now may know the search volume of many of these keywords from some of the tools above, you don't yet know the revenue value they possess.
This is where organic revenue data comes in.
2. Identify the revenue opportunity of terms in your keyword research
Our ultimate objective for our keyword research is to create the right content to attract the right customer, to eventually sell the right product or service.
We, therefore, don't just want to determine how well we could rank in Google; we want to determine how likely that rank is to turn into a sale.
If we apply an average order value and conversion rate to our individual keywords, we can start to say what their search volume would mean if turned into real traffic.
This way, we can go some way towards determining their value.
At Pi we take into account other factors like CPC (cost per click), competition, click-through-curves and close variants, as well as AOV and industry standard conversion rates, to give a more comprehensive analysis of a keyword's intrinsic value and converting potential.
The bar graph below, part of Pi's Market Intelligence platform, is our Estimate Revenue Opportunity module.
Dare I say that no SEO keyword strategy is complete without it?
Estimated Revenue Opportunity indicator within Pi Market Intelligence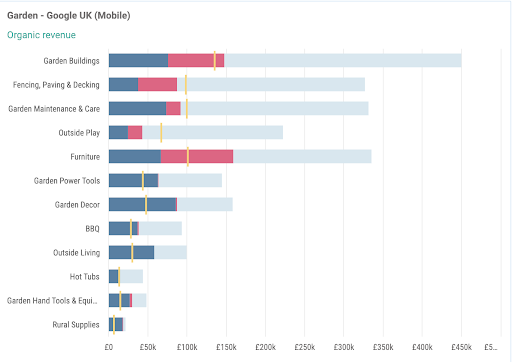 Image source: Pi Market Intelligence
So, what does this chart mean?
The light blue bars represent the overall performance of the top 100 search results / competitors for thousands of individual Garden retail keywords, grouped into meaningful categories (along the left).
The purpose of this visualisation is to help us understand our SEO priorities and opportunities.
Once we've created a keyword set, it's our next port of call.
Along the x-axis is a revenue figure. This comes from the Pi Organic Value Score, and it's a way to put a pound value against a search term.
This is vital because the calculation goes beyond search volume, to give more meaningful estimates of how much a search term could be worth in revenue. It cuts out the noise of search volume, which can sometimes lead us astray - a keyword may be highly visible, but not highly valuable to our business.
The bars themselves represent the value of all of the keywords in a category. So the value of all the keywords in the 'Garden buildings' category is estimated at £450k a week.
Organic Revenue - the dark blue bar - showcases how well a site positions on the first page of Google.
This is our way of determining, based on the value of the terms and the positions of your site, how much revenue we predict you are driving from clicks to your site, and eventual conversions.
3. Prioritise your keyword research by 'Low hanging fruit' opportunity
The 'Low hanging fruit' here refers to the keywords and corresponding content that you're already ranking for, but that is sitting on pages 2 and 3.
With a slight push, this content could move on to page 1 and bring in significant revenue.
This step is pretty laborious to do for free; in fact you couldn't do it using many enterprise tools.
The challenge here is getting ranking data for your keywords that sit beyond page 1 of Google.
At Pi, we track the top 100 (i.e. 10 pages of Google results) to help you identify this 'Low hanging fruit' - or your greatest revenue opportunity, but most other tools do not.
The dark pink bar in the below chart represents the 'Target' opportunity.
It is based on a sites' rankings on page 2 and 3 of Google, and it's these rankings that we can take as our true Target for optimisation.
This is, all assumptions aside, the easiest place to focus your immediate keyword strategy. With just a slight push, these keywords can make it on to page one and even into the conversion zone; significantly increasing your ROI.
This is also where no other analytics platform can help with your keyword strategy.
Estimated Revenue Opportunity indicator within Pi Market Intelligence

Image source: Pi Market Intelligence
4. Prioritise low-hanging fruit categories over those with strong, established performance
This step is pretty straightforward - simply focus on the 'Low hanging fruit' keywords within your business strategy, as they are more likely to bring you additional revenue.
At Pi we've always proudly tracked beyond the first page, and we used this criteria of page 2 and 3 of Google to target terms. In the example above there are three categories with huge Target opportunity and many categories with only a slither. With this data we can cut out the categories which have good rankings from our keyword strategy, as they don't promise revenue.
This helps you to focus your efforts and identify the obtainability of the highest revenue opportunity.
5. Order / grade your remaining high potential keyword categories
As with the last step, simply prioritise your remaining 'Low hanging fruit' categories in order of 'Estimated Revenue' to make sure you're focussing on the most lucrative content.
Estimated Revenue Opportunity indicator within Pi Market Intelligence

Image source: Pi Market Intelligence
Pi Market Intelligence takes grading keyword value to the next level, by showing you the benchmark point at which your top three competitors are performing.
In this example, 'Bedroom' and 'Furniture' are both high performing categories for the site in this space, with high target potential too.
This would make them ideal to focus on, except when you take into consideration that benchmark line!
While we absolutely don't write off the Target opportunity beyond the benchmark line, this makes it far easier for us to start grading our keyword categories.
We now know that 'Bedroom' is more valuable for our keyword strategy than 'Furniture', as it displays more target opportunity below that benchmark.
6. Benchmark your keyword strategy against your top competitors
The data is telling us so much about our own performance, and our opportunities, but we need to look at everyone else's. SEO is a competition, and no one wins absolutely everything. Across every search landscape, there are top performers and they reveal to us, not necessarily the ceiling of performance, but certainly indicate where that ceiling is.
That's our benchmark line. What the yellow line shows is an average position for the top 3 performing sites in the landscape. Google is fairly typical. By this, I mean that it tends to have similar levels of market leaders. What this helps us to realise is that if we made the best site in the landscape, we shouldn't expect much more than the benchmark.
This is a vital finding. With it, we are able to take a huge amount of data and generate contextualised opportunities.
7. Focus on categories with big potential below the industry benchmark
With minimal SEO knowledge, you can start to grade your categories and build your keyword strategy. The most simple version of this is identifying the Target opportunity that sits below the Benchmark, and focussing accordingly.
In the below, 'Blinds & Curtains' is entirely below the benchmark line. This is a huge opportunity, although it also suggests something more - i.e. perhaps the site's inventory is under-indexed within the search landscape.
Estimated Revenue Opportunity indicator within Pi Market Intelligence

Image source: Pi Market Intelligence
'Decor & Rugs' is not to be written off, but you can start to see how the opportunity may be fully indexed.
An informed keyword strategy
Prioritise Organic Value

- Having a way to assign value to your keywords is vital in justifying SEO spend, as it provides much-needed insight into the potential revenue uplift that could come from SEO improvements. Furthermore, having visualisations of this, that are simple enough to understand, will enable buy-in from non SEO teams.

Spend less time on analysis

- There are huge time savings to be had from using an enterprise platform. There are many ways to collate and cut data and build all kinds of interesting insights. But the simplicity of this table allows you to spend more time on implementing your keyword strategy, and less time on analysis.

Category level intelligence

- For our large eCommerce clients, this is now essential. You can have up to 144 categorisations in a single Market Intelligence report. So through this, they are able to map their keyword strategy, and get category level intelligence into growth and opportunity.
There are workarounds you can do to build a profit-led keyword strategy, but it is going to take you a lot of time and effort. With that in mind, you may not even be able to make a significant cost-saving, based on the time and resource you dedicate to creating, updating and maintaining a keyword document that is already limited in its scope.
An enterprise platform can do this kind of analysis in an afternoon, across thousands of searches, and can be amended or updated whenever the need arises.
Track the performance of your content
Never miss a post
Join our mailing list and have our SEO news delivered straight to your inbox.
Never miss a post
Join our mailing list and have our SEO news delivered straight to your inbox.