Finding SEO opportunities with Pi
29 Nov 2022|3 MIN READ
How do you find and implement SEO opportunities that contribute towards increased revenue and new acquisition for your business? And what happens when you focus on the commercial return and not just search volume?
In SEO if you extend your focus beyond search volume and website traffic you stand a good chance of uncovering more opportunities that lead to increased revenue and new acquisition for your business.
But how do you uncover the kind of SEO opportunities that will ultimately drive the biggest commercial gains for your business?
At Pi, we have a handful of tried and tested initiatives that do just that…

Find low-hanging golden fruit and prioritise your SEO efforts based on value
Optimise for informational searches
Spot patterns and implement a plan, influence, peak, and repeat strategy for seasonal campaigns
Boost ROI of your SEO strategy
How to identify low-hanging golden fruit
What do we mean by low-hanging golden fruit?
What we mean is to look for opportunities where you've done the hard work already. Where there's already a huge amount of potential, you just have to do some tweaking to get your content performing and converting potential customers.
And how can you do this?
One way is to identify how much commercial opportunity is available for each of your target sub-categories. Take the example below…
Image source: Pi Datametrics | Estimated Revenue Opportunity
Pi's Estimated Revenue Opportunity tool above shows that, unsurprisingly, ASOS perform very well for 'dresses', indicated by the dark blue line –this is how much revenue they are already gaining for that particular category.
The yellow line indicates the industry benchmark, e.g. how much revenue the majority of brands in the 'Womenswear' space are getting from those related search terms.
The pink line is the target revenue. So, what content do you have sitting on pages 2 and 3? This is the content Google classes as strong, useful content, but it's not quite in the conversion zone yet.
And the light blue is the total revenue opportunity to be had in that particular sub-category.
So, what can you do with these value-led insights?
Identify the content you have sitting on pages 2 and 3 –the hard work for this content has already been done (the opportunity has been identified and the content created).
This is where you can focus your team's attention to see the greatest impact on performance numbers and goals.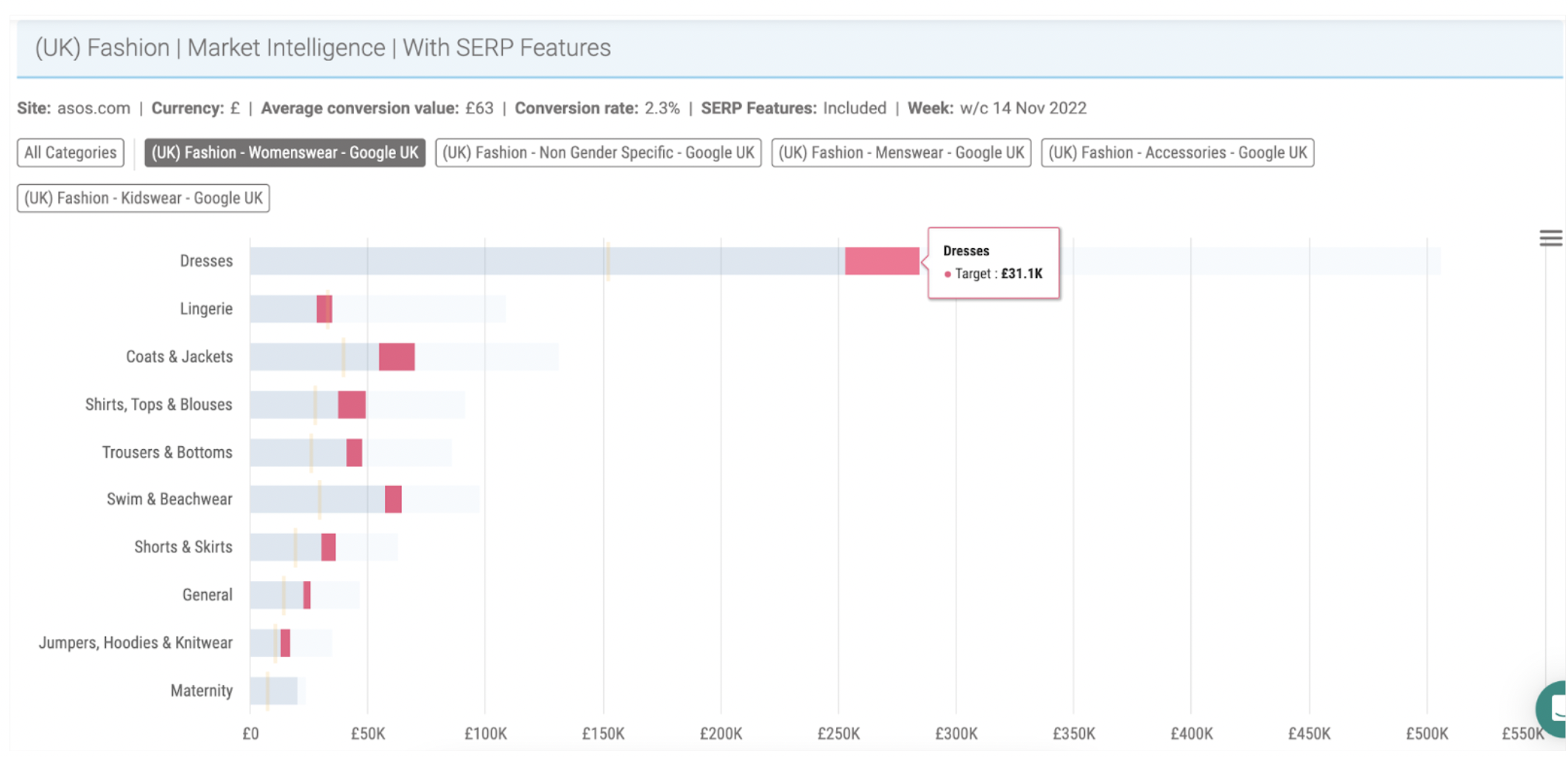 Image source: Pi Datametrics | Estimated Revenue Opportunity
Using Pi, click through the Estimated Revenue Opportunity chart to see what terms are sitting in this revenue opportunity space. You can see the search terms, search volume, position data and estimated revenue.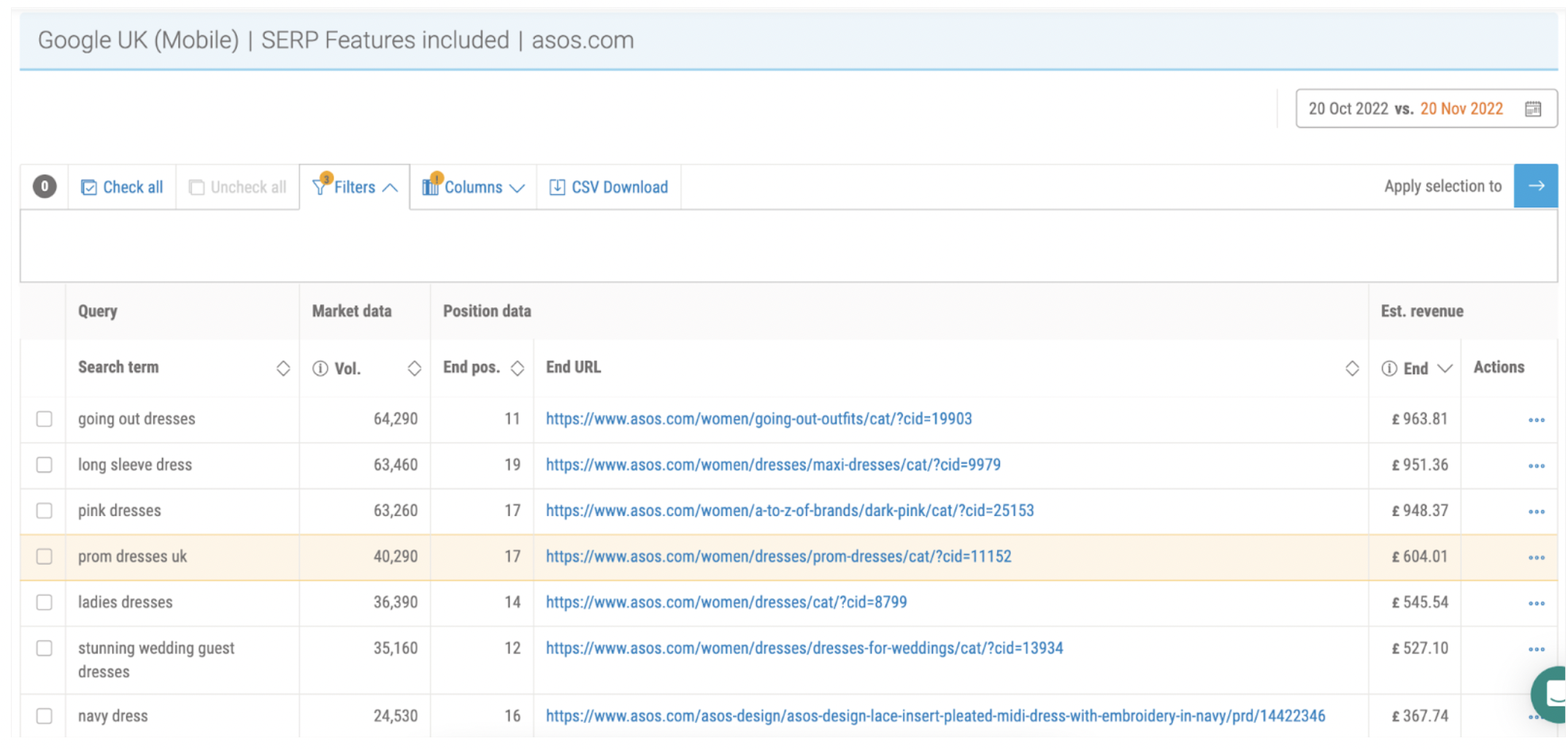 Image source: Pi Datametrics | Estimated Revenue Opportunity
After prioritising based on search volume, go through each of these pages one by one and optimise the content.
Optimising existing content to sit in the conversion zone brings you one step closer to getting that additional weekly revenue identified in the Estimated Revenue Opportunity chart, without having to create any new content!
Why should you optimise for informational searches?
It's important to think beyond optimising for just product searches. There's a huge amount of opportunity for eCommerce brands when it comes to informational searches too.
When customers shop in brick-and-mortar stores, it's likely they'll speak to a sales advisor and enquire about different products, therefore indicating their buying intent.
Customers who do show more interest (buying intent) and receive adequate information that answers their queries are more likely to buy, more likely to spend more money in store, and more likely to come back as a returning customer.
Exactly the same is true for online shoppers.
Getting inside the mind of the searcher and answering their questions with relevant information puts you ahead of the competition.
We've found that people who go to a content page, or an informational page before they land on a product page are far more likely to convert. They are more likely to have a higher order value and more likely to be a returning customer.
So, how can you do this?
Let's take "what is a cocktail dress" as an example – it's safe to assume that if a person is searching for this they are intending to buy a cocktail dress, perhaps they've been invited to a cocktail party and are not sure of the suitable attire.
Chances are if you answer this question for them, it's likely they will continue their buyer journey on your site.
The other benefit to optimising for informational searches is the rich SERP feature landscape full of content opportunities.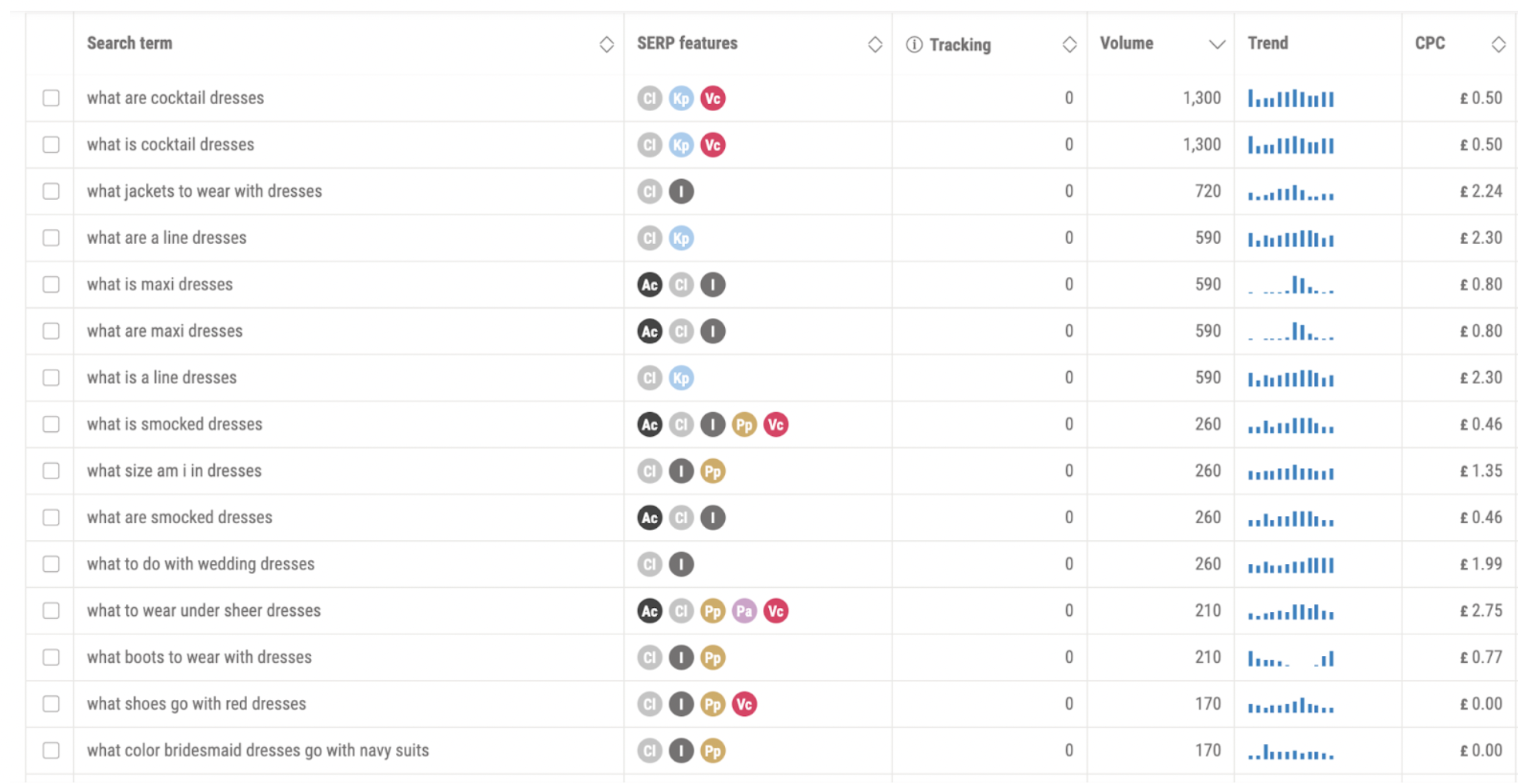 Image source: Pi Datametrics | Search Term Discovery
Here you can see all the different SERP features that appear for searches relating to 'cocktail dresses'. Classic links appear in the SERP, but also the Knowledge Panel and Video Card.
Identifying additional opportunities to reach your customers through different SERP features and understanding how your customers want to consume such content is a great insight to provide your content team with.
How to spot patterns and uncover new SEO opportunities
When you're looking at search trends and human behaviour in the SERPs there are so many different things that can have an impact. There are economic situations, the weather, pandemics – these can all impact the way people search online.
But, there are also a lot of categories and sub-categories that don't get impacted as much by external factors.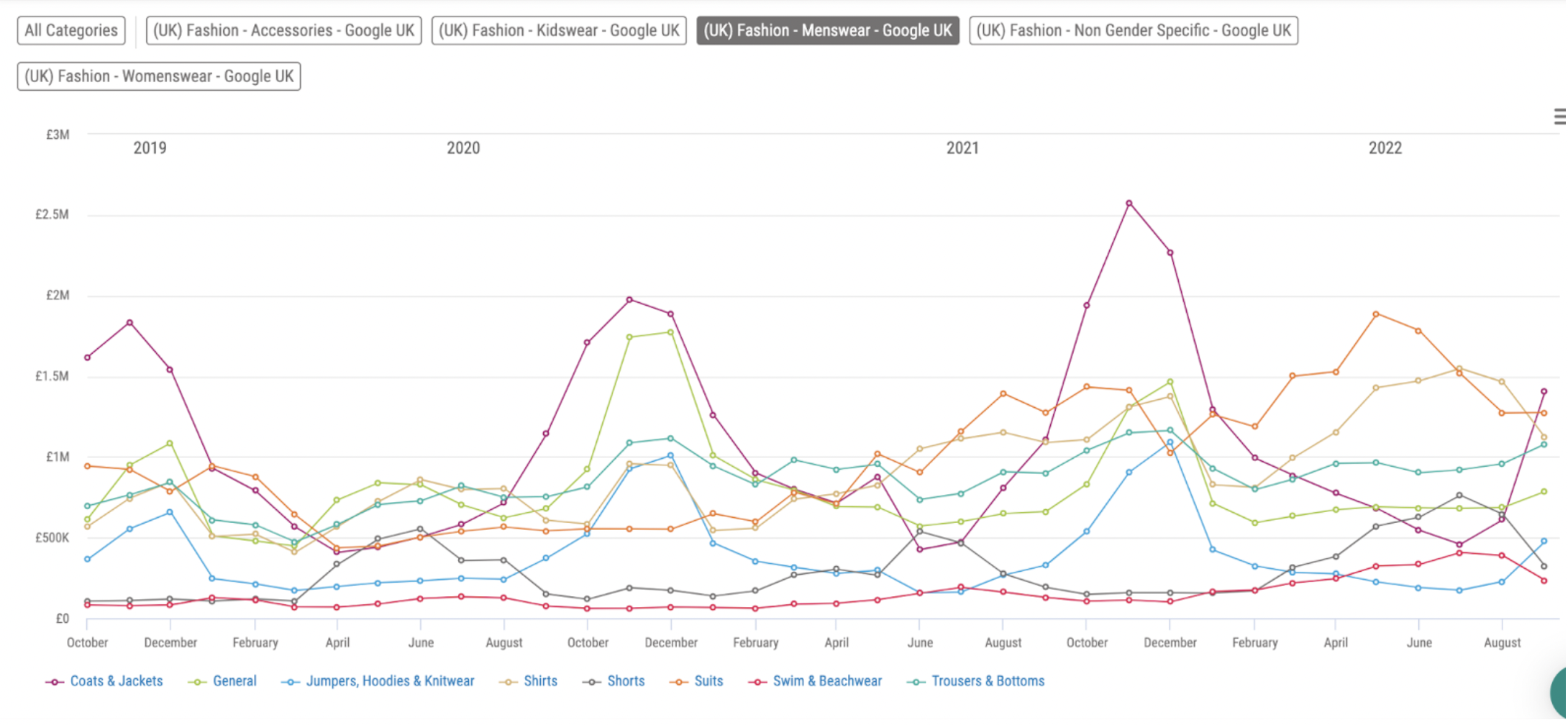 Image source: Pi Datametrics | Estimated Revenue Performance
Let's look at the fashion landscape, 'menswear' in particular, as an example.
As you can see there are some key patterns in the types of products people search for at the same time year after year.
If we now focus on 'coats and jackets', you can see that the biggest time for retail is, unsurprisingly, in January and February –the coldest months in the UK.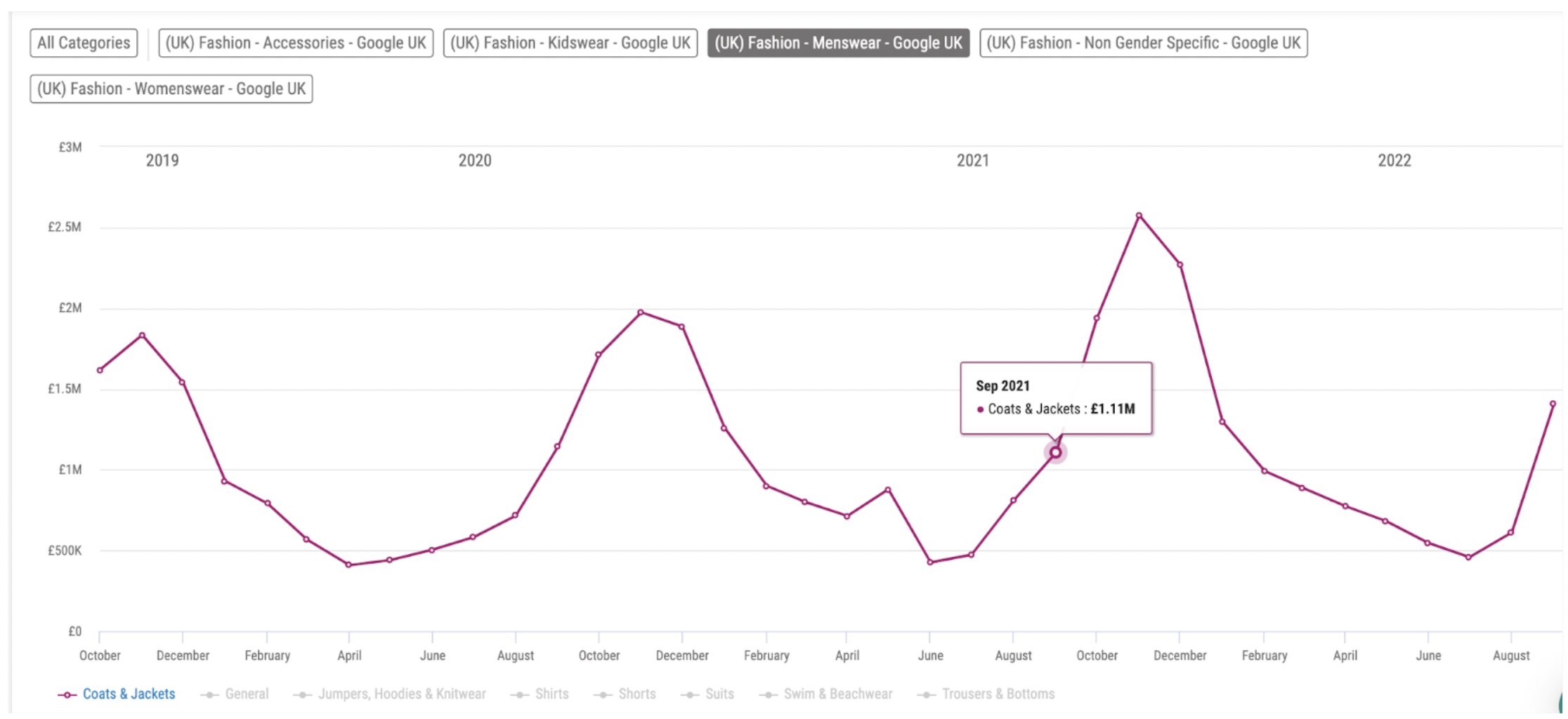 Image source: Pi Datametrics | Estimated Revenue Performance
But if you look back to earlier in the year, 'coats & jackets' is a valuable term to optimise content for in September.
That's not to say that people are going on to buy coats and jackets at that time of year, but the data does suggest this is when they begin their research for the coats they might want to purchase later down the line.
So whilst your content or merchandising teams might be inclined to start promoting coats and jackets in October, it's a good idea to get ahead of the game and start doing it a little bit earlier.
When you spot patterns like this, overlay Pi's own strategy, named PIPR (Plan, Influence, Peak, Repeat).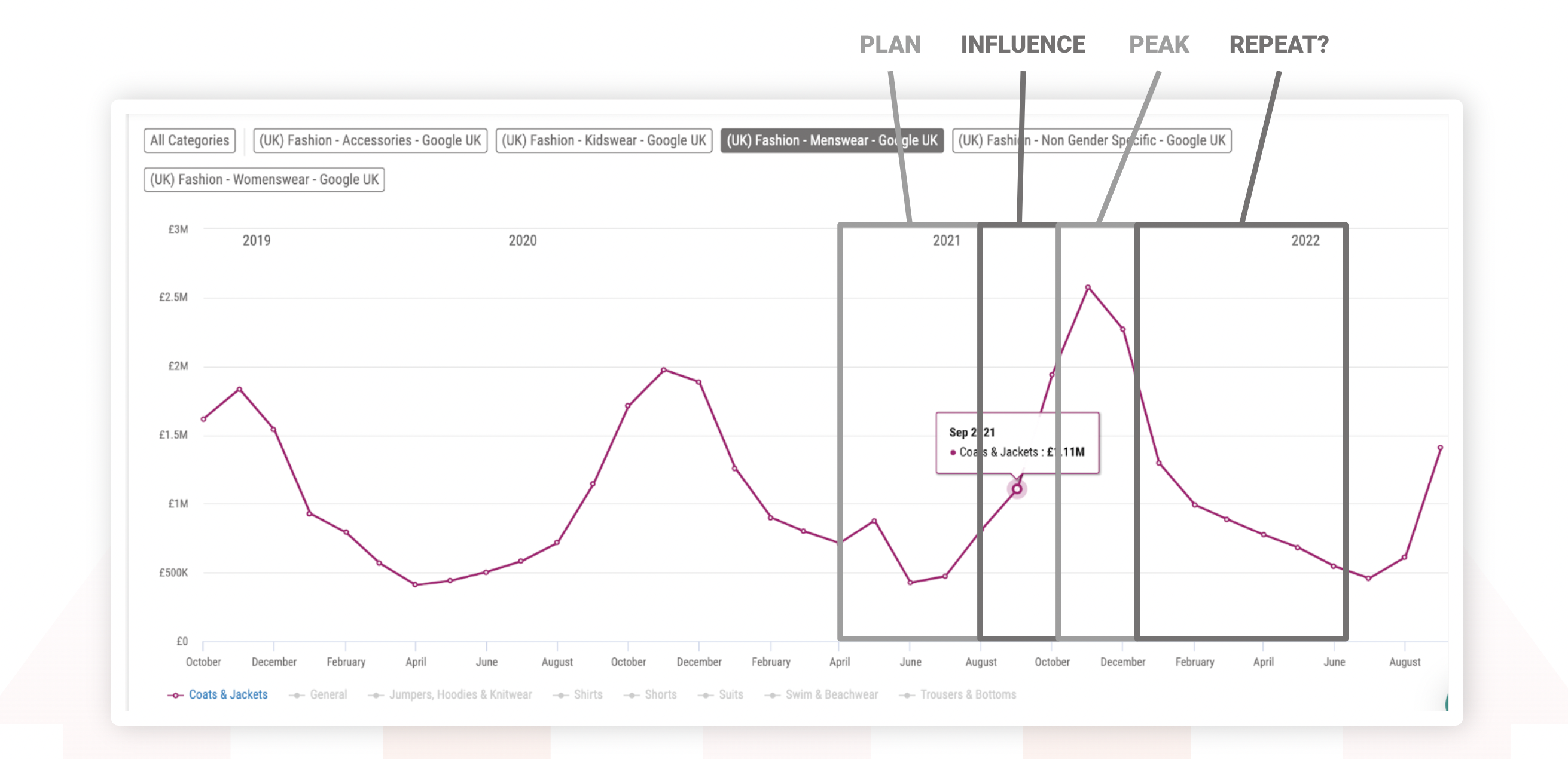 Image source: Pi Datametrics | Estimated Revenue Performance
Looking at repeatable trends, you can identify the best time to plan for the peaks, e.g. when search volume is relatively low.
You can then capitalise on searches during the influence stage, e.g. when searches are beginning to grow for that particular category, but haven't yet peaked.
Capitalising on searches that happen during the influence stage means you capture data on potential customers that can be influenced to return at a later date to complete a purchase by deploying retargeting and email marketing tactics.
Also, competition is so much lower in the influence period than it is in the peak period. So if you are going to employ paid search strategies then you'll be getting clicks at a lower cost than you would be at peak times.
After the peak period, you can look to see if that trend is going to be repeated or not. If it is, and it's happened every year previously, keep that page optimised and ready for the next peak.
And if it's not, then redirect all that authority to another page that might be trending.
Brands that focus on finding low-hanging golden fruit, optimising for informational search and spotting patterns reap the rewards.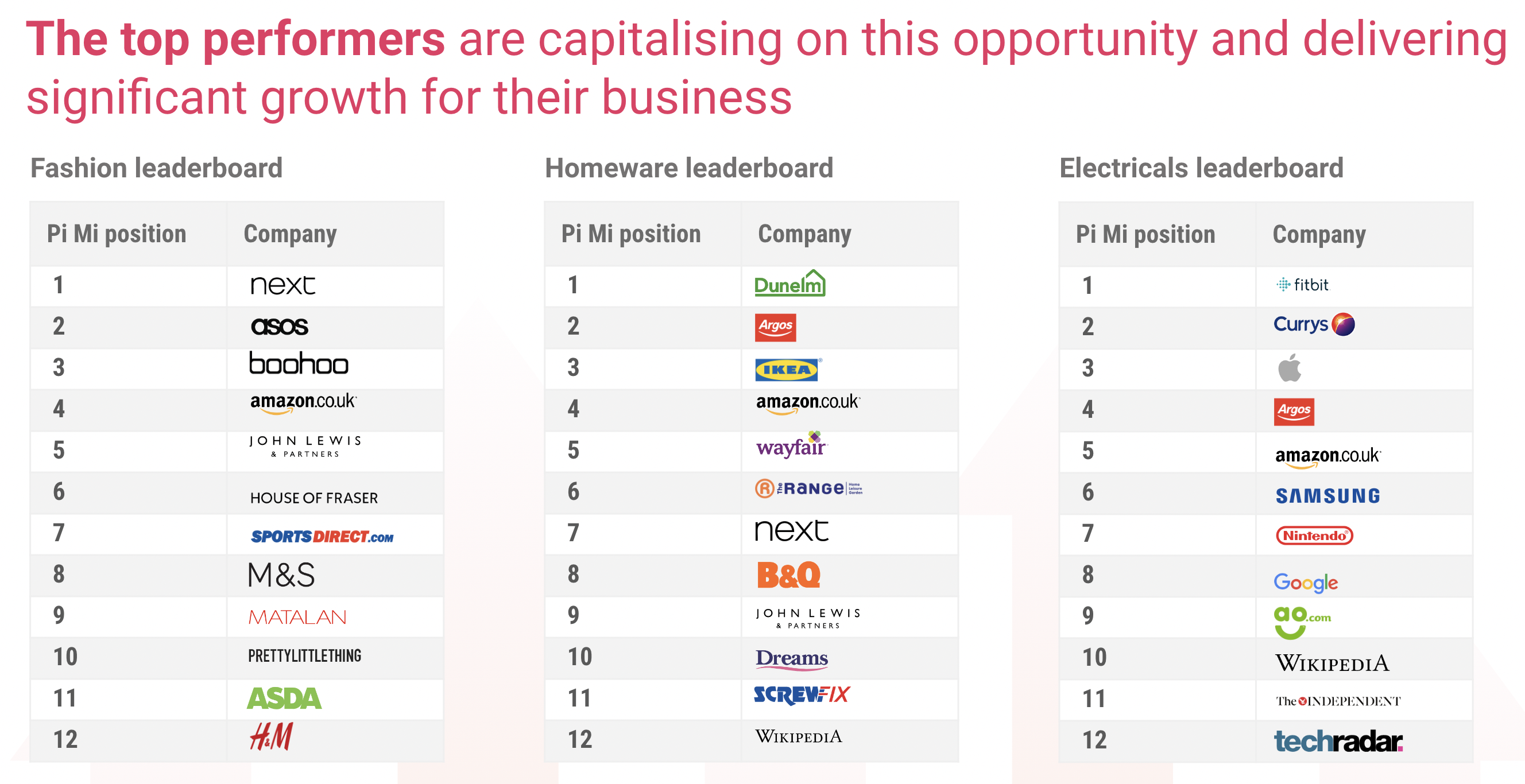 When you focus on the commercial return, you're not just impacting your search team results, or your eCommerce team results, you're impacting your entire business performance and growth.
If you want to see how Pi can help you grow in your industry and spot the highest returning opportunities, get in touch with our Solution Experts here.
Never miss a post
Join our mailing list and have our SEO news delivered straight to your inbox.
Never miss a post
Join our mailing list and have our SEO news delivered straight to your inbox.